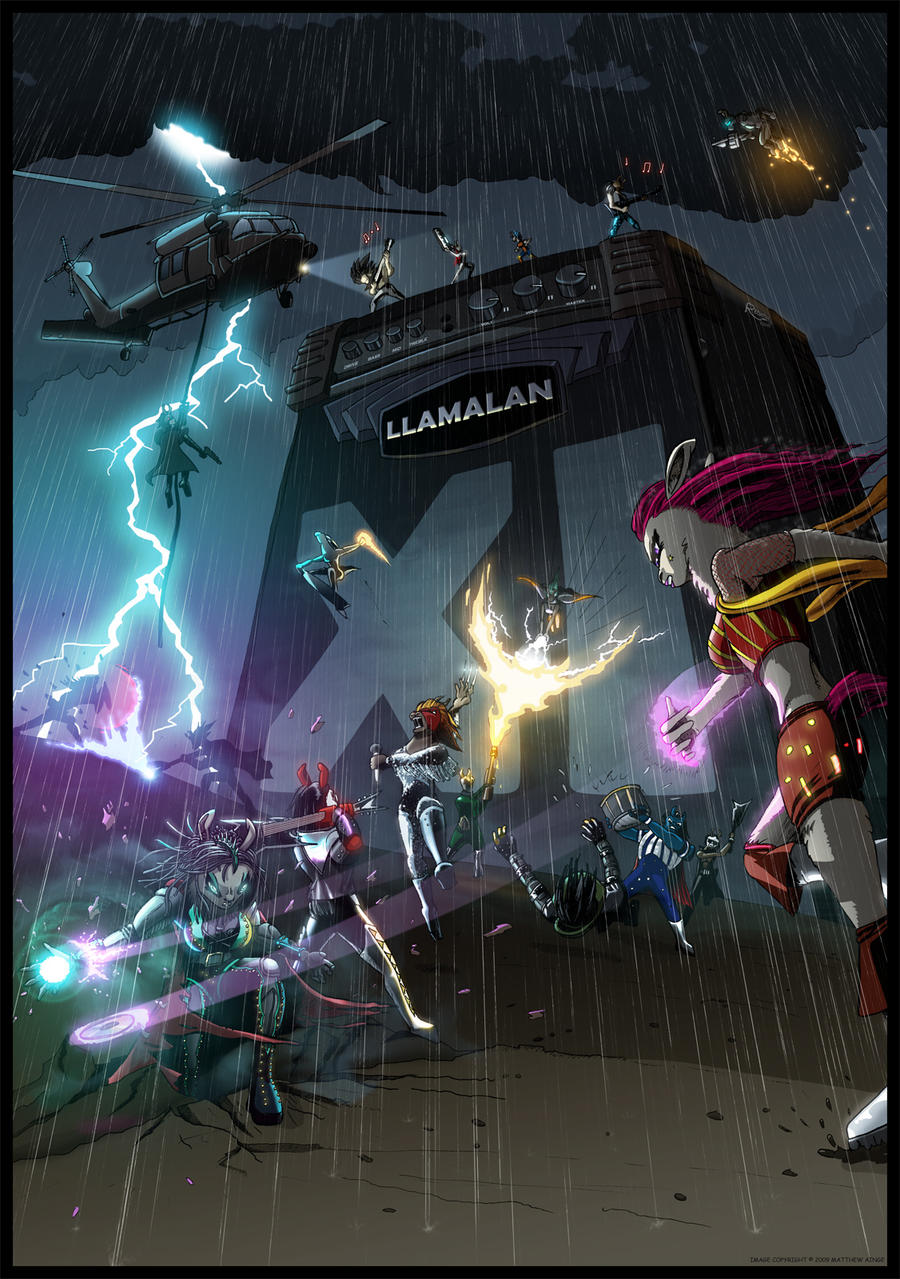 Watch
All for LlamaLAN!
[link]
See zoomed-in details here:
[link]
The sky darkened and flashed as our superllama heroes clashed with the assimilated army - an army of the first nine llamas led by their queen! Outnumbered but evenly matched - who will remain standing when this night is done?
And so the superllamas of LlamaLAN X's poster (
[link]
) finally engage the supervillains of LlamaLAN IX's poste (
[link]
)r. The theme of LlamaLAN XI, inspired by Spinal Tap's famous volume level 11 scene, is glam rock and rock music in general - to the extreme! We typically split the hall of 40 players into four teams of four colours - red, blue, green and yellow. LlamaLAN XI will treat each of these teams as music bands who are ultimately playing against eachother in some big Battle of the Bands competition. In reality, this involves playing big matches on a variety of LAN-party games (and not just Rock Band.)
Hence, we see hear a poster based on extremes, based on a battle of bands, and a clash of styles of rock music. A fine stage to pit the previous characters from other LAN posters against eachother.
Drawn by hand on A3, scanned, and coloured in Photoshop CS3.

I like this because it's very dynamic.
Reply

I'm really glad you liked it - though I have to admit this isn't as dramatic a result as I saw in my head. I pictured debris flying everywhere in front of an extreme camera angle with mental perspectives... I think I have to work up to that level of insanity a bit more!

Reply

Reply

Wow, I thought that you've abandoned dA. But luckily I was wrong ;]
Very nice picture, love it ;]
Reply

I should add - 'zoomed details' scrap coming this evening (if I remember).
Reply