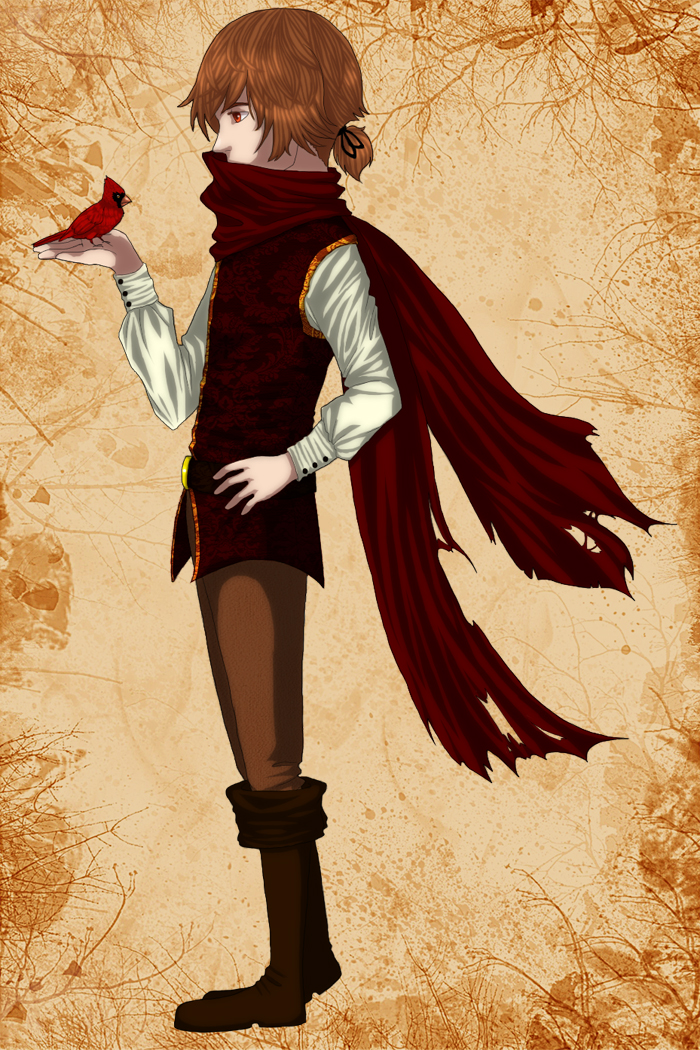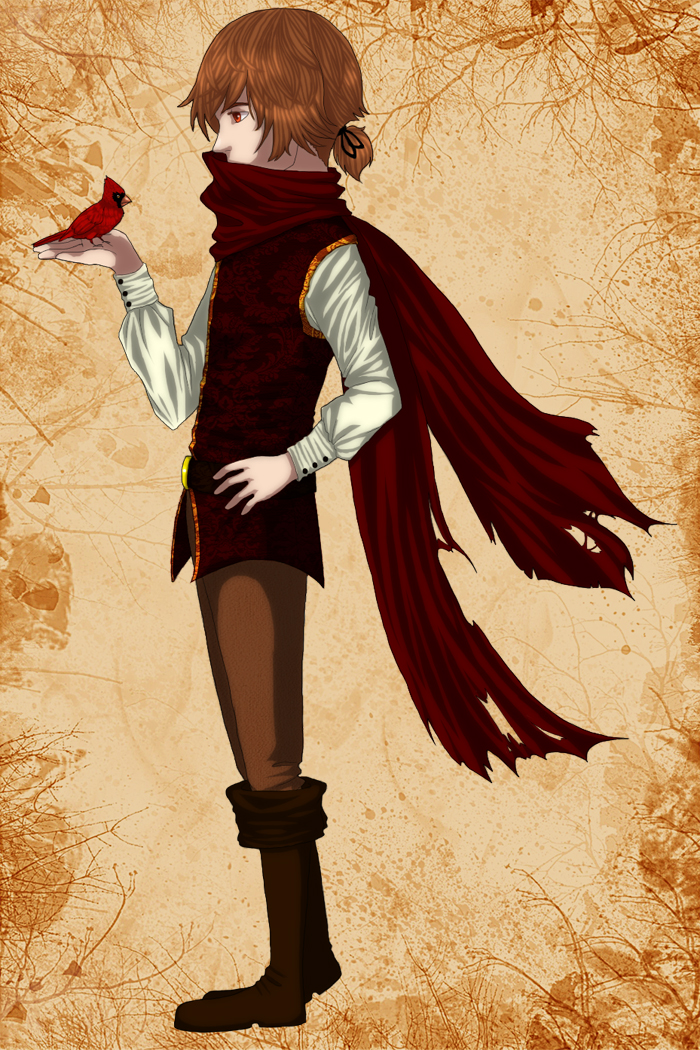 ;u; I should use textures more often. Lol.
Anyywaaays.
Yay! First real art since a long time, it seems. I think even over summer vacation I was doing mostly colored sketches.
Ah, and about this one...it started out as a drawing in my sketchbook because I really wanted to draw a guy with a giant turle-neck type thing, which developed into a scarf, that I added rips and tears into because I just really like drawing torn cloth...and giant boot cuffs, poofy sleeves, tights, tunics, and pirate tails. :> The cardinal was added after scanning the original traditional sketch in cause I thought his hand looked awkward and incomplete all held out like that with nothing in it. XD
Uwaaah...it feels like I haven't drawn this style of clothes on people in forever, like I used to all the time. Lately it's been hoodies, T-shirts or no shirts.
Oh, also! I'm thinking of doing a mini series of drawings with themse like this. Like, another guy dressed in a similar fashion, except with cold colors and holding a blue jay. And another, holding a canary, etc etc.
EDIT: Woops! Almost forgot to credit-
[link]
(tunic texture taken from here)

this is lovely. i especially like the bunching on the sleeves. very nicely done
Reply

I really like the pose and colours of this! The whole "silhouette" (boy, bird, scarf..) looks very nice.
Reply

Thank you! I'm honored that you like it, especially seeing your gallery so full of amazing works. :3
Reply

I loooove this.
Have I ever told you how much I'm in love with how you do hair? Cuz I do.

The clothes make me squee.. hell the whole picture does. LOVE IT!
Reply

<3 Eeee Thank you! The hair is one of my favourite parts, I'm glad you like it!

Thanks again! ;w; I really like the way the clothes turned out, too.
Reply

Likes this

Reply

It's so magicalllll!!!!!
/faints
Reply

Oh la la, Très jolie~

Tis very pretty <3
Reply