Commissions! How does it work? Read my rules, check my portfolio, request a model, pay the deposit, wait, pay the final fee, and enjoy your character in 3D!
I only accept payment via PayPal. All of my prices are stated in Great British Pounds.
If you wish to make a purchase or inquiry, email me at darkedgetv@live.com
- Contact me on Email, DeviantArt or Discord for questions and information.
---
Examples & Prices
Semi-Realistic Full Body - £200.00, additional +£40.00 per hour - Once an existing commission is completed, this will take highest priority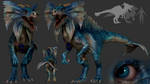 Rough Portraits
- £25.00 or 3,000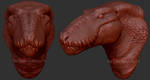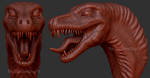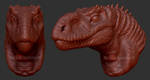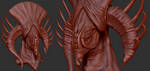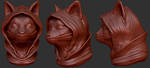 Smooth Portrait
- £40.00, additional +£25.00 per hour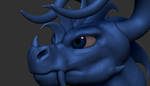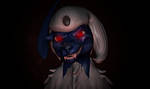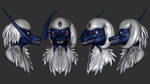 Detailed Portrait
- £60.00, additional +£25.00 per hour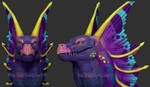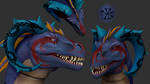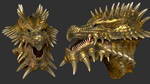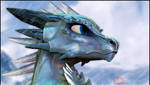 Semi-Realistic Portrait
- £75.00, additional +£25.00 per hour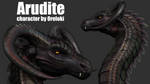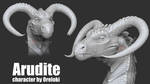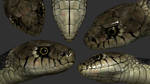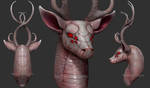 Simple Full Body
- £100.00, additional +£30.00 per hour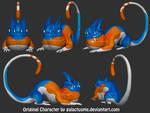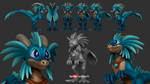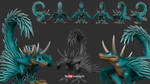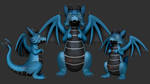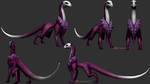 Detailed Full Body
- £150.00, additional +£35.00 per hour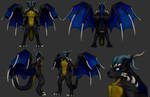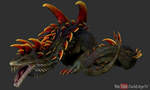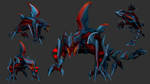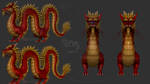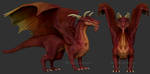 Additional Assets/Features;
-
This will be stacked on top of the deposit
Moderate/Heavy Asymmetry/Posing - £30.00
Accessories/Outfits - £15.00
Companions -
To Be Determined
Backgrounds/Environments -
Not Yet Available
Retopology (ideal before animating) -
Not Yet Available
Rigging -
Not Yet Available
Animating -
Not Yet Available
---
Payment, Ordering

Check my rules and requirements, browse my gallery, understand I am still learning 3D artwork, and then inquire either here or via email.

Inform me that your payment is about commissions.
If you send me a blank payment, I will assume it is a donation.

Wait for my approval before sending payment - If your commission is not accepted, I will refund you. If you pay without approval
again
, I will accept it as a donation.

Any deadlines or urgencies must be expressed ahead of time - Otherwise, expected wait time will be up to 3 months (depending on queue).

I reserve the right to decline and/or cancel any commission.

A deposit is required before I begin
- Once the commission is completed, I will send you a low-res preview and the final bill. Once payment is fully completed, I will send you multiple shots and views of the final HD piece, and an interactive low-resolution model via
SketchFab
.

The deposit is the initial price listed above, the final bill is the total accumulated price after.

Once the commission is complete, I will provide plenty of angles and views, and an interactive low-resolution model via
SketchFab
I can also provide an exported .obj or the project files, however I do politely request some credit or reference as the author of the 3D model itself should you use it in projects.
Commission Form
Here's what I need to know before we can agree on a sale;

What your character looks like; a visual reference is
required

What style you are purchasing - Do you want a simple portrait? A complex full-body sculpt?

Do you want it coloured or textureless?
(not available for Rough Portraits)

What do you desire for your character - emotion? expression? action? different colourscheme? Is your reference old or missing anything?

Am I making a literal duplicate of your character, or a different style (eg. anthro/feral), or my own interpretation?

Be as detailed as possible for your request, so that I can fulfill it as swiftly as possible

Is there a deadline or time-table? Inform me ASAP

Do you want your commission to be private? Can I livestream it? Can I make a video of it?
(livestreaming/videos are an unrelated consensual agreement, nothing will automatically be published, but I would appreciate the ability to livestream and/or make a video. I will respect your privacy if you decline)

And most importantly; Can you provide the deposit up-front, and pay the remaining fee upon completion?
---
Commission Limitations & Rules
What I Can Do

Animals, Creatures, Hybrids etc. (real and fantasy)

Humans, humanoids, anthros

Original characters, fan characters

Moderate blood and gore

Moderate asymmetry
What I Can Try

Robots, cyborgs, bionics, implants etc.

Rough feathers, feathered wings

Clothing, outfits, accessories

Reasonable/tasteful nudity

Poses, stances, heavy asymmetry

Semi-Realism

Human faces
What I Can/Will Not Do Yet

Retopology (simplifying polygons, necessary for animating)

Rigging, animations

Environment, backgrounds

Hyper-realism, rendered fur, full-body feathers (ZBrush4R7 required) *UPDATE: I now have ZBrush4R7! Currently learning to do fur before I sell
What I Will Not Do

Pornography, Fetishes (disproportionate anatomy, rape, vore etc.)

Hate-speech, harassment, politics

Copy-righted characters

Ridiculously detailed/outfitted stuff in an extravagant pose, unless you're willing to wait a long time and pay a fortune
Additional Notes

I am a full-time Content Creator on YouTube & Twitch - My time is precious and limited

I will NOT rush commissions - Quality is important, even if my time is limited

I will charge via a combination of time taken (specified above) and complexity of the model (features and assets, not polygons)

I am typically a fast drawer, thus wait times should not be terribly long - availability of the free time itself is the key factor here

I record everything I draw, thus timestamps will be available. These commissions will
not
automatically be livestreamed and published, however I will respect your wishes if you do not want me to livestream or create videos of the commission.

Time taken WILL include minor breaks during sessions - Timestamps will be a reference, not a record. I will be reasonable, but I will not include massive breaks.
---
Frequently Asked Questions, Notes, and So On...

Q: Why the steep pricing?
A: 3-Dimensional means I have to look and judge from every perceivable angle. The final outcome may be displayed in 2D but I still must consider every side and view, which takes a lot of time, calculating and planning. Additionally, the time spent on commissions will directly compete with video-making and livestreaming time, thus the potential revenue must compete as well.

Q: Why increase the Price Per Hour if higher-detailed models will take more time too?
A: As mentioned in the notes below, I am a fast drawer. The time I take to create smooth lines and clean surfaces isn't too different from the time I take to create a multitude of textures and definitions. Additionally, more detail still requires more planning, while simple designs are more just down to simplicity and polishing.


Q: How long do these typically take?
It varies wildly depending on style, features, complexity, pose and all that stuff. The rough portraits take on average 30-60min while everything else can vary from 3-10 hours recorded, sometimes over the course of a couple of days. Larger and more complex stuff may of course take longer.

Q: How will Price Per Hour be determined?
0-15 minutes = Rounded to zero, no charge | 15-45 minutes = Half an hour, half the price | 45-60 minutes = Rounded up to an hour
I record all of my art for potential video purposes, thus I will be recording the time taken anyway. I will also set up a stop-watch for entire commission sessions. Minor breaks (such as planning, stretching or finding references) WILL count, but larger breaks will not count.

Q: Why offer "Semi-Realistic" and not full realistic?
A: Because I do not yet consider myself capable of realism, nor do I want to set unrealistic expectations. Additionally, my version of ZBrush does not support fur and hair.

Q: How do you determine what is complex/detailed and what is simple?
A: The style - NOT the polygons or features (unless it really is a lot of features). A simple piece is polished and smooth, like vector art. A detailed piece has greater complexity, such as muscle definitions, wrinkles, tufts of fur and so on. A semi-realistic piece is me try-harding the hell out of it and constantly referring to photographs, as well as defining individual scales and all that jazz.

Q: Can we trade? Can you gift me? Can I get a discount?
A: No.
Customer/Patreon Feedback
From what I've seen I must say that she takes this sort of things seriously. The quality of her works is stably high so you mustn't worry about it. She always tries to consult the customer to figure out some details so the end result turns out to be what you originally wanted (or at least as close as possible to it). I won a raffle (still a bit hard to believe, haha) and got a 3D model of my OC (that Tea Noodle). All process was streamed so I managed to see all the process from beginning to an end so I can relate for the stuff said earlier. And the end result was far better than I was originally expecting. So yeah, you can trust this woman! ;D ~by Alespill
Even though it took longer than expected, I fecking love it! Absolutely amazing! Thanks for making this for me! ~by DarkDemonDragon

Becca's work is phenomenal, and her attention to detail is amazing. The amount of effort she puts into her work is astounding, and you can rest assured that the work she puts out is of stellar quality. The realism, or even expression she managed to get on the work she did of my character Glass was breathtaking, and you can usually catch a stream to see it all happen in real time, if you're interested in watching her work on your piece. I would absolutely recommend her to anyone who loves this kind of art. The prices are expensive, but well worth it. ~by ShatterGlassStudios

I'm so amazed by how much work and detail you put into this, not to mention I think you're ever so slightly mad for attempting to hand-sculpt almost every scale. The end result speaks volumes for itself, though! This is my favorite sculpt of yours so far as well, and I don't think that it's just me being biased because it's my character. I believe I got exactly what I paid for, and I will absolutely be commissioning you again in the future. ~by Oreloki
Skin created via
www.simplydevio.us/#!/resource…