As a stock provider, nothing pleases me more than to see a notification that an artist has used my stock in their art. It's a gift, not only in the art itself, but to know that my stock inspired an artist to create. I am constantly dazzled by the artists who take a simple photo and turn it into an entire fantasy world. Artists take the ordinary photo and turn it into something extraordinary. This is one of the reasons my fellow stock providers and I create stock. We share a common bond of dreamers and possibilities.
"All that we see or seem, is but a dream within a dream."
– Edgar Allen Poe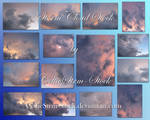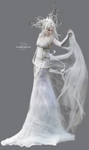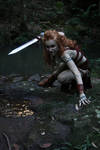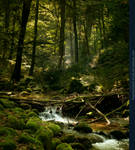 A single stock photo can be interpreted in a thousand different ways, by a thousand different artists. Each artist is inspired by their own unique views and tastes. Where one artist sees a stock photo and dreams of mermaids, another artist will dream of ethereal apparitions from beyond the shadowed veil.
:thumb262534880:
I've had the pleasure to get to know our local stock community. I believe that

has the strongest stock community online today. deviantART has one of the most vast and varied collections of high quality stock that I have ever seen. The majority of it is free for artists to use, which is another uncommon element in online stock photography.
One of your best resources of all regarding all things stock is our resident Resources & Stock Community Volunteers. They work hard at ensuring that our stock resources run smoothly, and are the voices of our community.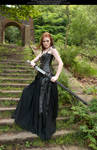 :thumb278014066:
Our stock resources range from the beginning stock artists to the professional models and photographers that could easily demand high prices for their work. Luckily for you, the majority provides it for free. Often they only ask for the artist to simply credit them with a link to their account and stock photo. In fact, crediting your stock resources is not only important, it's mandatory. As per

guidelines, all manipulated materials such as photomanipulations or premade backgrounds must be properly credited and from valid stock resources. This not only applies to

based stock resources, but all off-site stock websites as well. It is also part of our
Realm-of-Fantasy
submission guidelines.

Group Submissions Guidelines:Please Read


PLEASE READ GUIDELINES THOROUGHLY
Welcome to the Realm of Fantasy Group. Fantasy, by it's core definition is: the free play of creative imagination. This is a place for fantasy enthusiasts to come and share their imagination, and meet others with a similar passion.
This is a Group for Fantasy and Sci fi related artwork and Literature. All Skill Levels and Mediums are welcome. So if you are interested in fantasy art in any way, shape or form, come join us at the *Realm-of-Fantasy.
Where the only limits here is your imagination.
This Journal will be updated and re-posted from time to time.


Attention please also read:


Fantasy Criteria: http://realm-of-fantasy.deviantart.com/blog/30166422/


Credit Guidelines: http://realm-of-fantasy.deviantart.com/blog/31080729/

Gallery Submissions are Open everyday.


You may submit 1 Submission per week.


You must be a member of the group to

Credit Guidelines: Please ReadLack of proper Credit and Links provided of the original Artist and Resources used is the #1 cause of delays daily in our Group Submission process. When we observe possible uncredited Resources use in a Group submission, we send out a correspondence message to the artist requesting Credit and links, and must often wait for a response.
We have been receiving a lot of submissions which are containing other peoples work without permission, credit and/or links given. Our Group standpoint and Guidelines in regards to this issue are very clear:



If you did not make it; get permission to use/alter it from the original artist/company, give credit and provide a link to the piece used. If you do not have permission to use it, then it is Considered Copyright Infringement. No Exceptions


You must provide Credit to each creator of the resources used, along with links to every resource used, regardless of where you got the resource. Not just links

How and Why To Credit Your Stock ProvidersHiya Darlings,
Today I am going to tackle a subject that all photo manipulation artists should pay attention to. (Yes, this means you!) It is my hope that this article will save you the headache and trouble of getting a submission declined, having to delete your work, or worse; be sued by someone because of it.
Why Properly Crediting Stock Is Important
All artists know that the secret to a great manip is finding stock that is just right for the theme you are trying to convey. On

there are literally thousands of fantastic high quality images that are absolutely free. Some of these images are even created by and featuring professional models and photographers. You could pay a lot of money for the rights to use the type of stock resources in your art that are found here free of charge. This is part of why

is unique and an amazing place for artists to frequent.
You'll find that a lot of art groups, including :iconmanips-cent

Premade Backgrounds and Group Submission Changes

This has been reposted from

The-Stock-Directory

upon request so that it can be requested for groups.

Feel free to request it!
Today we're going to address the "Circle of Stock." Cue Disney's "The Lion King" theme song and call me Mufasa. Just like in the circle of life, what we do affects another group, and returns to affect us again. We have a responsibility to the artists that use our stock to provide legitimate and safe stock resources. As an administrator for a few art groups as well as stock groups, I have seen what happens to the artists who use invalid stock resources. They have had their art declined, or had to replace stock elements through no fault of their own. This especially includes those who includes celebrity or otherwise copyrighted material, even if it was uploaded to the Resources and Stocks section of

. It isn't fair to the artists who use the "stock" and hurts the credibility of not only the stock provider who uploads it, but the stock
FAQ #157:
Can I use things created by other people in my submissions?
FAQ #257:
What sort of permission do I need to use someone else's work?
FAQ #217:
What are "Stock and Resources" and can I use them in my submissions?
FAQ #809:
What are DeviantArt's stock image guidelines?
Now granted, there are those beginning artists out there who are simply unaware of those rules, and have no idea how to properly credit their stock providers. For those who wish to learn, here is a tutorial to get you started:
Proper crediting is essential when using stock photos in your artwork. Not only does it increase your arts exposure, it helps the stock provider by letting others know where you found their image. Everything, no matter how small it is, used in a photomanipulation should be credited. If your mouse is having tea, you should credit the brush that you used for the steam coming from the tea. Crediting also enhances your chances of having your artwork approved during the submission process in the groups that you submit to.
The keywords and algorithms of the

search engine increases your chances of being seen by crediting stock. You should also
always
notify the stock provider that you have used their image with a direct link to your work. This increases your chance of getting views and favorites. It also increases your chances to be included in features such as this one. When I chose to use
Jaymasee
's
Mermaid – Tethys 12
stock photo as an example, I browsed the comments section for artists who used the stock to feature alongside it. This is how a lot of features happen. As a digital artist and stock provider, I often browse the former uses of a stock photo to see what has already been done with the image to avoid creating something similar. When artists do this it increases your traffic. Have you noticed that I've emphasized how your
traffic increases by proper crediting techniques
in this section? I did this because crediting is
extremely important.
Here is a quick example on How To Credit Your Stock Providers
Now for the sake of argument, let's say I used
Jaymasee
's
Mermaid – Tethys 12
as a stock resource for my manip, or referenced it with a digital painting. Once I uploaded my artwork, I would put the following in the
Artist Comments area:

Model:
Jaymasee
fav.me/d4b9gd9
Or

Model: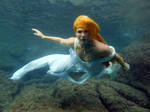 After the image is fully credited and uploaded, I would then take the fav me url from my work and then leave a comment on the stock photos page. That way she can see how I used her stock. Most stock providers add art with their stock in it to their favorites list, and will feature it in a stock use feature later on.
Quick Guide to Using Stock:

You
must
credit and notify all stock resources used. This applies whether you are using it in a photomanip, or as a reference in other traditional/digital mediums.

You should always notify the stock provider after you use it.

Always
follow the individual stock terms of use that the stock provider has listed. They allow you to use their image provided you follow these said terms, and
by downloading the image, you agree to follow them.
You can generally find their stock rules on the photo itself, the stock provider's journal, or their front page. I tend to list them in all three places

You should always credit yourself! If you are using your own images, you should state that in your artist comments too!

If you have used a stock image and the stock provider has deactivated their account, you should still credit them. Here is an example:

Forest:

AlaskaStock

Deactivated Account; Images No Longer Available.

Keep in mind when using pre-cut stock or premade backgrounds, those stocks should have their credits listed in their artists comments as well. There are some premade backgrounds and precut stocks that have been created by using images from google or websites like sxc.hu. I know for certain that sxc.hu and depositphotos.com do not allow for the redistribution of the stocks on their website in any form.

Do not
use celebrity images, google search images, screen shots of movies or games, or other non-stock images in
your manipulations. It is a violation of the

guidelines,
Realm-of-Fantasy
submission guidelines, and could possibly get you in trouble for copyright infringement.

Lazy "crediting" such as saying, "I'll find the link later," or "I don't remember who this stock belongs to," doesn't count. Most often we put our dA ID names right on the image file itself. Mine often say things like "CastlePremade_by_CelticStrm-Stock.jpg." You can also find it occasionally on the image itself or in the meta-data.

Do not assume that simply because a photo is listed as a stock photo, that it is a public domain image and you can do whatever you want with it. You agree to abide by the stock providers terms of use when you download the image. Be respectful of the stock provider by following those rules.

Language barriers are not an acceptable excuse for failure to follow the rules. Google Translate works perfectly well and it's free to use.

Don't assume that if you don't credit or notify, you won't get caught. I and my fellow stock providers often use reverse image searches like tineye.com and google reverse search to find those who violate our terms.

The failure to properly credit your stock resources takes you out of the running to be featured with a Daily Deviation.
Taking Stock:
Did you know that most stock artists provide you free resources at their own expense? Travel, costumes, equipment, and makeup among other things can come at a hefty price tag. It can get expensive for the stock provider very quickly. We do these things because we love it, and we believe in the long run that it will be worth it. Most stock providers don't have fancy studios or investors to finance these things.

Here's an example: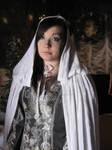 My sister
MissHootLoot
is wearing a gown that I purchased for her a few years ago for stock photos. At the time it cost about $300 USD. The cloak she is wearing cost her $50 USD. I got lucky with the setting and was able to use it for free. It wasn't free for my family to build, however. They created the setting for a photo shoot with Santa and Mrs. Claus at the Christmas parade in Highlandville, Missouri.
This is a similar situation for most stock providers out there. We also tend to get injured in the pursuit of stock on a regular basis. I can't tell you how many times I've tripped or twisted my ankle shooting stock. I think the worst time though was when I was out shooting lightning stock during a storm that was currently producing a tornado. I got the shot, but the downside was that I got hit by the ricochet of a lightning strike. I was fine, but it didn't tickle.
(I also wouldn't suggest taking photos of dangerous storms unless you've had some formal training in storm chasing. I was able to receive that training while I was in college in Oklahoma.)
I've heard other injury stories ranging from broken bones to strained muscles, all in the name of taking a stock photo.