This blog shall provide answers to the devilish questions that are asked in a frequent manner. If you have any questions not answered here, feel free to drop a comment or fire off a note to us and we shall answer as best we can.
How do I join this fantastical group?
This is a group for those enjoy going beyond the limits of imagination through their artwork. To join in the fun and provide us with your portal to infinity, you need only to click on the "Join Group" button on the left side of the screen. Still don't get it? Then perhaps this mystical visual shall provide some much need aid in your quest.
How do I submit my work to this group?
It is ever so easy to submit work to this amazing group, however before we get into that, let's do a quick review of these
few commandments
:
This group only accepts work from the fantasy and sci-fi genres.

You are limited on one submission per week.
All work is accepted within reason

All work must comply with deviantART's ToS.
Please submit to the correct folder
Credit all resources used.
Explicit work is not accepted
Once you've reviewed those commandments, submitting it is quite simple.
First go to the Gallery
. Then click the "Submit to this Gallery" button, from the pull-down menu, click "Contribute an Existing Deviation", from there navigate to the deviation you want and click "Submit". From there you just have to wait it out until you get accepted. If you are denied, an admin should drop you a comment on the matter. Still don't get it? Perhaps this mystical visual shall help you.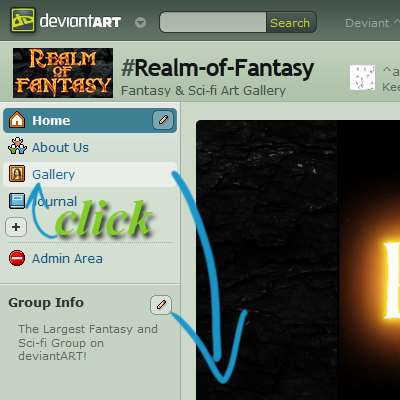 After all is said and done, you will receive a magical message in your message center that looks like so:
Do not delete this message
. Watching that message will allow you to know if your submission has been approved or denied. If you are denied, an admin should leave you a comment explaining why in the most eloquent manner.
My submission has denied, what can I do about it?
Your submission has been shot down and you're wallowing in despair, so now what? The answer to that is quite simple. You can... send us a message saying something along the lines of "You doth declineeth mine submission, pray tell why?"
/shot
An admin shall then decree unto you why yon submission was declined. The mostly likely reason is, you placed it in the wrong folder, happens all the time.
How do I go about crediting my resources?
That's easier then it looks. In yon artist comments,
use :devUserName: or :iconUserName:
. Easy as that. A link back to the original resource is also recommended.
All resources used are my own, what credit is there to give?
All one has to say is "ALL THE RESOURCES ARE MINE." in thy artist's comments.
May I offer my allegiance to this group through the act of affiliation?
But of course! If you wish to affiliate with our group feel free to send us a note on the matter and we shall give you an answer to your query.
I have discovered a vile thief amongst your ranks! What shall I do with the traitorous swine?
Nothing.
We are not the dAmn police, and neither are you.
We have no problem with you quietly sending us a
private note
on the matter, however, the only action we can take is remove their work from our gallery.
Please report all suspected thieves to the Help Desk!
How do I turn off notifications from this grand old group?
If you wish to banish our notifications from your center of messages, then perhaps you take a gander at the
Manage Friends Screen
and find this group in the list of hundreds of deviants, then uncheck the things you no longer care about. Still unclear on the concept? Perhaps this mystical visual aid shall be of assistance. It's dangerous to go alone, after all.
Why does this FAQ lack campy fantasy speech?
Because apparently
JRCnrd
fails at embellishing his writing. Have mercy upon his mortal soul, or smite it. Doesn't really matter. He's already going to Hell to experience how its fury really compares to a woman's scorn.
Still have questions not answered? Don't panic. Drop a comment on this blog and the admins shall answer.

All visuals copyright JRCnrd. Stealing his stuff makes him sad in the pants, so don't do that. Thank you. JRCnrd is also not technically an admin of this group so do not ask him any questions about this group because he will just BS all the things.

Hello! Thank you very much for accepting my work ♥ But I can't see it in the gallery, why is that? ;(