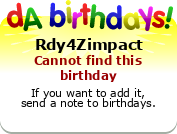 Click Me!
My Top Artist list:















<----- sexy doofenshmirtz my buddy

made for me!! ISN'T HE HAWT!??!? :3 <3y
:thumb274708065: my friend made this for me!! i love it!!!

HERE IS ME!! I WILL TELL YOU THINGS ABOUT MYSELF NOW THAT I'M HERE!!
Name: Wendy
likes: drawing, watching tv, talking with my buddies, chocolate, orange juice, people hugging me(sometimes),watching amazing artists here on da, and my sexy santa hat
dislikes: mean people, rain, people touching my stuff without me knowing(especially small children), and being tickled.
fav place to be: rooftop, hottopic, and my room.
fave people:

,

,

,

,

,

,

,













:

























and other people i don't have time to list
that's it for now!!! I AM READY 4 ZIMPACT!!! are you?
Current Residence: Wouldn't YOU like to know?
Favourite genre of music: Rock and Metal
Favourite style of art: Don't really have one
Skin of choice: Alien...skin...thing
Favourite cartoon character: ZIM!!! Dib!!! Heinz Doofenshmirtz!! phineas flynn fletcher!! Dipper Pines!!!
Personal Quote: the strange is what makes the world go round!
Stamps:
:thumb283156266:

:thumb340646406::thumb142557550::thumb101086544:


:thumb292530392: