Stereoscopic 3D imagery contest winners
12 Favourites
19 Comments
1K Views

3D Imagery Contest Results!

Finally they are here! The
3D Imagery Contest
was announced last fall and ended on the 1st of January. We have received a lot of great entries from various talented deviants. We accepted any kind of media, there were some who
drew
,
painted
or sent us
computer graphics artworks
, but of course most sent
photographs
.
The judges,
rdevill
,
maestro-diabolus
of
Gallery Diabolus
and
knifeofdreams
had a hard time to choose the very best of the entries, and finally
decided to divide them into two groups:
Photography
and
(Computer) Graphics
. (In this case we consider everything photography, that is based on a photo, and the manipulation didn't change the meaning of the image. Everything else is considered (computer) graphics, including traditional art.)
We announce the best 3 artwork of both categories and all of them will receive the prizes
.
While selecting the winners our main aim was to choose artwork that has the highest chance of being attractive and interesting to people
not
involved in stereoscopy. For that reason the most important aspects while evaluating the entries were: aesthetic appeal, composition, choice of theme and how well it conveyed its message. The second most important factor was how well the artist handle his/her tools, and how much the 3D effect adds to the experience.
Check out the entries here!
</em>
Winners of Photography Category
:

First Place

:thumb149477428: by
cesarsommer


Second Place

by
WODKA87


Third Place

by
yatu-ex

Winners of Computer Graphics Category
:

First Place

by
voxel123


Second Place

by
chain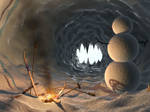 Third Place

by
max4ever


Runners up

Along with the 6 winners, all the below listed artwork will be
exhibited this spring in the Gallery Teto in Budapest, Hungary and in ArtSpace Diabolus on Second Life
. We will contact every artist about the details of the exhibitions.
Congratulations to everyone!

Contest hosted by



rdevill



knifeofdreams