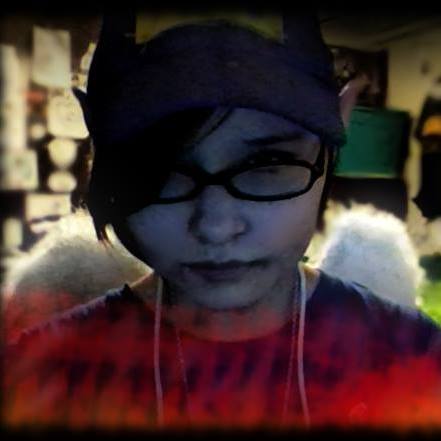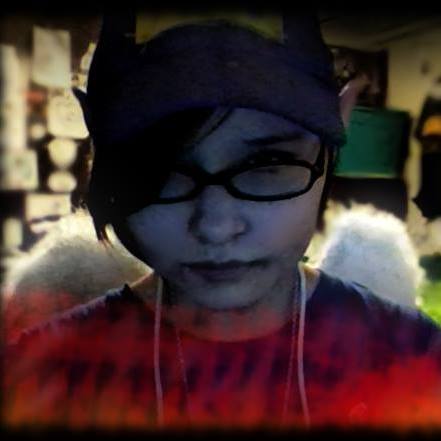 Watch
people treat me like i am evil well fine, maybe i am evil... but hey i am nice to those who are nice to me.. but yet do not fuck around with me!

Evil nah impish sweetness maybe

Reply

well no matter what i do, i always seem to be played the bad guy, even when i try to be good so yes, i guess i am evil
Reply

why the evil look? is your ex getting to you, you should be happy your free. what's keeping you to be happy, what did your ex do to you. i'm so confused
you say you like this other guy... what's the waiting...
Reply

well me EX-bf and i are taking a break... the other guy is already married and is in his 30s so i don't think that is legal x,D lol but yea, the reason i have that look is cause, the other guy i like nick-named Saint RK, <3 calls me angel bird... when i think of myself more of a devil. Cause every time i try to make people happy i ended up hurting them.... hens why me ex and i broke up, you see i tried to make him happy wich ended up hurting me so i drank and kepted on trying to make him happy but he would hurt me back, so i dank some more... then his mother came involved and said i was hurting him when all i wanted to do was make him happy, and he was the one who was hurting ME.. so now you see why i have that look... it really gets to me, but we are trying to make things work out but i do not things will... but i can only hope

stay positive and look for a brighter future

Reply

well it seens he gets after you because of your drinking, do you ever though of quitting drinking... if you two are trying to work things out. i think that's why he get after you a lot, i hope he hasn't hit you. if he did that's who you shouldn't be with. look you going have relationships it's ups & downs, but if you keep drinking that what's gonna make things worse for you. you think the next guy or girl would care. i'm sorry what i said about other comment's. my exgf got after me who i talk to and some stuff have happen. she really did care, but i haven't realized tell it was to late. she was the one that found me, and i lost my good friend that i trusted. i see why she got after me. i get people that tries to hit on me just wants to get in my pants only. it sound's like he isn't doing it to be mean. if he is trying to work thing's out. you should be glad he is still trying to work some stuff with you. your drinking is what's gonna make things a lot more worse. believe me i did some really dumb stuff, things i wish i can take back to bring my exgf back. but i hope the best of you. by the way who is your exbf, i haven't look at all of you pictures on here. i hope he is not that kind a person that stays home after high school graduation. you don't need a man like that. you need to be with a guy that is trying to continue his education and that doesn't drink as well. heads up never get with a guys that drinks. that's why my exgf left me. hope you do have a
brighter future. work on quitting on your drinking.

Reply

drinking is part of it, but not all... and no he never layed a hand on me, unless you are talking about him pushing me down, but other then that nope. I do get that drinking has become and issue and relationships allways have there ups and downs, but this was a BIG down. His mom thretend me and me family and she lied saying "the spirits told her to go looking thew me bag" now in that bag i had some alcohol i was saving to take home with me. I understand they do not like drunk people in there house, hence why i was waiting till i get back home to drink it. Still somethings happend and i ended up drinking the other bottle i had with me at the time cause i didn't know how to cope, i drank just lil sips here and there, but after what happend i just started chugging and then things escalated. (not going into details) but yea me bf and i had a fight that night. i am not mad at him im more annoyed at him and his mother.... cause all i wanted to do was make them happy but i get called the bad guy. Anyways we are talking now!!! OoO and it looks like things are getting better so that is good...

we are talking things out, and working things out as adults. (and no he is not the guy who stays home after high school graduation, but collage graduation)

lol wish he would go find a job..., (not being mean tords him cause he has to be there for his family) so he is in a sticky situation, so i understand. He wants to go back to school as do i, so that is good

anyways yea i still feel like the bad one so i guess i am a fallen "angel" or a devil with wings x,D but meh idc, like i allways say "i am a sick son of a bitch, with a twisted sense of humor" xD
take care mate


Reply

i see. i want to say something i read all the comments u wont back i dont get why he got mad do thing think he is mad because ppl hit on u when ur drunk? i get ppl doing that all the time with me when im drunk... i dont know how much u drink tho? it really sounds like the
alcohol is really behind all of this. look im sorry about what i said about ur exbf and about the other stuff that i said.


not to start up shit but u think that rk guy is just trying to get in ur pants? i had a close friend like that. thats all he cared about.
how long do you know the rk guy i think thats why ur exbf is mad about, it has to be something really bad that have happen to get ur exbf mad. to me it really sounds like alcohol was really behind of all of this.
i don't know if you read my other comments something about that. and im glad u two working things out. sorry for me saying all that shit to get back at him


just please watch out for the rk guy, i had a close friend like that. some stuff have happen. he got me really drunk. thats how i lost my exgf. she found out about what happen. she got after me who i talk to, lost my really good friend... i miss her... hope for the best of u

im sorry for shit that i said.

take care mate


Reply

he is not like that, he told me not to send him any "sexy" pics cause he didn't want me like that... "just as a close friend" - RK. I really care about him and he is awesome and we are very close, but not that close.
i do agree with you, the alcohol fcked things up but its not just that. It seems his family hate me and what ever i do its never good enough for them.
me Exbf is a Huge mama's boy and her and i do not get a long... so that is one of the reasons.
(no dis respect to him) as for his mom, all i wanted to do was make his son happy but instead it back-fired...
i did warn him that i am too fucked up for anyone and told him it wont work out
but he insisted and i did care about him and wanted things to workout , but guess
just going to hide and
we are still talking and getting things worked out, but you know... hope for the best but expect the worst
so now i am just focusing on me school-work and not the stupid ass drama ._.
Reply

well sorry for the dumb shit that i said, but it does sounded like the alcohol, what his family hates the most. i don't know how much u drink, me and ur exbf talk he told me u drink hand sanitizer a lot back then. that was the thing his family didn't like the most. he told me his family still ask about u. when ur coming over but u be drinking that hand sanitizer. u should be glad he put up with this long. told me it was getting that close to be 4 years that u two u been together. so do u really want ur relationship to end hun u gonna understand relationships has drama.

u cant hide from that if u really want to work things out with him just get rid of the ppl that are trying to get in ur pants.

they say, they care but once they got what they wanted and move on to other girl that what happen to me when my close friend got me really drunk. and my girlfriend found out what happen. i had to get a pregnancy test, the damn so call friend i had though i can trust. fucked up my relationship big time. thats why my exgf left me. she was right about him i didn't believe her.

but i think u should go see ur boyfriend and work things out. u two sounded u been thought a lot... told me u two live far from each other i can see why things been going to hell. long distance relationship can be really hard u should be glad it last this long. but told me u broken it off when his grandpa was in the hospital told me he had to leave the middle of the night. u thought he didn't care when videochatting with u that night and the next night you thought he was ignoring u. all this time he was in the hospital with his grandpa. he told me he left his computer and his kindle fire back home. but had his family to go back to pick some stuff up. and i think the last time u two talk was 5-6 days later that's when he found out u called it off. all because u though he was ignoring u. all this time he was in the hospital with his grandpa. but i think u two should see each other he told me the last time u two see face to face was last summer.
Reply

Reply

A lovely angel if you ask me
Reply

Lol thanks mate

i am nice to those who are nice to me, but iv giving up on myself cause i am not nice to myself anymore
Reply

I don't treat you like you're evil, never have
Reply