I love to draw and take pictures, I work full time at the Shuswap Nation Tribal council on a virtual library project. I am Shuswap First Nation from the Thompson region (Kamloops).I also have a part time jobs as a house sitter were I take care of 4 dogs 3 cats and 2 fish.

I have recently moved in to a new house and purchased my first car a 2007 doge caliber (its red) but in March 2009 I was in a car accident and totaled my caliber so my insurance went up 40% but I did get a new car it's the same thing in silver though. Got my self a kitten that we named Rahj oh and I got another cat that we have called Mad Max.

I am a huge fan of horror movies and action, comedy I like most movies but I am not so ecstatic about chicky flickies.I enjoy spending time with my friends and taking them mountain biking at the Sun Peaks Bike Park.

I have one tattoo that I got in March and I hope to get more soon.

Most of the time I just want to go out and have fun with my friends some of them are here on deviant art but most of them are not.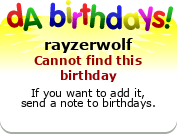 Current Residence: Kamloops
deviantWEAR sizing preference: Ladies M-L
Favourite genre of music: Alternative, German Metal/industrial, industrial rock
Favourite photographer: Ansle Adams
Favourite style of art: Traditional
Operating System: PC
MP3 player of choice: IPod Video and Touch
Favourite cartoon character: Gir from Invader Zim
Personal Quote: "If it don't work..smash if a few times then try again."