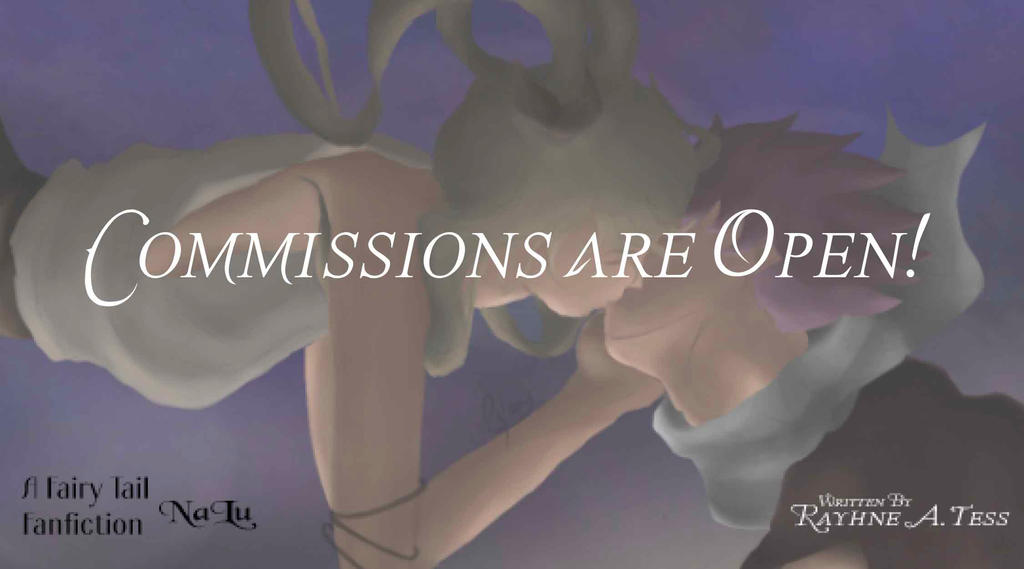 Hello my lovelies!

I've been thinking about doing this for a long while now, and after some convincing (rough bullying that consisted of some shoving and pushing) done by some of my friends I have finally decided to open my commissions. There are many reasons for this, and if you're curious I can explain, but otherwise let's leave it open!
Alright, now, let's talk what you really wanna know. What am I commissioning?
Fanfiction!
But before we go any further, what's the price looking like? (If you're outside of the U.S. let me know.)
The starting price is $5. The fic will be at least 1,000 words and each 1,000 words after that is an additional $5. Due to my writing habits, let me know upfront how much you're willing to pay maximum so that I can be sure to write a good story for you and stay inside of your budget. I will take the first payment up front, but the rest just before I post it on my website for your viewing pleasure.
My website is just rayhneatess . com (without the spaces). Each commission will be linked to under the tab other works - fanfiction - commissions.
Rules of the commissions:
For now, all I am taking for commissions is NaLu fanfictions.
The sky is pretty much the limit on this.
If you really wanna know what I can write good, check out my other fics.
I'm not really big on the original tropes for this, so try to keep away from those!
Finally, if you would like to commission please fill out this form: goo.gl/forms/ragMMFwo0NuVqUIH3
If you are reading from ff then please go to my website or my tumblr, both of which are linked in my profile.
Thanks!
~Rayhne
P.S. After you've filled out the form please go here: rayhneatess.com/commissions/ and scroll to the bottom!