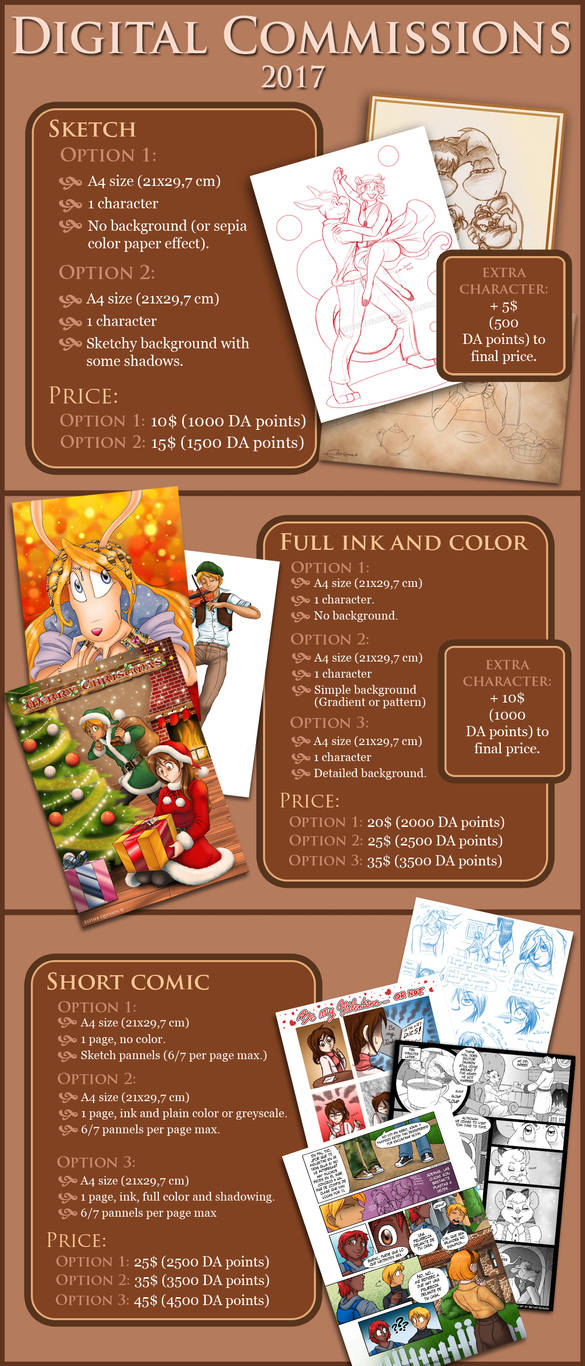 READ FULL DESCRIPTION if you're interested, please. Thank you!
Finishing pending slots.
SLOTS AVAILABLE AND/OR TAKEN:
SLOT 1: KitsuneHavoc

- Finished!

SLOT 2: Crash-the-Megaraptor - Finished!

SLOT 3: KitsuneHavoc - Finished!

DETAILS:
Read description of each type of commission. All digital commissions are meant for
size A4
(
21 x 29,7 cm
) in JPG format (note me if you need another one) and come with my signature and the year they have been made.
RULES:
If you are interested in this commission, you may send me a private message. (Do NOT post a message on this deviation for that).

I will only do A4 size commissions for now.

You may ask me for any character you want and even a specific type of background, but read the specifications on each commission first.

You need to provide in your message a full description of your character/s (physical and personality) and some reference pictures as well so I can get a better idea of it.

I will also need your e-mail address so I can send you the previews of the process.

If you want to use the final commission for any other than personal uses, we can arrange that, but you'll need to give the proper credit to the artist. In other words, do NOT remove my name from the picture and respect the copyright by adding a URL on your project to my deviantart profile so other interested people can find me. Buying art doesn't mean taking credit for what somebody else made.
FEEDBACK:
All details must be agreed before I start. Minor changes will only be permitted on the Sketch part. In ink and color commissions, when I begin the lineart, no more changes will be allowed.
I will send you by e-mail two preview images of the commission during the process: 1 for the sketch (and the remade/fixed ones) and 1 when the picture's finnished.
TIME AND SENDING THE ART:
Each picture takes up to 1-2 weeks to be done, if there are no changes to be fixed. BUT in case there are several commissioners at the same time, the first to order will be the first I will begin with. I'll finish one single picture at a time, so first come, first served. If you have commissioners before your order, you'll have to wait until I finish theirs first. When I begin with yours, I'll send you a message and you'll be able to wait 1-2 weeks max. until it's done (even less if I can).

Once the commission is finnished, you will get another e-mail with a preview. If you didn't give me an e-mail before, I'll then ask you to provide me with one so I can send you the JPG file in high quality and full-size.

PRICE:
Check out the deviation above to see all prices and details.
PAYMENT:
All payments must be done via Paypal. (I will give you more details once I begin your commission)

I will take 50% of the total amount in advance (before I begin your commission) and the other 50% after the commission is finished. When the total payment is complete, I will send you the file in HD to the e-mail you provided me with.

There won't be any refunds of money once I start, but if you change your mind we can arrange an agreement. Just tell me, I won't bite you, I promise

QUESTIONS:
If you have any general doubts, you can comment on this journal so everybody can see it, in case they also have the same question, and I will answer it as soon as possible. If your question needs further information, you can always send me a new private message.


If you accept ALL these conditions and want to own a nice piece of art of your favourite character, then it's settled.
Thank you for your interest!