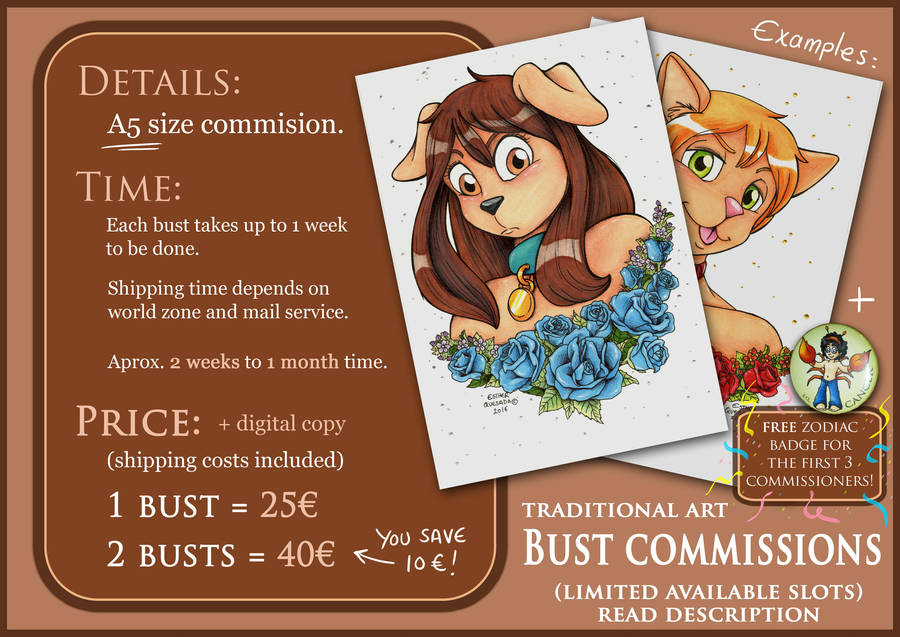 I'm giving priority to my watchers so be fast before they disappear!

READ FULL DESCRIPTION
if you're interested in these Traditional Bust Commisions.
Do you want to have an original bust of your favourite character? I'm offering some commissions right now with a free horoscope badge for the first 3 commissioners (Hell and Heaven badge). There are 3 slots available. Each slot represents 1 single picture. If you want to take the 2x40€ offer, you'll take two slots but only 1 free badge.
DETAILS:
These busts are colored traditionaly on dense paper,
size A5
(
14.8 x 21 cm
), with promarkers, watercolor pencils, black ink and some white acrylic paint or correction pen. All pictures come with my signature and the year they have been made.
RULES:
If you are interested in this commission, you may send me a private message. (Do NOT post a message on this deviation for that).

I will only do A5 bust commissions for now.

You may ask me for any character you want and even a specific type of flowers.

You need to provide in your message a full description of your character (physical and personality) and some reference pictures as well so I can get a better idea of it.

I will also need your e-mail address so I can send you the previews of the process.


If you want to use the final commission for any other than personal uses, we can arrange that, but you'll need to give the proper credit to the artist. In other words, do NOT remove my name from the pucture and respect the copyright by adding a URL on your project to my deviantart profile so other interested people can find me.
FEEDBACK:
All details must be agreed before I start. Minor changes will only be permitted on the Sketch part once. When I begin the lineart, no more changes will be allowed.
I will send you by e-mail two preview images of the commission during the process: 1 for the sketch and 1 when the picture's finnished.
TIME AND SHIPPING:
Each picture takes up to 1 week to be done and I'll finish one single picture before starting a new one (I'll follow the order of the slots. First come, first served). Once it's finnished, it's sent as a certified letter with a protected envelope or tube by Spain's usual mail service. The shipping time may change depending on the destination and mail service of the destination zone. In Spain, it can take 2-3 weeks. For International destinations, up to 1 month or some more days.
PRICE:
1 bust = 25€ (+ 1 free badge). The good news? The shipping costs are included worldwide.
AND if you want a couple (for example, your OTP [1 character in each sheet]) you get to save 10€ with a final price of 2 busts x 40€ (+ 1 free badge).
PAYMENT:
All payments must be done via Paypal. (I will give you more details once I begin your commission)

I will take 50% of the total amount in advance (before I begin your commission) and the other 50% after the commission is finished. When the total payment is complete, I will send you a digital scanned-copy in HD by e-mail and the original picture by certified mail service.

There won't be any refunds of money, but if you change your mind, you'll get the digital clean sketch either way.

QUESTIONS:
If you have any general doubts, you can comment on this journal so everybody can see it, in case they also have the same question, and I will answer it as soon as possible. If your question needs further and particular information, you can always send me a new private message.


If you accept ALL these conditions and want to own a nice portrait of your favourite character, then it's settled.
Thank you for your interest!