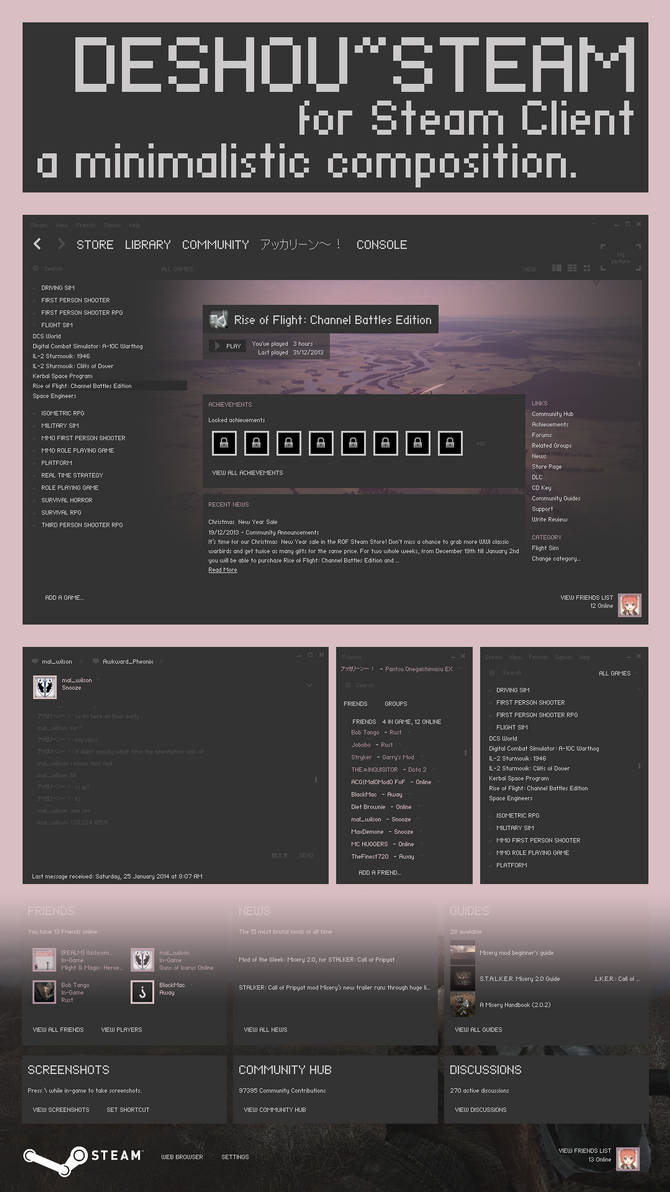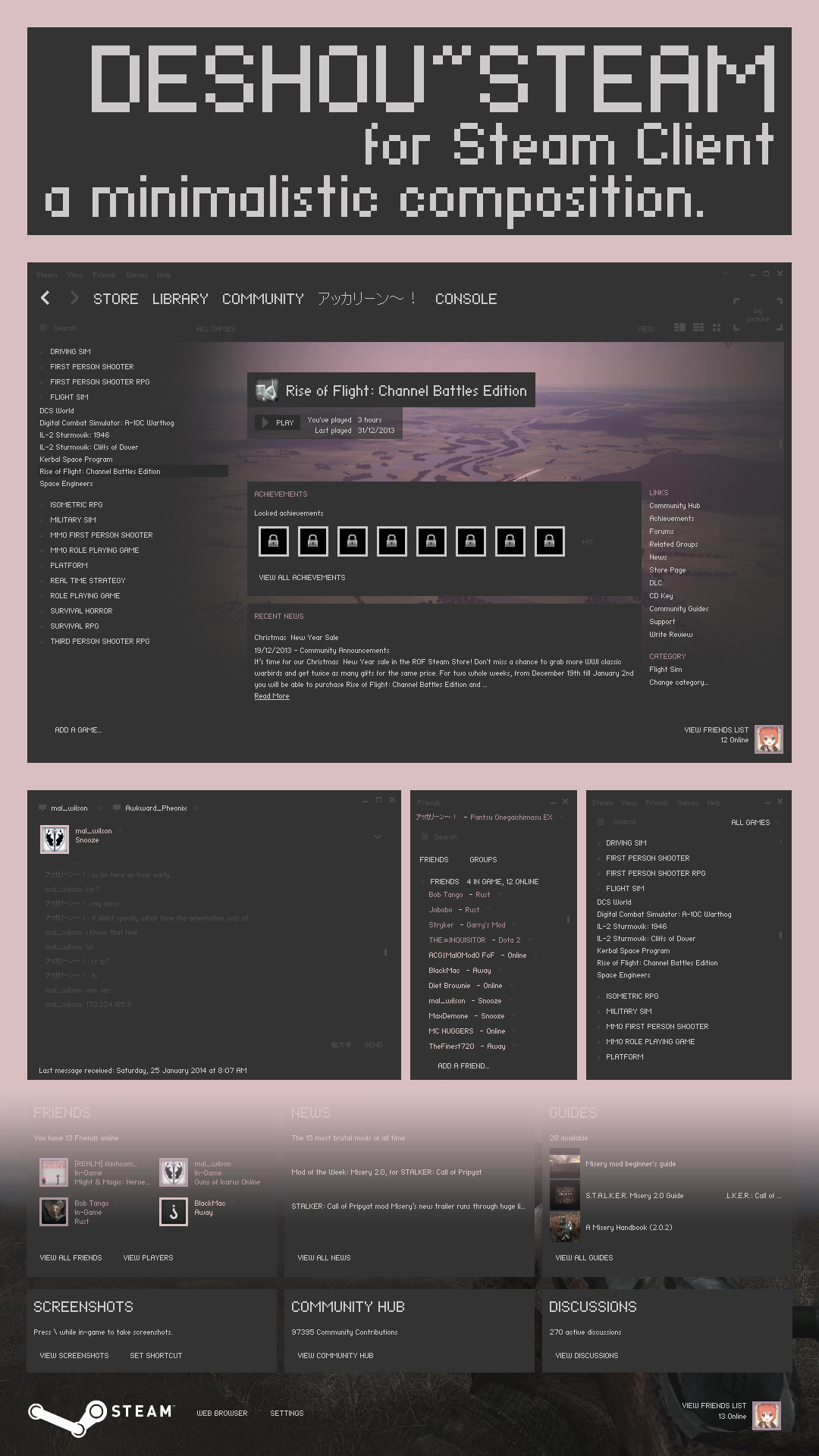 Watch
Latest Update on 12 August 2014 (for Steam Beta)

Download at: a.pomf.se/wrzusv.zip
Deshou for Steam. Part of the Deshou composition.
Deshou STEAM is aimed at minimalism, pixels, and adaption. It is highly stripped of borders and colours to give a focus on text and content instead of the frame in which it is held. It uses the bitmap font HaxrCorp S8 throughout and uses straight edges to follow a neat grid. Additionally, Deshou STEAM is made to not take the foreground of your system - the simple grey colour scheme will not detract from your wallpaper or your media.
Deshou STEAM uses HaxrCorp S8, a *.fon bitmap font (disable DirectWrite). I've also included HaxrCorpTFF for OSX and GNU/Linux, although it would require the changing of some font sizes to appear correctly (yet non-Latin scripts would then appear disproportionately large).
---
If you want to change the background colour and other colours, edit the first section in steam.styles. Most main colours are linked to a value in the beginning already, but I am continually editing it to condense the code.

The targa graphics have been edited for transparent alpha layers, so you need not use an image editor to personalise this.
---
Also in the Deshou composition...
_
Deshou STEAM
_
Deshou VS
_
Deshou ICON
---
C H A N G E L O G _


12 August 2014
- updated for latest Steam Beta

26 January 2014
- improved graphics
- simplified personalisation
- changed default colours
- removed bolds
- account name only shows on hover


04 January 2014
- fixed for latest updates
- several icons redone
- removed italics

06 November 2013
- update for broken elements
- removed legacy graphics

06 September 2013
- reworked graphics
- discontinued *.ttf version
- added folder for legacy buttons

23 August 2013
- changed voice chat button
- moved fonts folder

03 August 2013
- changed emoji icon
- reworked graphics alpha channels to simply personalisation
- fixed voice chat button

13 July 2013
- added in new buttons courtesy of twnsnd
- fixed missing icon from mini gamespage

28 June 2013
- changed some font sizes for *.fon to better work with kana alignment
- added a standard *.ttf version to work with Arial for Unicode support

18 June 2013
- consolidated colours to make it easier to change (black and text are main two)
- fixed joining game dialog alignment error
- reworked font size to fit kana with HaxrCorp S8

12 June 2013
- fixed several UI inconsistencies that I had not noticed before
- removed text from big picture button
- made resizer to appear invisible

17 May 2013
- initial release