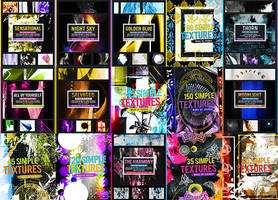 All Premium Content
Buy this to gain an ALL-TIME (not monthly) access to all premium resources packs I create (through Google Drive). As a subscriber you can also suggest what kind of resources you would like me to upload. Once you purchase, DM me for further info. NOTE: Reuploading and sharing premium content with others is strictly prohibited!
---

Texture Pack #15 - Summer
Description
For


Important! Please read!

- This pack includes 8 mix textures.
- Please be cool and don't use my textures to create your own.
- Don't redistribute or claim as yours.
- If you use, please link back my dA account. This is the only proper way of crediting and only thing i ask for.
- It would be nice to see how you use these, so feel free to comment with your work!

- Don't include in packs! My account is the only place providing my textures or PSDs.
- And have fun

Credits:
myphotoshopbrushes.com/
www.brusheezy.com/
texturefabrik.com/
www.pexels.com/
freestocktextures.com/