It's time for the next installment of my new monthly emote showcase. We have such an amazing gallery it's really hard to choose only a handful each month to shine the spotlight on.
This month we said goodbye to
Krissi001
and today welcomed
stuck-in-suburbia
as our new CV.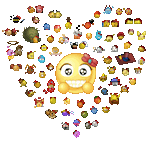 March Emote Showcase



:thumb287645084: :thumb287930123: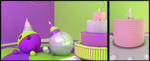 Monthly Events
Feel free to note me or reply here with any events not listed.

EMTC for March
- Camping

Emoti-Art Contest
- Emotize a famous painting

ChallengEmotes Theme
- Apple

EmoticonOpus Fish Contest






Emote Project of the Month
Help fill 2012 with emotes!!
:thumb271071761:






My Best Emote of the Past Month
I'm really proud of this one. It took a week to create and is the most in depth animation I've ever done. A lot of people stop watching after the first emote, but the machine creates 3 different emotes total!!