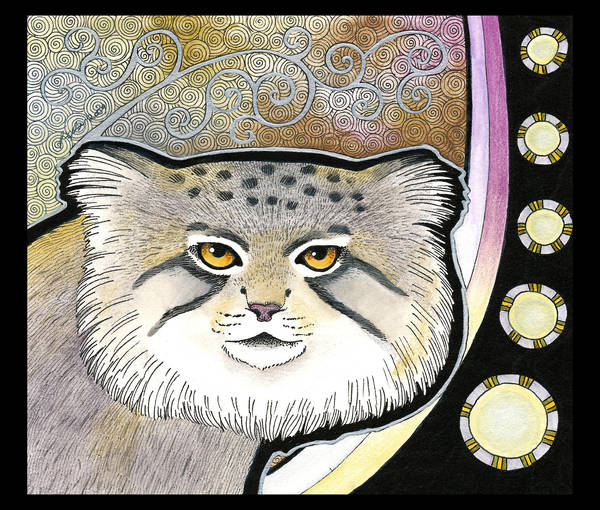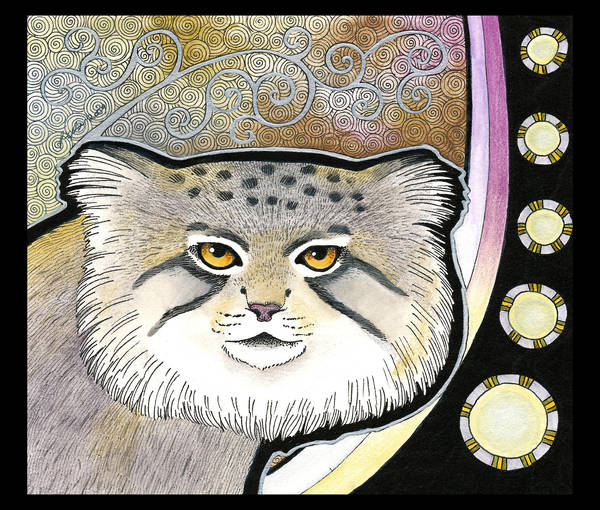 Watch
Pallas's Cat
Otocolobus manul

The Pallas Cat is a small feline found in Central Asia (primarily Iran, China and Mongolia), living primarily in sandy areas such as steppes, open terrain, mountainsides and deserts. They have round pupils; unusual for a cat, and have wide-spaced ears and broad heads that give them an owlish appearance. They are active at night and mostly predate upon pika and other rodents, as well as hares and birds. The Pallas cat doesn't do well in captivity, as it breeds okay, but has a weakened immune system from living in isolated environments, and kittens tend to die from infection. It is not usually a vocal cat, but will sometimes bark like a small dog.

As a Totem Animal

Respecting your ancestry, illness and wellness, chronic conditions, exposing uncomfortable weaknesses in who you are, embracing silence, going after what you want, holding onto mystery – for others and for yourself, intensity.

*

18.5 x 20.5cm (or 7.4 x 8 in)
- Original Available for Sale -
illo's board, fineliner, aquarelle, pencil, metallic and iridescent paint

I saw on before it did't bark though
Reply

Gorgeous face on the Pallas's cat!
Reply
Interesting cat!
When I read the description, I thought about the relationship that many felines species have with disease, and a theory I'd read of some years back about the effect of the feline immunodeficiency virus on many cat species. That domestic cats for example have fewer blood groups even than humans makes one wonder if many went through a kind of bottleneck because of it (similar to the
Toba catastrophe theory
for humans )
Reply

They are *weird* looking, yet I loves them.
Reply

I could see naming one Confucius and another Sun Tsu and a third Lao Tsu... They make me think of wise or sad little sages!
Reply

Such an odd kitty--but beautifully rendered. Yet another wonderfully obscure totem brought to the forefront

Reply

Cat looks quite funny

but I like the picture very much!
Reply

I love that square head - it really does look like an owl!
Reply

Reply