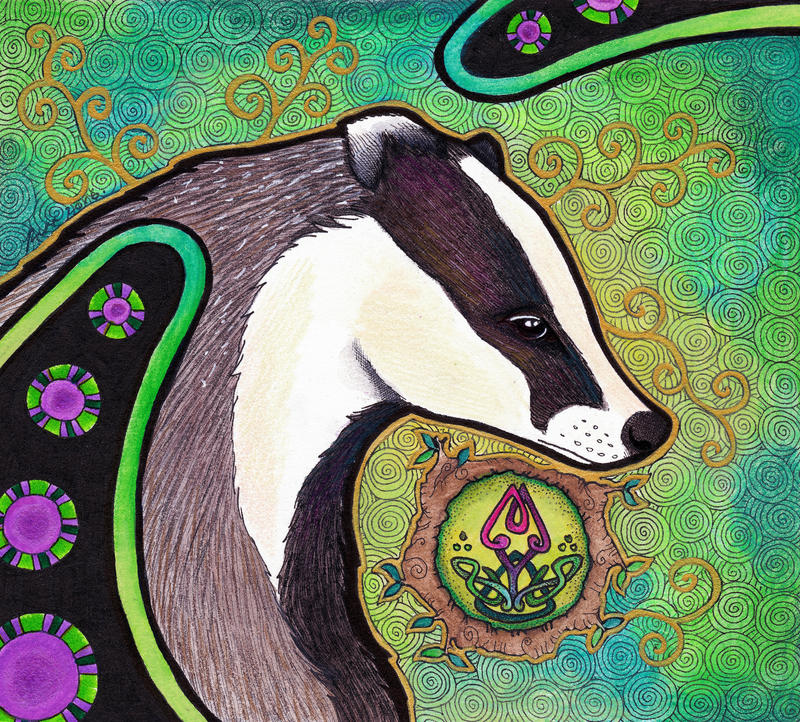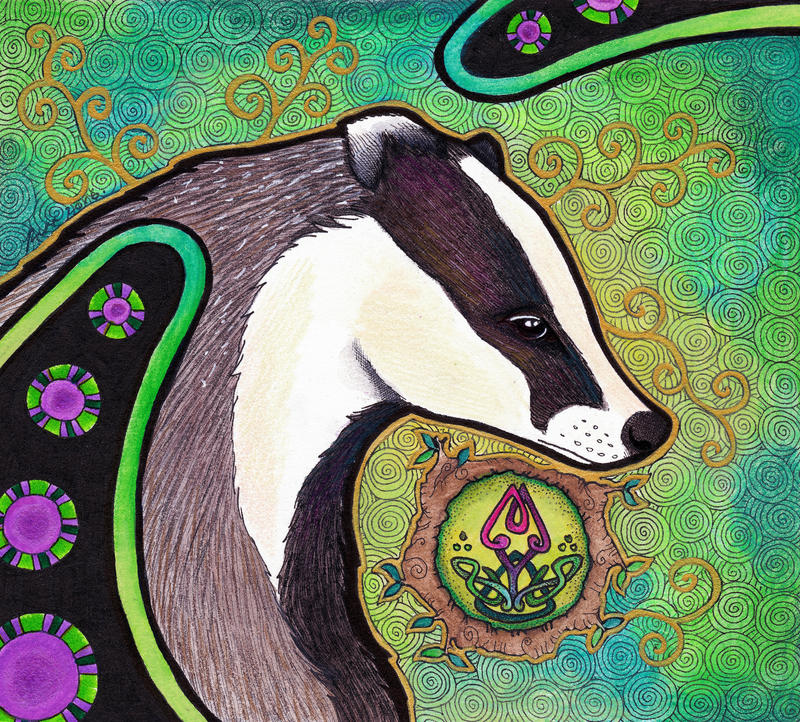 Watch
Meles meles
*
'Well! Which version of me do you want, anyway? The gruff, stubborn creature you met on TV once? The soft family creature that buries its dead that you read about in an article? I hope you're strong enough to learn the truth. First things first, we'll get comfortable in my home, do you have a den of your own? You should! What a terrible oversight, if you don't. And do you know what it is to be steadfast? To value generational wisdom? Do you care for what you pass onto the world and into nature? Do you know what it means to be a warrior? Or how many kinds of warrior there are?
It seems like you have a lot to learn, and perhaps it seems overwhelming, but this is why we have our dens in the first place. To rest in the dark, amongst each other, warm and close. Strong and fierce if need be, but loyal and devoted too. I suppose, if you want to spend time with me, you'd best be ready for a long-term friend, I am no fair-weather fellow!'
Keywords:
Earth dog. Possessing a temper when stirred. Tolerance. Home sweet home. Warrior energy and warrior mythologies. The warrior. Strength. Loyalty. Devotion. Staying close to safe spaces. Developing tolerance and acceptance of others. Steadfastness. Generational wisdom. Passing knowledge to your progeny. Valuing heirlooms. Inverting a situation to understand its wisdom. Inversion. Shapeshifting. Local folklore and wisdom. A persistent relationship to pop culture.

*

Watercolour pencil / pencil / ink / metallic and iridescent acrylic -> Crescent cold-pressed illustration board -> 18.5 x 20.5 cm (or 7.2 x 8 in).

love Badges and love the Knotwork with her and love the colours though it be cool to be black and yellow like Hufflepuff (if you are a Harry Potter fan) but just love that your back doing these again
Reply

I like Harry Potter, but badger totem when I work with them does not like the yellow or black palette at all! And unfortunately (or fortunately) I listen to the totem for colour choices, and not to Harry Potter, even if I do love it, lol.
Reply

oh you like Harry Potter too that awesome do have a favourite animal from there my ones are the Thestral, Buckbeak/Witherwings, Hedwig, Fawkes, The Basilisk, the Dragons and the Thunderbird along with the that feather winged serpent that can changes size.

and who's your favourite characters my are Severus Snape and Luna Lovegood

and that sound cool that the totems are the ones to tell what colours to pick
Reply

Thestrals are *amazing* and I loved Buckbeak so much - like great in the books, but seeing him realised in the movies was such a great moment. The animals are really awesome, I got one of the first copies of Fantastic Beasts and Where To Find Them in like 2001 when it was just a very thin dictionary and not like, a huge blockbuster series of movies



Also my heart lives for Fawkes, I love him so much.

(And I love Severus Snape - he has so many haters but honestly I think he's great. I'm also a fan of Lucius Malfoy, he's awful in the books but he's a pretty charismatic villain. Luna and Harry as well, and hmm I always had a real soft spot for Remus Lupin as well. He was just so good to Harry at a time when he had so few people looking out for him!)

Reply

oh Wow you like the same characters as me just add Nerville, the twins, Narcissa,

and I agree Sev as so many hate I am like know his show from Harry's port of view of how he's a bad teacher and bully to the kids

but just image doing what he have to do to been a spy and that Severus didn't wanted to be teacher it's was Albus who told to be one.

and will I admire his cunning, able to make potions & spells, fighting skills and just that he show when he love someone it's for ever
Reply

by the way are you on Pottermore and have gotten your Houses, Wand & Patronise Form?

As my Houses are for Hogwarts is Gryffindor (though I prefer Hufflepuff (I was this before their change it), Slytherin (this one is my favourite) & Ravenclaw) and for the American School Ilvermorny my House is The Horned Serpent which is the Represent the House of the Mind & the House that Favours Scholars

While my wand is an 10" inch Redwood (though it was Red Oak before their change the site) with Unicorn hair as Core with been flexibility plait along with my Patronise Charm been in the form of a beautiful and elegant White Swan
Reply

Reply

Reply

Gorgeously drawn and gorgeously described

Reply