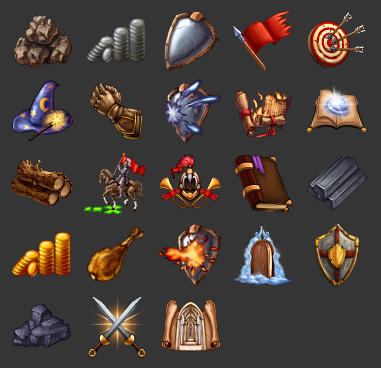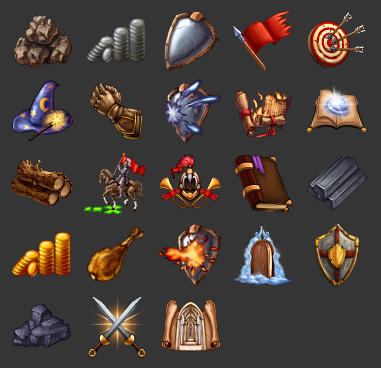 Watch
Some of icons that I draw for personal project

Нету контраста между предметами и фоном , плохо видно,
игрок в бою и у игрока нету времени расматривать рисунок, у него доля секунды чтоб отреагировать на опасность в игре, если он каждый раз будет носом биться об монитор чтоб разглядеть скил, то у него шея онемеет и он будет злится на художника который так нарисовал, и уйдет из игры.
Но рисунки красивые.
Можно нарисовать светлые обводы рисункам, чтоб выделить их на темном фоне, будто за рисунком свет.

Nope contrast between objects and background, hard to see,
the player in battle and the player no time are risen drawing him a split second to react to danger the game if every time he will nose beat on the monitor to see the skill, then his neck numb, and he will be angry with the artist who so painted, and leave the game.
But beautiful pictures.
You can draw bright lines drawings to make them stand out against the dark background, if the pattern of light.

Skype zaren77
Reply

I Like This Can You Give me a PNG ?
Reply

This icons is for commercial purpose, I don't have rights to share any source or png. Sorry!
Reply

I really like your art style, My name is Josh and I'm currently producing a 3D RPG with a Team. We are looking for an icon artist to design our inventory and skill icons. This would be a paying job, Feel free to email me anytime if you are interested.

Email: JoshSoltys@gmail.com
Reply

Are any of these allowed to be used or are currently in use with something? I'd love to check it out, or utilize them if you never find someone to do so. I'm currently studying Game Design actually.

Reply

Aye! I made this icons for mine and my friend project. Currently I'm not working on it but he said he's still use them

Reply

Would love to see how you do these.
Reply
Very nice icons

What kind of project is? RTS maybe?
Reply

Thanks! Turn-base strategy I guess

Reply

i love theese!!

Reply

Reply