For the UNOFFICIAL game The Bagbean theatre - SeldomTales!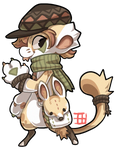 Artour
Griffian species: Bagbean
Personality: Shy | Intuitive | Romantic | Soft - Spoken | Anxious
Bio: A sweet and quiet bean who lives for art. His favorite thing is writing poetry and plays. Artour has an easier time finding the words to describe the world around him in poetry and prose. He isn't anti-social, but he finds conversation really taxing, especially with strangers or high energy beans. He enjoys seeing the world in a romantic lens, everything is wonderful and beautiful to him.
Job of Griffian: Play/ Event creation (Playwright)
Art for seldometales you have drawn:
Total Reconstruction Credits Given: