NAME:
Shamira

NICKNAME:
Mira

OWNER:
Dash Berliner

GENDER:
Female

POKÉMON:
#744
Rockruff

NATURE:
Bold

CHARACTERISTIC:
Good Endurance

ABILITY:
Own Tempo

PERSONALITY:
Shamira is a very sweet puppy with a lot of energy. She loves to jump up on everyone and lick them on the face, whenever possible, and she's very protective of anyone she cares about. It remains to be seen what will happen to her personality when she evolves, but Dash already has his heart set on her becoming a dusk lycanroc someday.

HISTORY:
Bred to be a show dog, Shamira was abandoned by an unscrupulous breeder because of her unevenly tipped ears. Fortunately, she was picked up by a kind veterinarian who made sure she was fit for adoption and put up ads to try and find a home for the little rockruff. As soon as Dash saw one of these ads, he knew he wanted that puppy. He rushed to the vet clinic to pick her up and he fell in love with her immediately. Dash brought her home without even asking his brother if it was okay, but luckily, Reginald didn't mind as long as Dash promised to take care of his new dog.

MOVESET:


Tackle


Bite


Odor Sleuth


Rock Tomb

FUN FACTS:

Shamira's name means "precious stone" or "protector" in Hebrew. Both meanings fit her very well.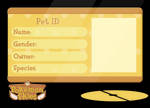 is © to


Pokemon is © to Nintendo/Game Freak
Shamira is mine!

Image size
925x636px 343.91 KB

I'm so glad you finally got this finished! Now, Dash can officially have his pupper! ;w;
Shamira looks soooo cute! It's too bad that Cinder is still scared of her.