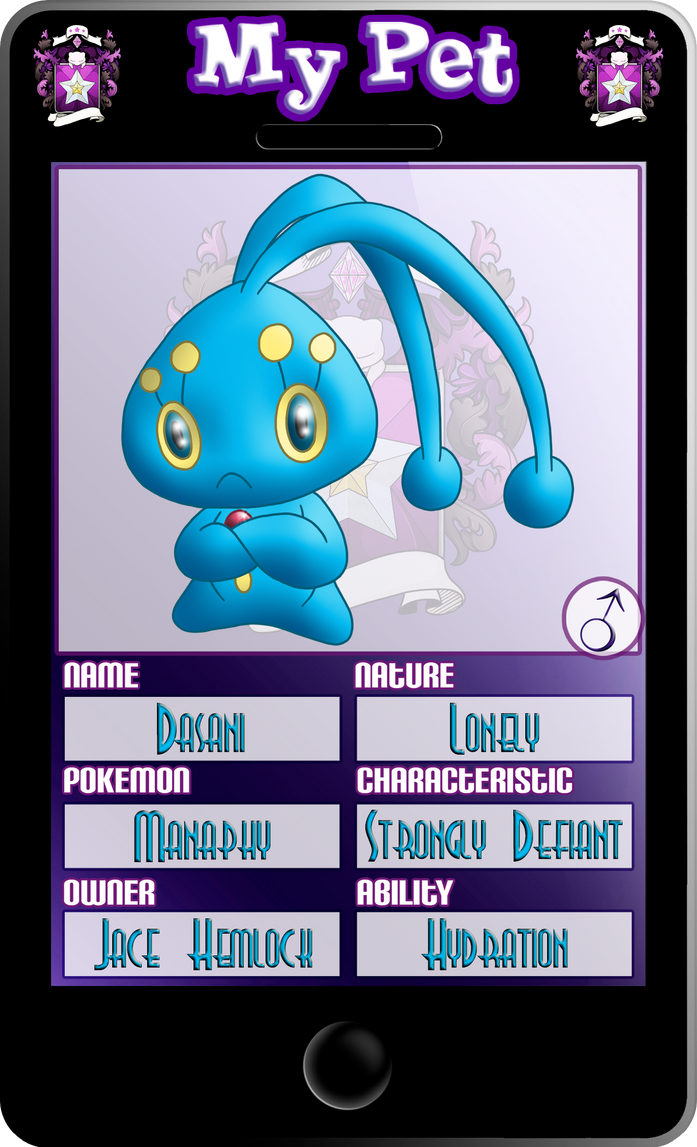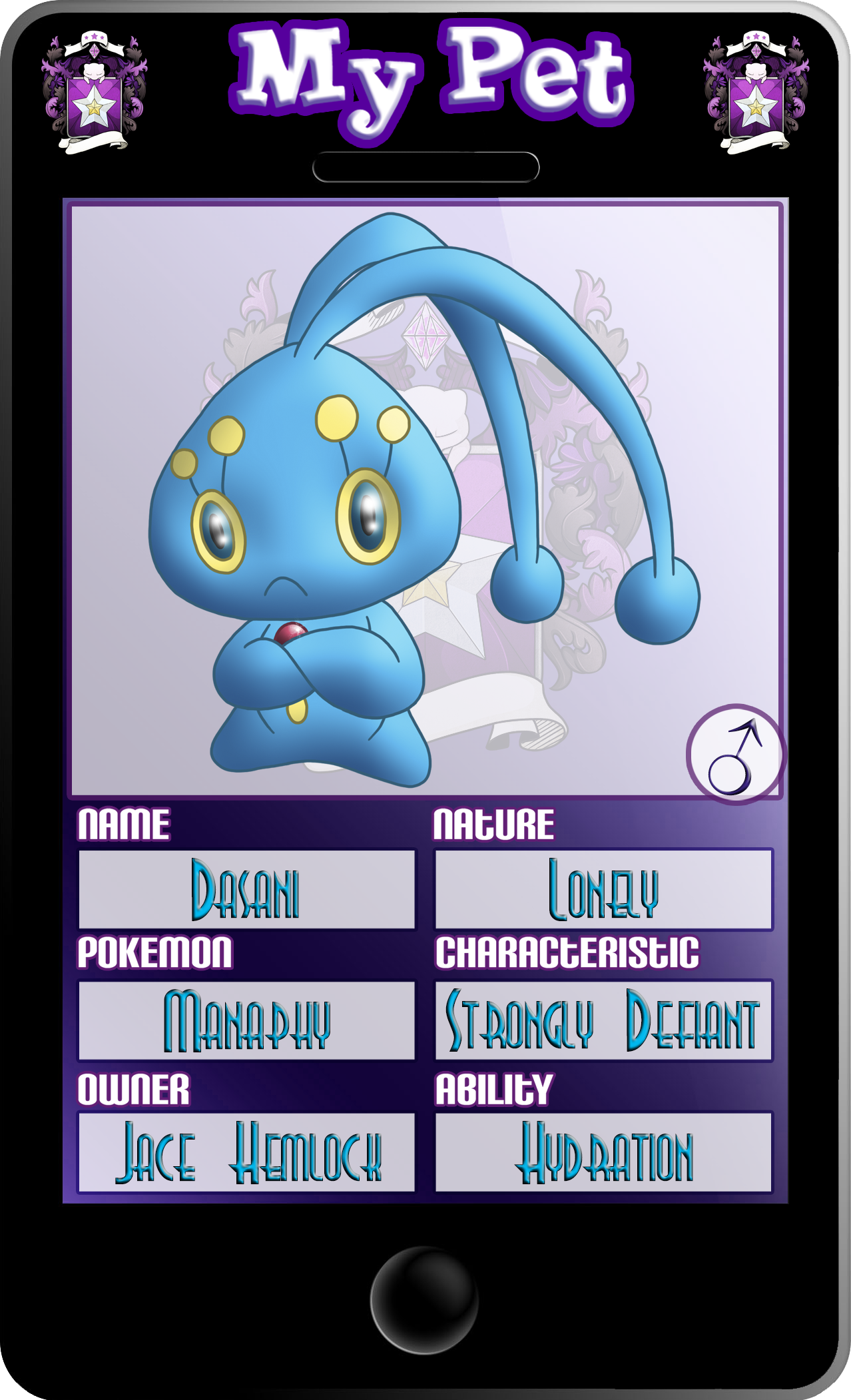 Watch

NAME:
Dasani

OWNER:
Jace Hemlock

GENDER:
Genderless [Male Identity]

POKÉMON:
#490
Manaphy

NATURE:
Lonely

CHARACTERISTIC:
Strongly Defiant

ABILITY:
Hydration

HEIGHT:
1' (.30 m)

WEIGHT:
3.1 lbs (1.41 kg)

FAVORITE FLAVOR:
Bitter

FAVORITE BERRIES:
Jaboca, Durin, Rabuta, Aguav, Wepear

PERSONALITY:
Dasani is a very solitary, introverted soul. He prefers quiet places and being left alone, but he doesn't mind a little company now and then, with someone he trusts. However, gaining his trust isn't easy due to what he's been through. One must be patient and let him come to them when he is ready. It's said that manaphy can form a strong bond with other pokemon, but perhaps in Dasani's case, it just takes more time.

HISTORY:
Being one of the manaphy who was captured during the great pirate and mermon feud of 2015, life had dealt Dasani a low blow. He was taken away from his family and friends, and to make matters worse, the school of wild manaphy migrated away from the area when the fighting had been resolved, leaving Dasani and the other captive manaphy stranded on Faraway Island. Already he was afraid he would never see the others again.
At first, Dasani was taken prisoner by the large, two-headed dragon who had captured him, but she was clueless about how to care for a legendary sea pokemon. One head tried to baby him while the other yelled at him when he refused to follow orders. She soon tired of Dasani's behavior and gave him away to another student – a nido boy named Jace. By this time, the manaphy had become completely withdrawn. He would hide in the aquarium that his new owner had kindly set up for him and only came out to eat when no one was around. He was also rather wary of Jace's houndoom girlfriend,
Morgana
. Dasani only wanted to return to his family, and that made him lonely and sad.
Then things changed when Jace brought him along on a picnic trip to the beach. Dasani met
another manaphy
who was staring out at the ocean. She belonged to one of the other students on the island and the two quickly became friends. Jace noticed how much happier Dasani was looking, so he started to bring his manaphy to the beach frequently to meet up with his new friend.
Soon Dasani and Jace had built a little more trust between them. Dasani started to hide a little less often. He even started having a little more patience with
Ziggy
and
Stardust
, Jace and Morgana's jirachi twins, who were always trying to befriend him. With a little time and work, Jace hopes that Dasani will learn to be happy with his new family.

MOVESET:


Bubble Beam


Supersonic


Tail Glow


Whirlpool

FUN FACTS:

Jace named Dasani after a brand of bottled water. Dasani thinks the name is silly.

The reason Dasani was wary of Morgana is because she was holding a grudge against manaphy since a mischievous one disrupted one of her pet club meetings with disastrous results.
is © to

Pokemon is © to Nintendo/Game Freak
Dasani is mine!