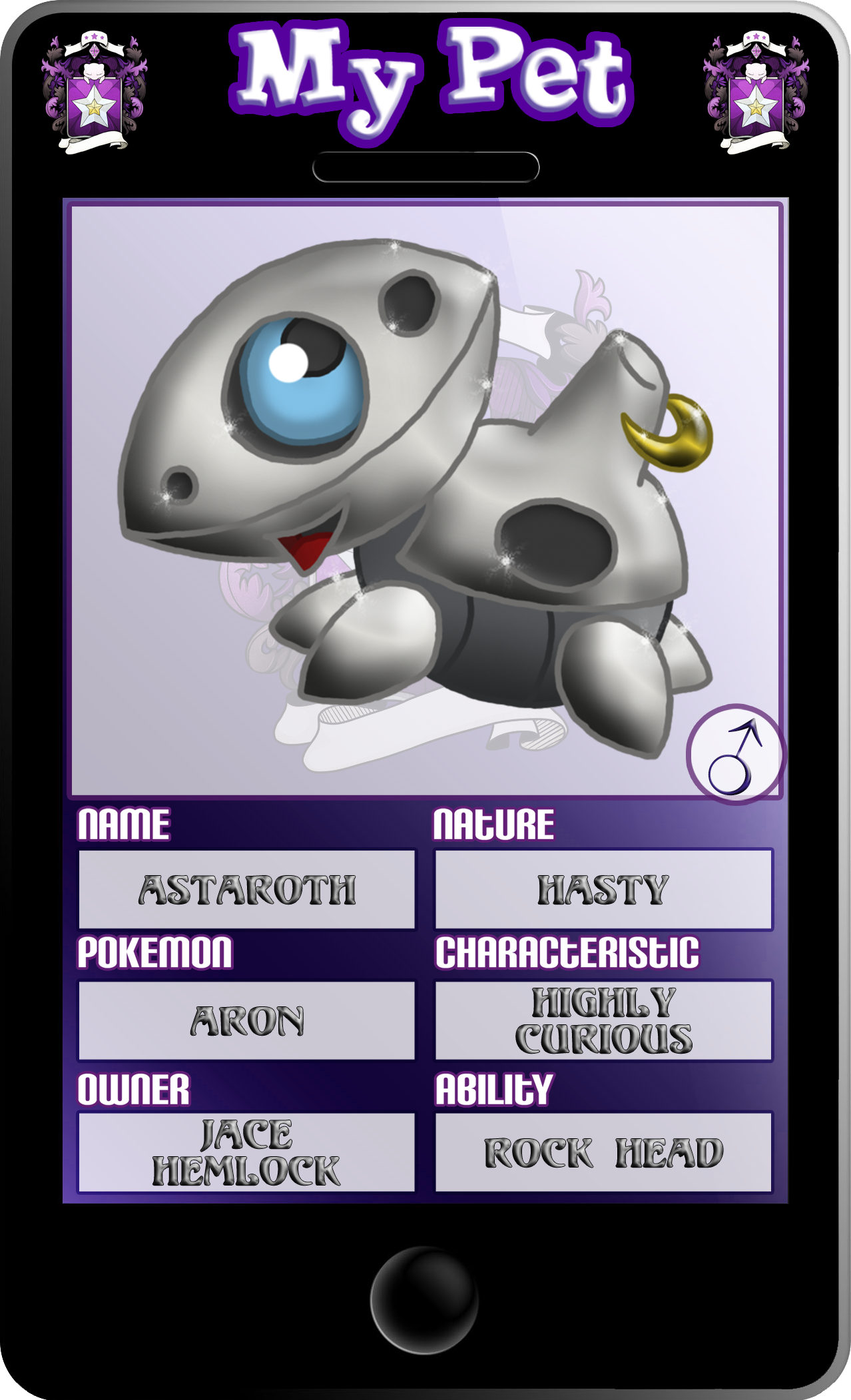 Watch

NAME:
Astaroth

NICKNAME:
Asty

OWNER:
Jace Hemlock

GENDER:
Male

POKÉMON:
#304
Aron

NATURE:
Hasty

CHARACTERISTIC:
Highly Curious

ABILITY:
Rock Head

HEIGHT:
1'3" (.38 m)

WEIGHT:
61.5 lbs (27.9 kg)

FAVORITE FLAVOR:
Dry

FAVORITE BERRIES:
Micle, Wiki, Chilan, Ganlon, Pamtre

PERSONALITY:
This little aron is very hyper and always seems to be getting himself into trouble. It's not that he means to be bad, but he just has so much energy to expel. Astaroth knows what he should do, but he often has a hard time concentrating on doing it. He tends to get distracted by something entertaining, even if it's just pushing a rock around with his nose. He may seem a bit brainless at times, but he's just a very happy-go-lucky sort of guy.

HISTORY:
Astaroth is a rambunctious aron who was specially bred by Jace's mother. She gave the baby aron to her son as a gift just before he went off to school at Armonia. Her hope was that the aron would be a friend and a comfort to Jace while he was far away from home. She also hoped that Jace would benefit from the responsibility of having a pet. Being a steel/rock type, Astaroth is immune to Jace's venom and safe from being stabbed by any of the nidoran's sharp edges. He would be a perfect pet for Jace...
if
he wasn't so hyperactive.
In the beginning, Astaroth was very disobedient and difficult for Jace to control. He would eat or smash through his kennel to free himself and go looking for Jace anytime the nidoran was out of sight. He had even escaped into the forest a few times and worried Jace to death. Asty also had a bad habit of gnawing on things he shouldn't and he hated being on a leash. He would dig his feet into the ground and become very hard to move if he had to be attached to one and since Arons are very strong for their size, Jace had no hope of dragging him, but setting him free was risky because he loved to happily tackle any other pokemon he saw. For awhile Jace was afraid he would have to send Astaroth back home.
Luckily Asty has calmed down just a little since Jace first got him. After getting advice from his mother and learning some training techniques, Jace has taught his aron how to be more acceptable as a pet. Although Astaroth is still pretty energetic, he's learned not to tackle everyone or run off after Jace when he leaves. He's also learned how to walk on a leash and he even saved Jace's life once. In light of this, Jace has decided that he can keep Asty at Armonia as long as his behavior continues to improve.

MOVESET:


Tackle


Harden


Iron Head


Stealth Rock

FUN FACTS:

Astaroth is named after a demon. The crown prince of Hell, in fact. Jace's parents are less than thrilled about this, which is exactly what Jace wanted. He was such a brat back then.

The gold ring Astaroth wears on his back spike is a magnetic earring that Jace bought from the pirates' shop at the end of the pirating event.

Asty just loves to jump on his master's lap, perhaps crushing Jace's hopes of ever having children.
is © to

Pokemon is © to Nintendo/Game Freak
Astaroth is mine!


Aww! It's so nice that Asty's matured a little bit. Even Morgana noticed too! And appreciates not having her butt bitten or headbutted. XD;

I guess Jace and Morgana will have to adopt if they ever get married. =x
Reply

I'm glad he can get along with her now ^-^ And he never bit anyone's butt! That's only a rumor!

Don't give up on Jace just yet! 8c
Reply