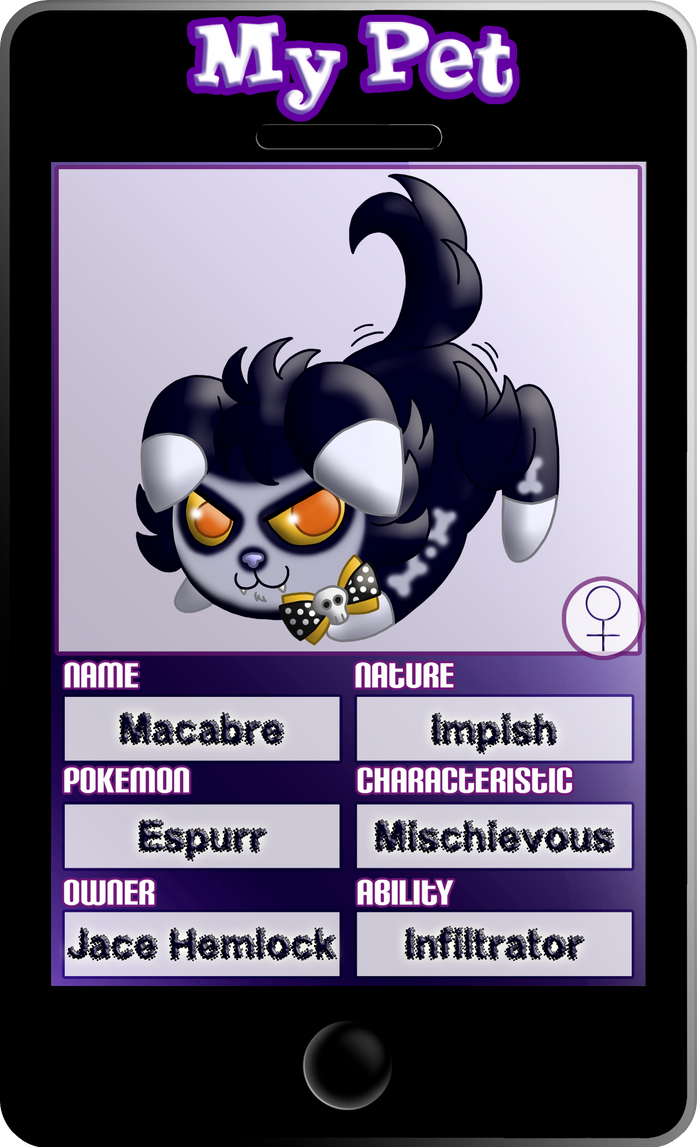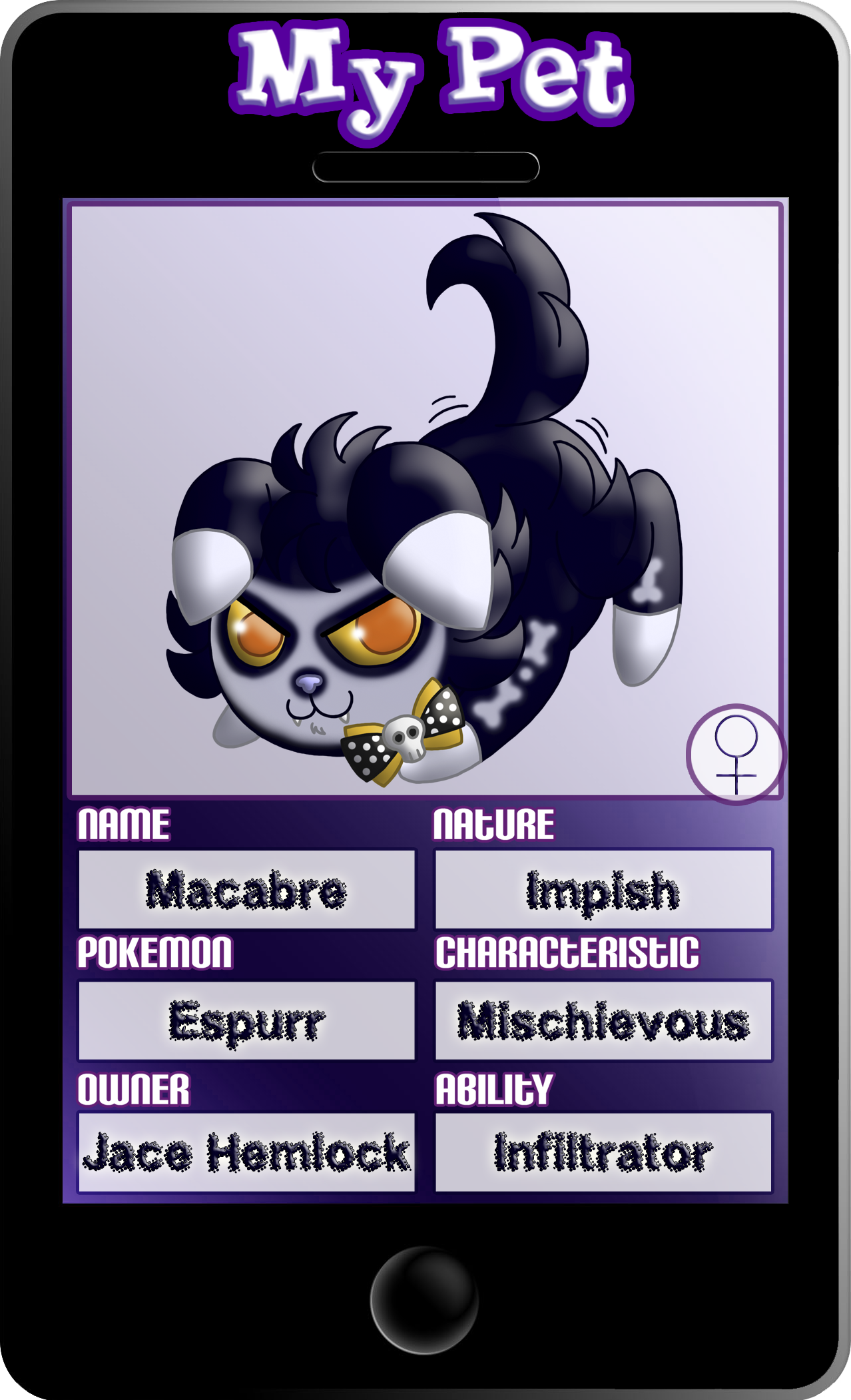 Watch

NAME:
Macabre

OWNER:
Jace Hemlock

GENDER:
Female

POKÉMON:
#677
Espurr [Dark Fusion]

NATURE:
Impish

CHARACTERISTIC:
Mischievous

ABILITY:
Infiltrator

HEIGHT:
9" (0.23 m)

WEIGHT:
6.5 lbs (2.95 kg)

FAVORITE FLAVOR:
Spicy/Sour

FAVORITE BERRIES:
Tanga, Pinap, Qualot, Nomel, Belue

PERSONALITY:
Macabre is basically your run-of-the-mill holy terror of a hyper kitten. She loves to run all over the house, pouncing feet and skittering under furniture. If there's a laundry basket, she's jumped in it. If there's an exposed toilet paper roll, she's unrolled it. If she's playing with her litter-mate,
Morbid
, she's sure to get him all riled up, too! Then she'll tire herself out and fall asleep so innocently, you'll forget how crazy she is when she's awake.

HISTORY:
After the Day of the Dead and Halloween festivities, Jace traded in some of his candies for a very special prize – a dark fusion espurr egg. He cared for his egg along with Morgana, who had also chosen one of the espurr eggs, and soon enough it hatched into a mischievous puffball. Macabre is still very young, but she's definitely trying to get the most fun out of life.

MOVESET:


Covet
Level 5


Confusion
Level 9


Nasty Plot
Fusion


Bite
Fusion

FUN FACTS:

Macabre's skeletal coloration may be due to the influences of the world of the dead or her dark fusion typing, or perhaps a little of both.
is © to

Pokemon is © to Nintendo/Game Freak
Macabre is mine!

Finally, Morbid's litter mate is finished!

She's so cute, friend, and she's definitely a naughty-looking kitten.

I'm surprised certain birds haven't attacked her yet, if she's as mischievous as she seems.
Reply

Took me long enough to do this simple thing! 8o But if they're litter mates, does it mean they're siblings?
Thank you, friend! I'm sure she's tried to terrorize the birds at some point

Whether or not she learned her lesson yet, I don't know.
Reply

Ehh... I don't know. I never mentioned Morbid and Macabre were related, hence the term litter mates. I used a similar term, nest mates, for Caspian and Odile and they'll be a breeding pair once they get older.

I just hope the little espurr doesn't get hurt in the process.
Reply