Well, I was supposed to be drawing something else, but my tablet ended up puking this out instead. I have an excuse, though, because I wanted to practice drawing humans again and it was only a matter of time, really.

Only took me a year to get around to it.
The last time I drew a (char with a) human (face), not counting a few chibis, was in 2010. Holy crap!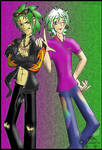 My goal was to keep my usual style, yet make Iggy not look like he came from Sailor Moon

; I learned how to draw humans during my Sailor Moon phase and they always kind of kept some of that vibe. I dunno. I think I succeeded alright.
At least I drew something!
Others in the set:



Ignis is © to Square Enix.
Image size
600x1045px 380.35 KB