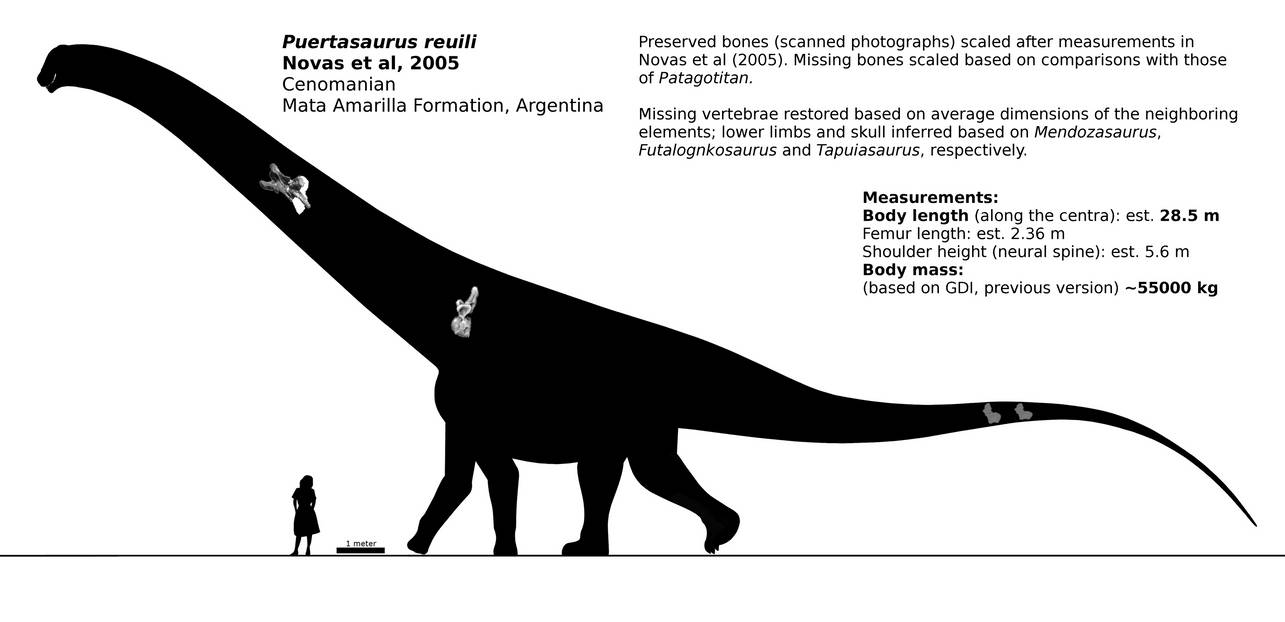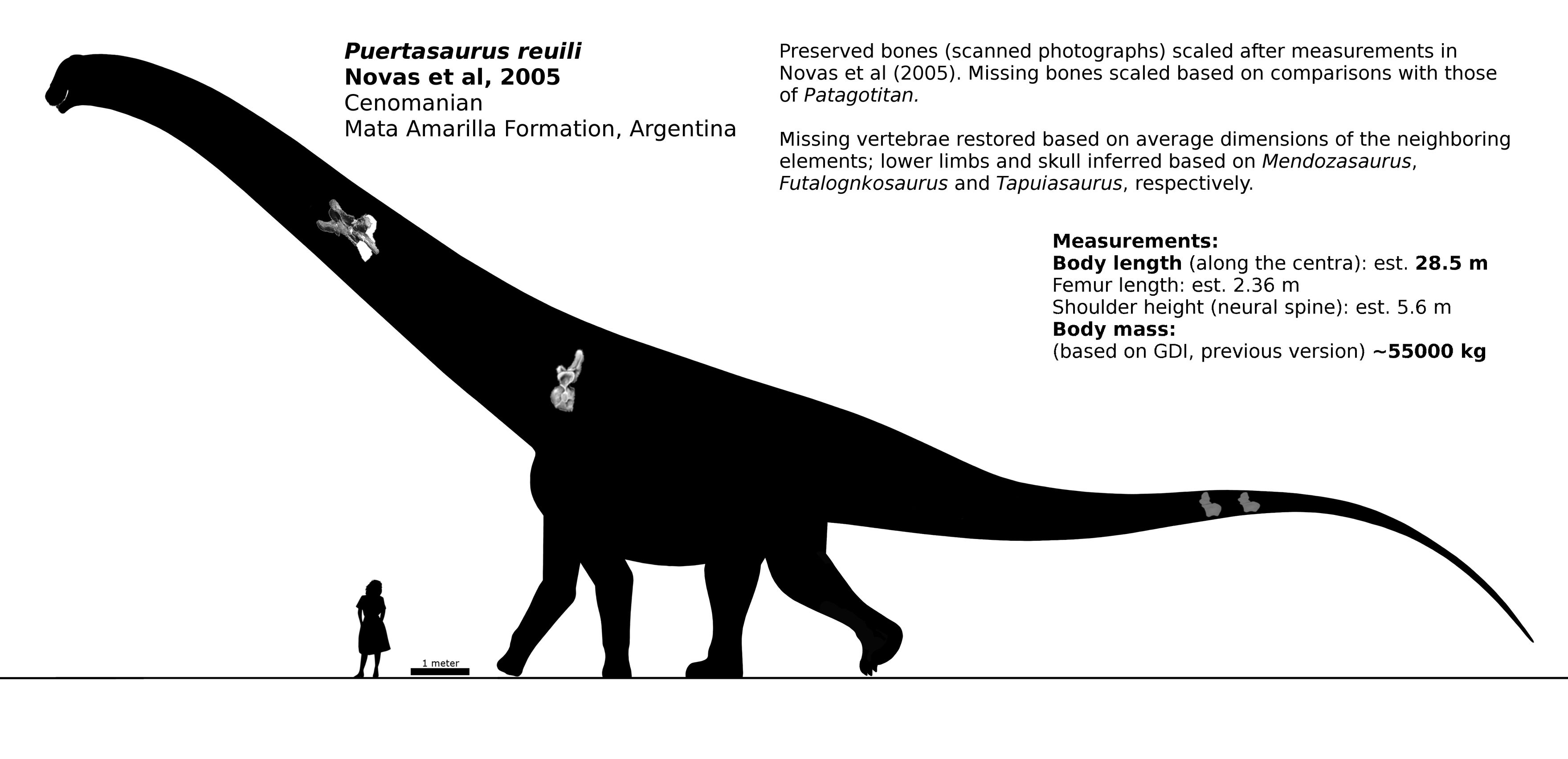 Watch
Hold the door! Ever since its discovery in 2005,
Puertasaurus
has been claimed as one of the largest dinosaurs to ever exist, and, for once, although the downsize did happen, they weren't wrong. I was on a roll about the completeness of the animals while doing
Ruyangosaurus
and
Patagotitan
, which is... really not something that can be said for this genus, only having four vertebrae described and two measured and all that. Its inclusion within a clade with
Patagotitan
allowed me to mostly use the latter's proportions, although the position of Puerta as a lognkosaur is far from stable in their phylogeny, so its appearance may change eventually.
Puertasaurus
is most remarkable for possessing the widest vertebrae of any known sauropod, and most likely of any animal ever discovered; scaling based on the ribcage of
Patagotitan
yields a torso around 3.6 meters wide, which may be less than the 5 meters originally estimated by Novas et al (2005), but would still be enough space to park a smart car sideways in - with room to spare. First thought to have been Maastrichtian in age, the Mata Amarilla (or Pari Aike) formation where
Puertasaurus
was found housed the megaraptoran
Orkoraptor and
the elasmarian
Talenkauen.
PS:
The mass discrepancies are of course uncertain -
Puertasaurus
has a shorter dorsal centrum and a far shorter overall vertebral height than
Patagotitan
, which indicates that its torso was not as deep, but the measurement across the diapophyses is 20% larger than in its relative, meaning it was, on the other hand, wider. The impact this has on the weight can vary from none to several tonnes depending on how much importance is given to diapophysis width; it's plausible that the mass difference between them could have been insignificant.
Previous version for comparison:
sta.sh/01km6j7rrm22
First version: sta.sh/05w96zak9hx
References:
-
Novas, Fernando E.; Salgado, Leonardo; Calvo, Jorge; Agnolin, Federico (2005). "Giant titanosaur (Dinosauria, Sauropoda)from the Late Cretaceous of Patagonia"

(PDF)

. Revisto del Museo Argentino de Ciencias Naturales, n.s. 7 (1): 37–41. Archived from the original

(PDF)

on August 22, 2006. Retrieved

2007-03-04

.

-
Gallina,P.A. and Apesteguía, S. 2011. Cranial anatomy and phylogenetic position of the titanosaurian sauropod Bonitasaura salgadoi. Acta Palaeontologica Polonica 56 (1): 45–60.
-Carballido, J.L.; Pol, D.; Otero, A.; Cerda, I.A.; Salgado, L.; Garrido, A.C.; Ramezani, J.; Cúneo, N.R.; Krause, J.M. (2017). "A new giant titanosaur sheds light on body mass evolution among sauropod dinosaurs". Proceedings of the Royal Society B: Biological Sciences. 284 (1860): 20171219. doi:10.1098/rspb.2017.1219.
-Gonzalez Riga, B.J., Mannion, P.D., Poropat, S.F., Ortiz David, L., Coria, J.P. 2018. Osteology of the Late Cretaceous Argentinean sauropod dinosaur Mendozasaurus neguyelap: implications for basal titanosaur relationships. Journal of the Linnean Society, zlx103, doi.org/10.1093/zoolinnean/zlx…
Human silhouette from
www.onlygfx.com/20-woman-silho…