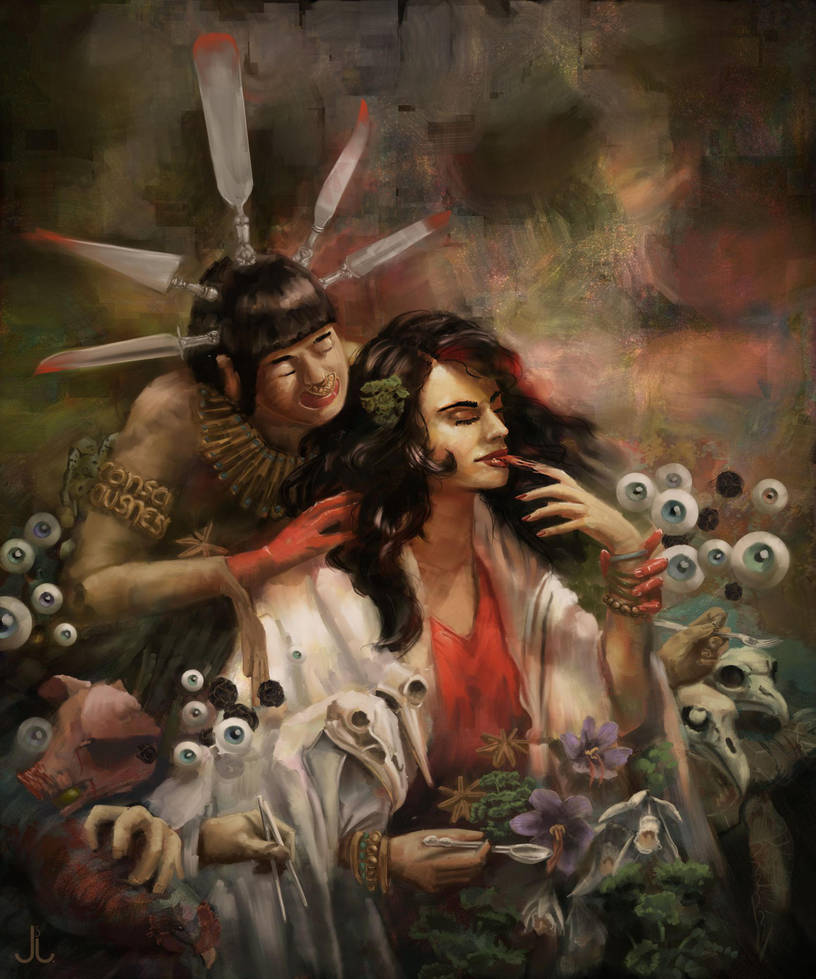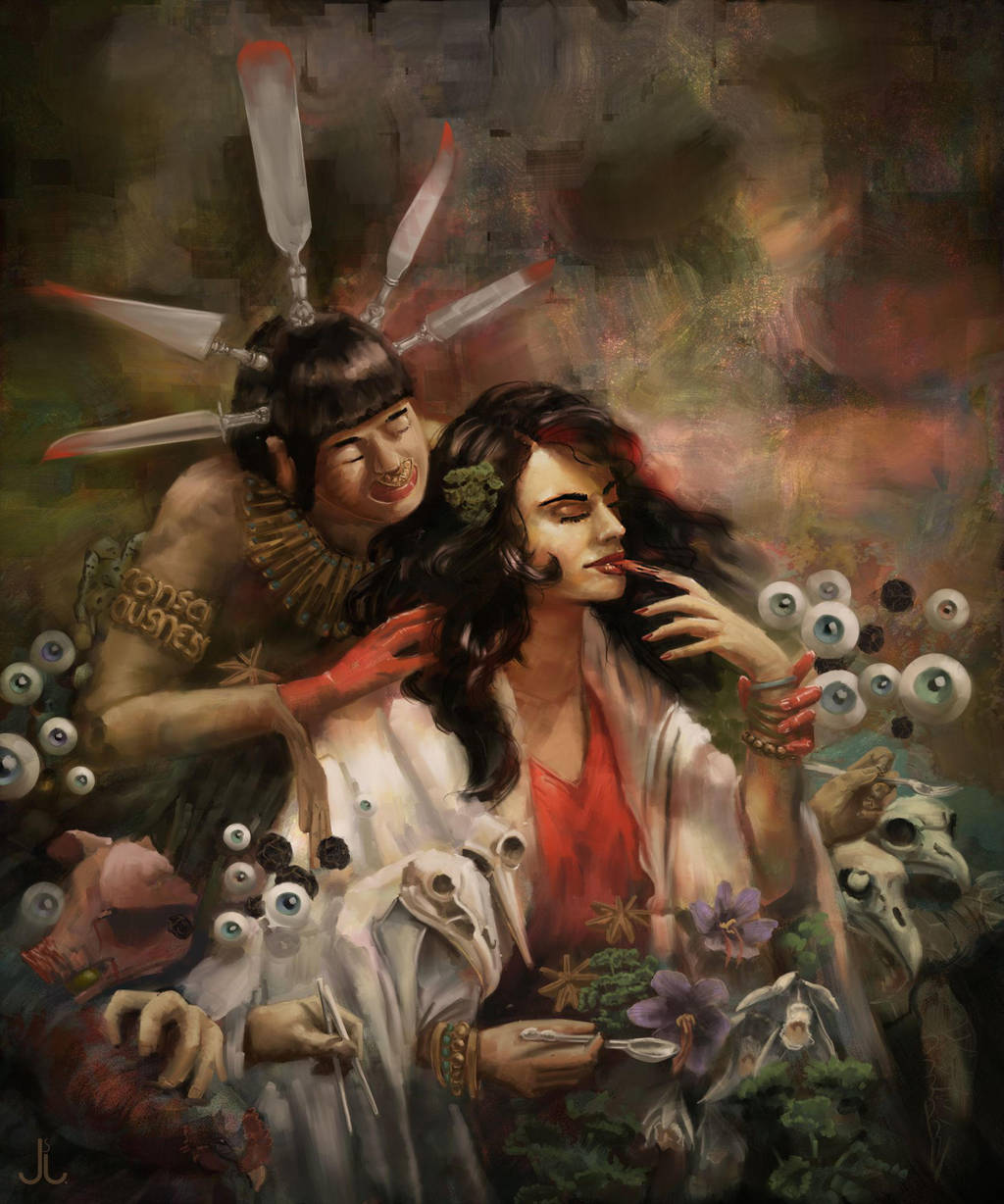 Watch
Tumblr
|
Facebook
|
Etsy
|
Artstation
|
Instagram
Cover artwork for the book "A Dark Feast" by C.R. Brewer/
EnriseSkeith
. The book features cannibalism, so the author and I worked hard on creating an appealing illustration about it. Consequently, there's a lot of food... and The Flayed One, Xipe Toltec, a Mayan god, who added a lot of interesting if disturbing research to this commission. See
a few working steps on my Tumblr.

Sehr cool. Es hat diesen Öl-Charme und so viele kleine Details zum Entdecken!
Reply

Vielen Dank. Ich benutze Painter in praktisch allen Arbeiten und finde die Blending-Tools besonders praktisch. Jetzt wünschte ich noch meine echten Farben blieben auch so lange offen damit ich beliebig lange daran herumwischen kann...
Der Autor hat viele coole kleine Ideen geliefert und natürlich die Vorlage gegeben - Baron Samedi hätte ich vorher nicht benennen können.
Reply

Hab mir öfter sagen lassen, das Öl wohl grade dafür die besten Farben seien, weil sie so langsam zum Trocknen brauchen (was dann aber auch wieder der Nachteil ist).
Reply

So ist es. Ich habe letztens mit Öl angefangen und das ist eine tolle (aber manchmal lästige) Eigenschaft, haupstächlich braucht es Umgewöhnung wenn man aus dem land des Acryl kommt. Die Farben wirken auch oft satter.
Reply

Ich wollte mich seit längerem damit beschäftigen, mir fehlte aber generell der Platz fürs nicht-digitale Malen in den letzten Monaten und Geld für ein neues Set Farben wollte ich auch erst mal nicht ausgeben :'D
Aber irgendwann komme ich wahrscheinlich nicht drumrum, die Neugier ist durchaus da

Reply

Ich kann es jedenfalls empfehlen. Ich benutze wasserverdünnbare Winsor&Newton-Farben die mich soweit sehr zufrieden machen, weil ich kein Terpentin benutzen muss. Nur trocknen muss das ganze wirklich ewig, wenn man nicht lasierend arbeitet; dicke getupfte Glanzlichter sind auch nach vier Tagen nicht immer trocken. Gleich mal den Scanner damit ruiniert

Reply

Oh je :'D Hab mal von ner Freundin gehört, sie hätte ein Bild knapp n halbes Jahr lang trocknen lassen müssen. Frage mich, was das für krasse Farben waren o.o
Reply

This is a pretty creative and surreal illustration! Nice job~

Reply

Thanks! The book apparently is very grim indeed. I'm working on the second cover for that author, and more are coming.
Thank you very much!
Reply