I decided to introduce you to my 20 most important oc's, and I'm going to draw them all here :3 Despite the fact, that they are my dearest oc's, all of them doesn't have a name D: So I'm going to ask you to help me name them :3
The nameless ones are "Red", "Black" and "Green", and they're all in this pic: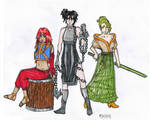 I will draw an individual pictures too.
I will link every finished piece here, so far I have drawn 3 of them :3
1. "Red" rakuene.deviantart.com/art/RED…
2. Spikeesee
3. Tenya
4. Eon
5. Aruru
6. Shezka
7. "Black"
8. "Green"
9. Mirella fav.me/d5lwgnp
10. Julianna
11. Mikael rakuene.deviantart.com/art/Hig…
12. Vertti
13. Elena Draghi
14. Dante
15. Lucifer Murena
16. Snake
17. Aaren
18. Beila
19. Damien
20. Ian