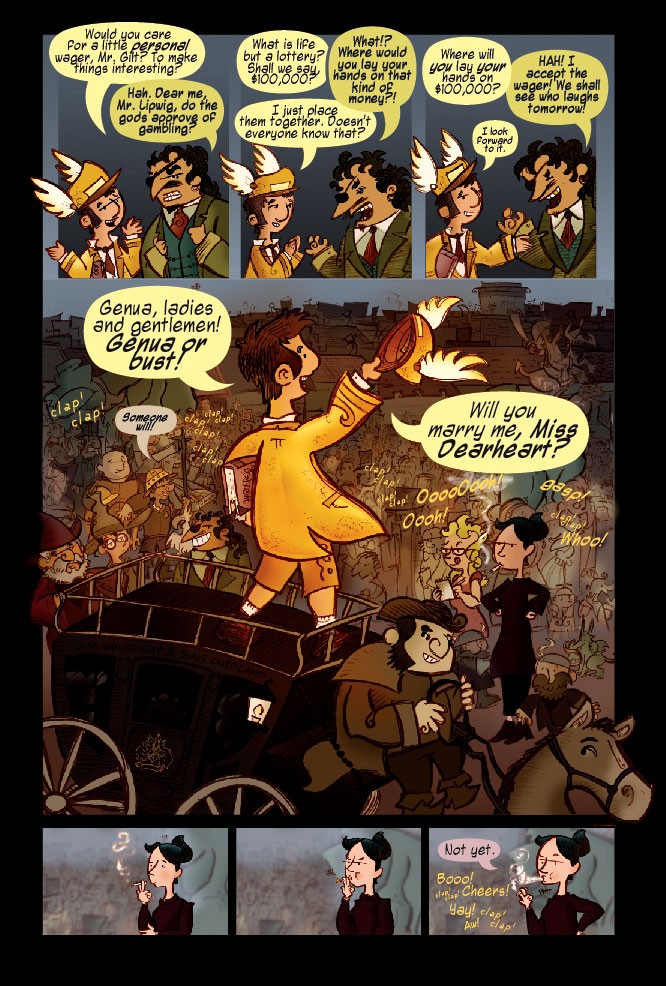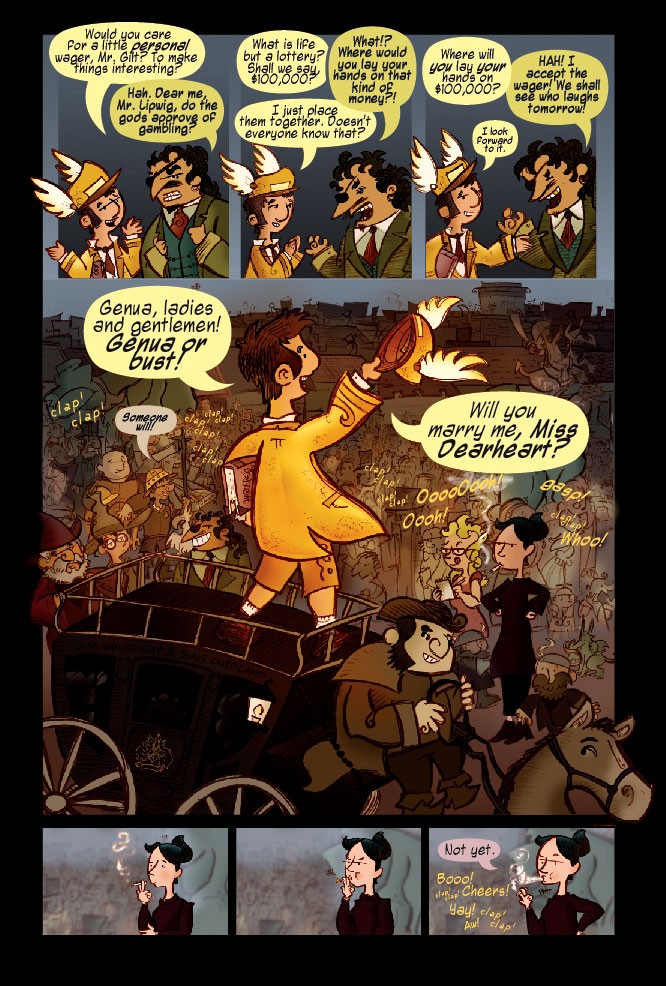 Watch
This is the last of the sample graphic novel pages I've made to send off to see if Mr. Terry Pratchett would be at all interested in me doing more further and officially. Whatcha think? I love that Ankh Morpork would have a statue of a guy on a horse trampling someone (covered in grafitti) of the 4 that I've done, I've tried to pick favorite bits that would contain all the major characters -- I've missed Vetinari, but other than that, what do you think of my take on them all? I know Moist's outfit wobbles around a bit from page to page. I think that illo I have on here of him all by his lonesome is best. All words and characters and concepts and whatnot © Terry, I'm not meaning to be infringy in any way.

Spike is sooooo goth. I LOVE it. XD Haha, and I love how you made Saccharissa in the crowd. I love the colors. This comic looks wonderful. I love ya for this! 8D
Reply

She really is, she doesn't take any guff from anybody. Thanks for the loving! I had fun including lots of discworld natives in the crown, have a look, see how many you can spot. (silly word bubbles cover up some of them, sigh, I'll excuse you for not finding them.) I really wanted to have more sort of cinematic coloring, a bit more moody, overcast feeling to the whole thing, A. because I like that, and 2. So Moist's suit would stand out as much as possible. I want the golden shineyness to be in your face as much as possible, and am such, am trying not to use any other yellow anywhere. Thank you thank you!
Reply

Hmm...other than Reacher Gilt, I think I see Groat and...Stanley? But the golem, Mr. Pump is definitely there. Other than that, I can't really tell. Too bad Saccharissa is blond ain't she? Maybe you could draw and color out tiny blinking stars on Moist's suit to make him look sparkly? That might add to the shineyness. Hehe, you shouldn't tear your brains out trying to make it look better. It already look great as it is. And for my case, if Moist looks any shinier there, I'd go blind. xD
Reply

Nobby and Colon are there, as are the 4 beggars, CMOT Dibbler, random trolls and dwarves, Ponder & Ridcully, and someone else covered up by word bubbles.

I have a drawing of moist with shiney stars and things, yup, I could prolly go back and add them to this with a good effect. Prolly leave it how it is though, I don't retouch stuff much.
Reply

yay

I think, that you should do it officialy

I luv your style

~

Reply

Thank you!

I so want to do it officially, I sent them some pages and asked for the rights. Haven't heard back. I'm hoping to the go the Discworld Con in Arizona in September, see if I can talk to Terry Pratchett in Person, see what he thinks.

I think my style suits Going Postal quite well, it's very lucky.
Reply

The masses love this art style.
You're already famous, ya?
Reply

Which Masses? I certainly like that art style, but I'd have to since I draw in it. I'm certainly semifamous! My original Graphic Novels have been reviewed by The American Library Journal among others.

Thanks for your enjoyisments!
Reply

This fills me with huge amounts of glee and love

The colour choices are beautiful, especially in the big middle panel! If this gets off the ground, I'd buy it in a heartbeat, and not just because it's based on my favourite Pratchett book.
Reply

Thanks Sonopants! Glad to gleeify your day! I try very hard to keep my color choices sophisticated and cinematicy -- not a big fan of the box o' crayons approach to coloring, so glad you appreciate my effort! I haven't heard back from Mr. Pratchett yet (although Paul Kidby wrote and told me he like the direction I was heading in!) but I'm glad I can count on your purchasing power, should this come to fruition.

Thanks!
Reply

awesome! the only suggestion (and really, this is up to you) is that you could try making Miss Dearheart's dress a bit more form-fitting. That's just how I imagined her. PS: Is that Nobby saying "someone will"?

superb detail in the background!
Reply

I agree, Miss Dearheart could stand to be a bit dishier (or something). any dress types you'd reccommend? drawing fashionable dresses isn't really my strong suit, I'd love some tips or photo reference.

Yes, that is Nobby. You get a gold star.
Reply

huzzah! I know that not-quite-human watchmember anywhere! As for Miss Dearheart--I always imagined her in something tight but still conservative in a weird way. Something very avante-garde (if that's the phrase I want).
Again, I can't wait to see this graphic novel published!

Reply

Avante Garde it is then. I've just stuck the packet with all these in the mail to Mr. Pratchett-- keep your fingers crossed for me!
Reply

I think it's great! Your style is so fresh and funny that even people who haven't read Pratchett's books could get interested in the comic!
Reply