I'm feeling better finally! >u<
I've already started working on lining extras today since I'm feeling much better now. So I wanted to let everyone know hahaha. (thank you all so much for being patient and for your well wishes)
I still have the runny nose and cough, but so far it's not slowing me down so hopefully I'll be posting something finished next week.
I do have a question for anyone waiting on extras that is reading this (or I guess anyone at all can answer lol)
I have 2 winter/holiday themed adoptables I loosely sketched before I got sick. I want to finish them before the season changes and I miss my chance to sell them at a decent price, but I know being sick for 2 weeks and having all the family losses has suuuuuper set me behind in what I owe.
Would it be really rude for me to work on those while I'm still also working on extras? Usually I do pepper in some other adopts while I work on owed art, but in this case I'm so behind I'm afraid it's inappropriate. ;_; (thoughts??)
____________
On a separate note, I noticed my friends

and

are selling a lot of their characters and I wanted to promote that here. ;u; Not only do they have a ton of GORGEOUS characters, but they're also reselling a few designs from me so if you missed grabbing something from me then there's a chance it's available there XD hahaha
Here's the links for you guys

Selling / Taking offers on everythinghttps://toyhou.se/RyverWren/characters/folder:all
Looking for $$
A minor inconvenience popped up and since I was already thinking of selling most of my OCs, this is a fine time to rehome a few.
Primarily looking for USD offers, willing to take art as an add on for characters I will keep (they should mostly be hidden already, so anything you can see should be for sale)
Offer a price or ask what I paid, if you offer over the original price by mistake, I will let you know. And if you need proof on anything just ask.
Looking for USD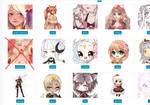 ____________
So thank you all again for always being patient with me. I'll try to be very productive! c:<
Journal Skin Made & Coded by:
Maiyunbby
Art by:
RaineSeryn