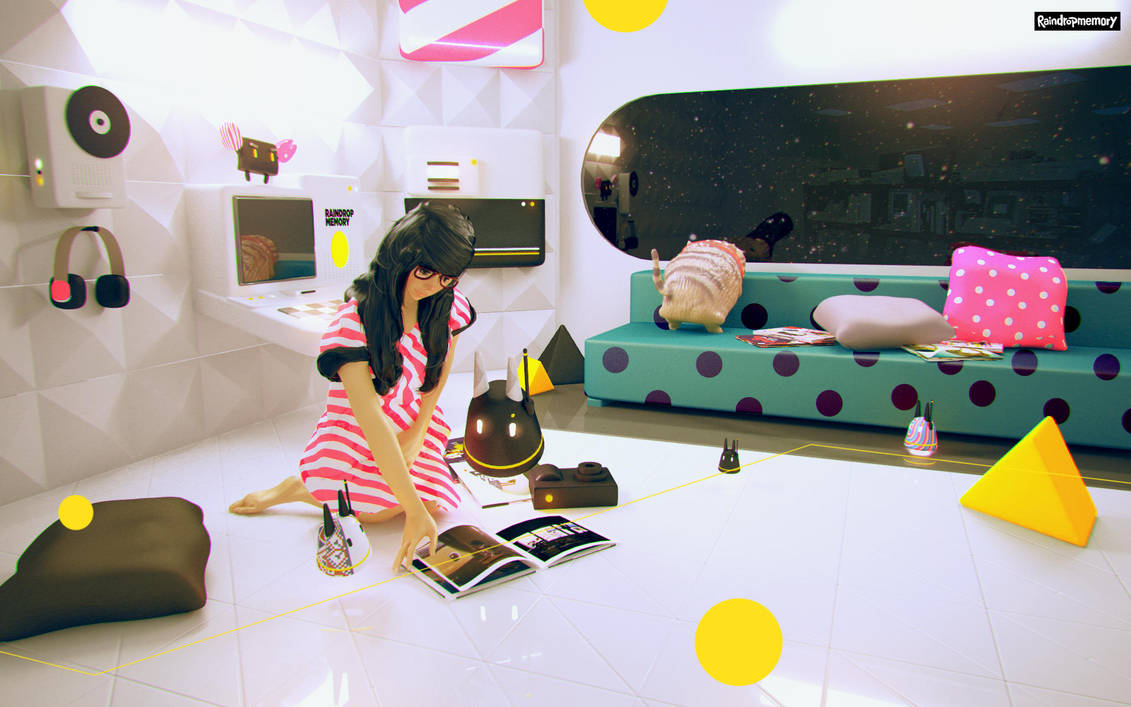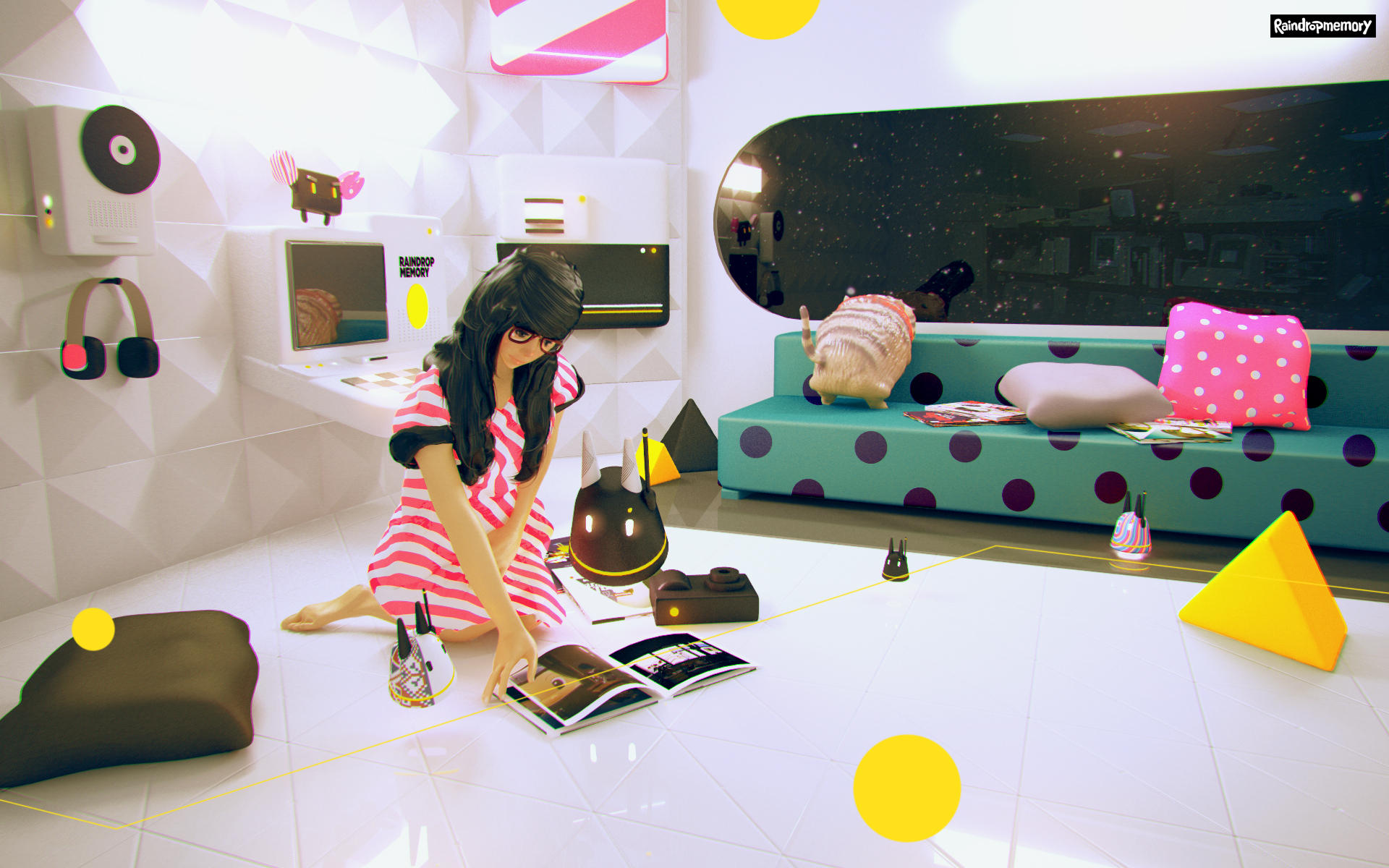 Also, feel free to check out my FB page for more images and creation process. [link]
♦ CONCEPT ♦
NO-NOTI(fication)-TIME // is hard to find nowadays when the world is always-on and full of distraction. Your mind love wander around naturally, but it's now energetic more than any ages in human history, jump around frantically and shift attention like crazy, thanks to the swiftness of technology.
But are our mind tired? (If I were my mind, then my answer whould be : hell yesss) Maybe our mind need some rest too, like our body.
When I think of peaceful place, I think of outer space, where there is nothing but star ocean(and space monster in some case)
There is no popup message, no 'ding! from cellphone. Just you , by yourself...and some pet cat robot as company. Reading some passive media like good old books, and give your mind a rest sometimes is quite nice.
Ok, but what is that computer is for?, you suddenly ask.

ชื่อภาพ :"NONOTITIME feat. Clear Mind" (เวลาเงียบๆ กับใจสงบๆ)
♦ คอนเซปต์ ♦
NO-NOTI(fication)-TIME หรือเวลาเงียบๆที่ไม่มีสิ่งที่เรียกว่า notification มารบกวนเราเริ่มหาได้ยากยิ่ง ขนาดผมเป็นที่ไม่ค่อยจะ"โซเชียล"เท่าไหร่ ยังอดพะวงไม่ได้ว่า เอ๊ะ จะมีใครส่งเมสเสจอะไรถึงเรารึเปล่า ใครจะแท็กรูปเรามั้ย จะมี noti สีแดงๆขึ้นมั้ย
อันปกติแล้วใจเราก็ชอบเดินทางไปไหนๆอยู่แล้ว แต่มาพักหลังนี่มันยิ่งได้ใจ ดูใจเราจะคึกคักมากกว่ายุคไหนๆในประวัติศาสตรฺมนุษยชาติ ความสนใจกระโดดโลดเต้นอย่างบ้าคลั่ง
อันนี้ต้องขอบคุณเทคโนโลยีอันรวดเร็วที่ทำให้เรามาถึงจุดนี้ (เอ๊ะ?)
ถ้าผมสวมบทเป็นใจได้ คงจะเหนื่อยมาก เพราะพี่ใจนี่ไม่เคยหยุดเลย เป็นคนแอ๊คทีฟมาก
เวลาผมนึกถึงที่ๆทำให้ใจผ่อนคลาย มักจะนึกถึงทุ่งหญ้ามองโกล ที่มองไปสุดลูกหูลูกตาไม่มีอะไรเลยนอกจากผืนหญ้ากับท้องฟ้า ซึ่งจริงๆผมก็อยากไปลองอยู่ดูบ้าง ติดตรงที่ว่ามันอยู่ได้แค่ในมโนภาพ ให้ไปอยู่จริงๆมันก็คงทำไม่ได้ (เอ่อ แต่ถ้ามีน้ำไฟอินเตอร์เนตพร้อม นี่พร้อมลุย)
อีกสถานที่นึงที่ผมคิดว่าเห็นแล้วรู้สึกว่ามันเงียบดีนะ ก็คือท้องฟ้ากลางคินครับ ออกไปเดินๆนอกบ้านตอนดึกๆ อากาศเย็นๆ และเงียบดีจริงๆ เรารู้สึกหายบ้า หายเครียด
(กลับมาที่ภาพ)
ไม่มีข้อความส่งมาถึงเรา ไม่ต้องมีเสียง "ติ๊ง" จากมือถือ ไม่ต้องพะวงว่าจะมี noti หรือไม่ เพราะอินเตอร์เนตก็ไม่มีอยู่แล้ว ว่าแล้วก็หยิบหนังสือมาสักเล่ม เปิดอ่าน เงียบๆ กับหุ่นยนต์แมวที่ลอยไปลอยมาสามสี่ตัว เงียบๆ
ก็ไม่เลวนัก...กับเวลาเงียบๆ ส่วนตัว