The slot/queue system is in effect, look for the recent updates
PLEASE READ ALL THE TERMS BEFORE YOU ORDER !
PRICE LIST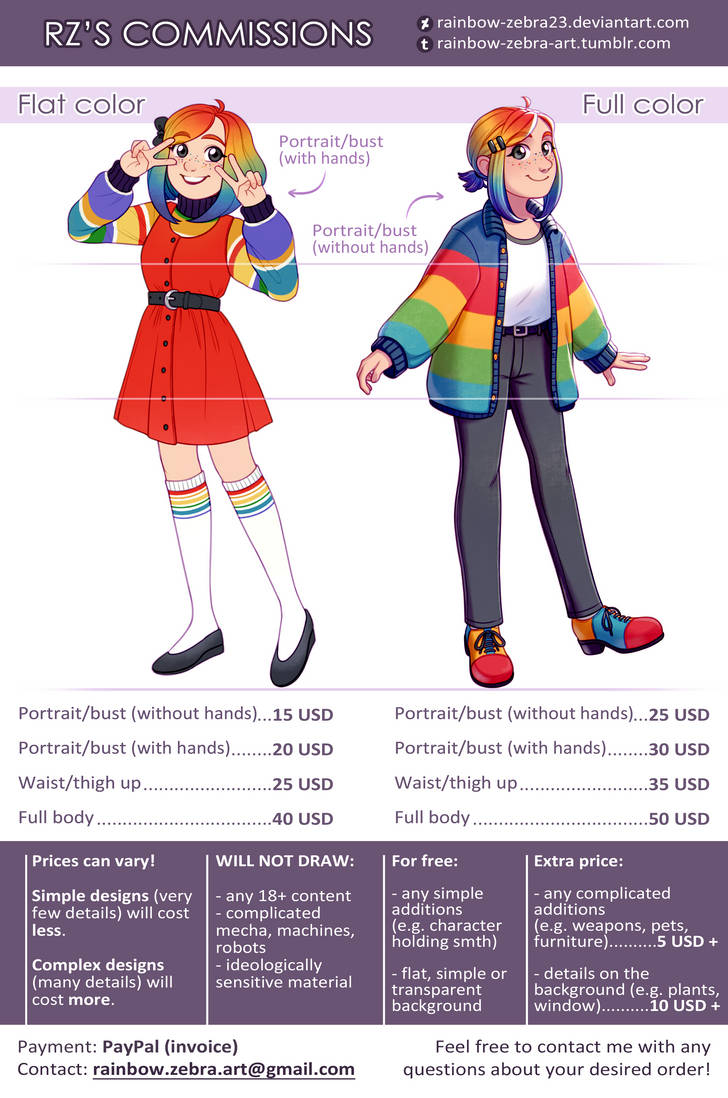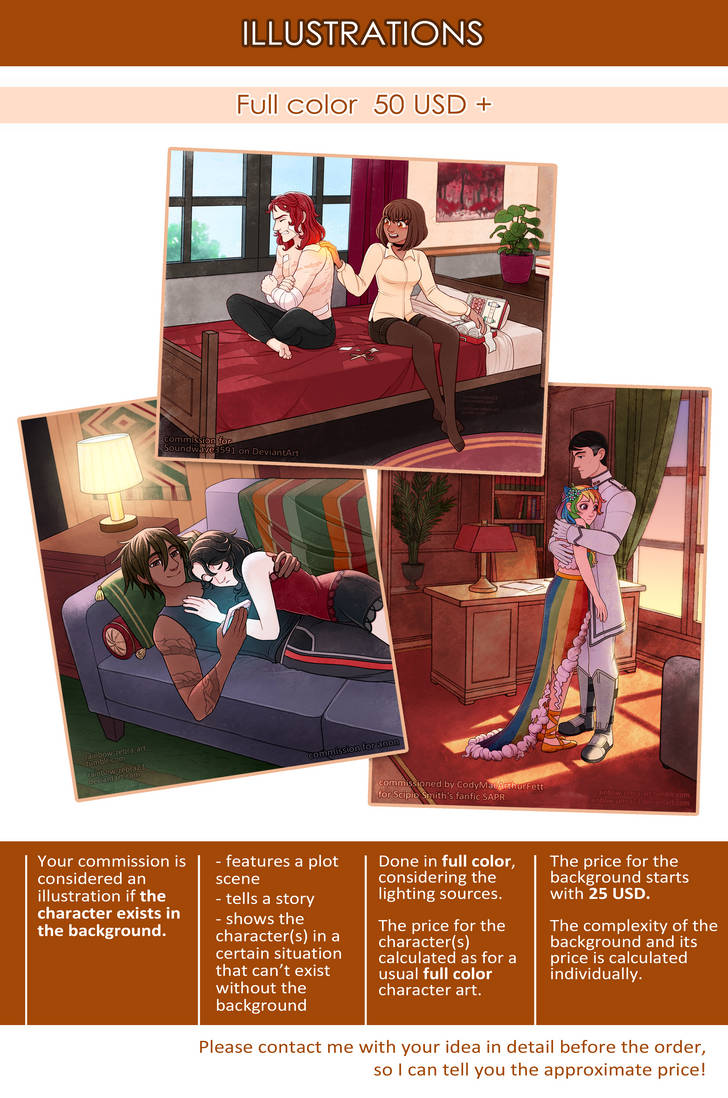 Character art examples:



Illustration examples:



TERMS OF USE
You can use drawing in any
personal way
you want.
You cannot use the drawing in any commercial way.
I have a right to post your commission to my social galleries stating you as a customer or keeping you anonymous if you want to. You can also post a finished commission drawing anywhere, saving my signature and stating me as an author (linking to my account/gallery is highly appreciated!).
●
I have a right not to post specific commissions, such as LGBTQ+ themed ones in my social galleries (I am cautious about my country's current legislation). You, however, are absolutely free to post such drawings on your accounts!
●
If you do not want a commission to be posted anywhere, this adds extra + 50% of the final price (I am interested in filling up my portfolio).
PAYMENT
After I confirm taking the order and you are satisfied with all the terms, I send the first
PayPal invoice
, requiring the
50% prepayment upfront
. After the prepayment, I start sketching. You can cancel the order and have your money back until I have not sent you the sketch. After the sketch is sent, you cannot return the prepayment.
When the sketch is approved, you send me the rest 50% and wait for your drawing to be done!

●
You can pay the
full amount
upfront if it is more comfortable/convenient for you.
●
If for any reason I will not be able to complete your commission, I will inform you and
refund
you the amount of payment you require.
SKETCHES AND CHANGES
I am sending you a sketch to confirm that I started working on your order and to know if you are satisfied with the base idea. Please understand that a sketch is usually a rough idea of the future drawing and the final result will be much better in general. You are also free to ask any questions to specify the details.
●
At this stage, I can make almost
any small changes
you ask and
1-2 major changes
for free.
●
After the second major change, every next one will cost
10 USD
.
●
Some minor changes in the final drawing can also be done for free if there was any mistake from my side.
TIME
It usually takes me a week or two to finish the commission. It depends on the complexity of the drawing and how much work I have at the moment. I will tell you the approximate time after your request.
● If you want your drawing to be done faster, please specify it in advance so I can tell you if I will be able to do it. However, I highly recommend you not to order if you need a fast result, because the quality of the drawing may not satisfy you.
FORMAT
I usually work with
2000 x 3000px
,
3000 x 4000px
canvases for character art.
Illustrations are up to
7000px.
• If you have any wishes for the image size, please
specify it in advance!

•
For character art, PSD or PNG file with the final character drawing on a transparent background is available
when pre-requested
.
HOW TO ORDER
Make sure you've read the details below carefully and accept the terms.
Contact me by DA notes or send me an email (rainbow.zebra.art@gmail.com)
Provide me with the next info:

For character art: desired format (portrait / portrait with hands / half body / full body);




For illustration: the description of a scene, including the character(s) and the background.

Clear references of the character(s) (not necessary for canon RWBY and DanganRonpa characters);




Your ideas and wishes for the drawing. Please specify anything you feel is important: clarify character's personality, poses, examples, and so on. Also, tell me your specific wishes for the background if you have any. Let's talk about your order more! I am interested in drawing exactly what you want.



The way you would like to make a prepayment: the first 50% upfront and the rest after the sketch approval, or the entire amount at once.
After our discussion, I will tell you the total price of a drawing and the approximate time of finishing it. If everything is ok for you, I accept this order. You give me your PayPal email address and I send you an invoice for the payment. After that, I start working on your commission!
It goes without saying that I will stay in touch with you during the process.
Please do not hesitate to contact me more if you want to ask me any questions or clarify anything!
Thanks for your time!~