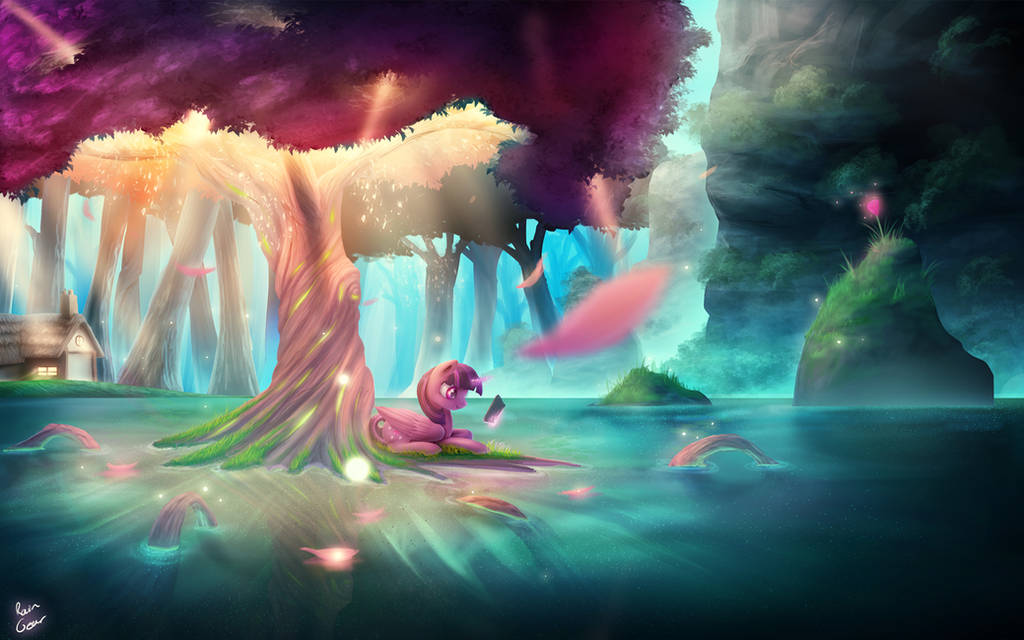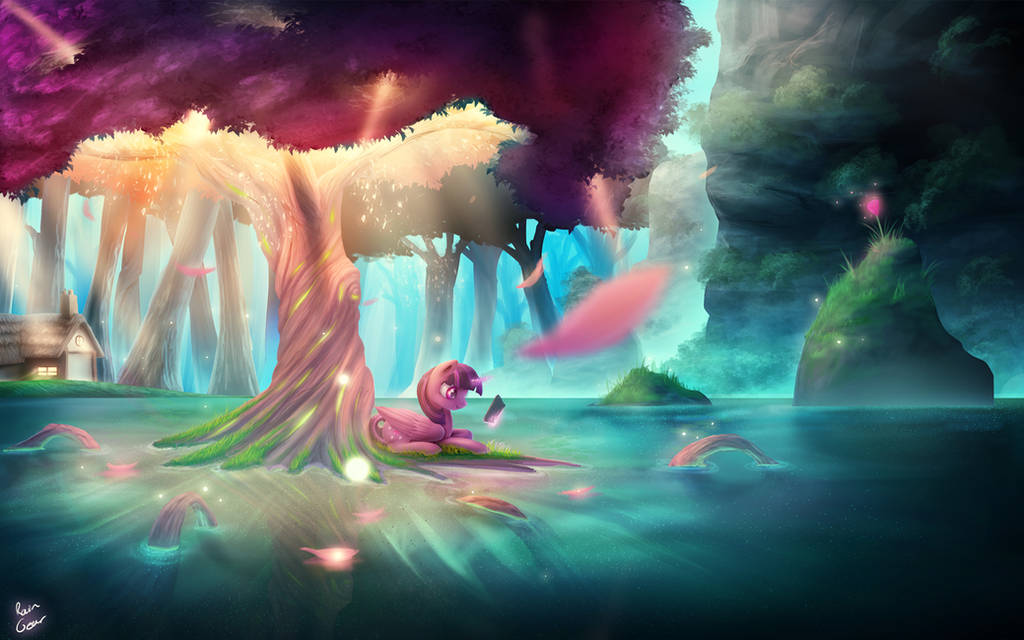 Watch
The idea originally came after watching Princess Mononoke and gawking at the amazing art that was produced for it.
There is no better place to kick back and read a good book than under an magical tree... seriously try it!
Took way too long to paint this, re did the background more than 10 times almost leading to a complete drop of this one.
But I got some awesome help from
AssasinMonkey
during his frequent streams and I was back on it!
Yeah I don't paint forests very much as you can tell XD going to have to mend that!
Since I'm getting close to the official date of it being 1 year since I fully painted my first pony I have cut out and cropped the first painting into a piece of it's own which can be found below.
I'd love to hear what you think about it!
Best Regards
Rain-Gear
(a few tweaks to the painting will be finished later)
I have to say that this is perhaps one of the very best pony pieces of art that I have seen in quite a while! First of all I'd like to start by saying that this piece is extremely alluring and has many facets of detail that make it so! I love the way that you were able to capture Twilight and make her the centerpiece of the image even amongst the plethora of exquisite detail that surrounds her! The character desigb is very refined and your style breathes glorious life into it in such a great way! The curvature of her body looks quite comfortable as it should and everything from the delicate threads of her mane to the soft texture of the feathers comes together wonderfully! She feels alive! I also love the immense amount of detail that you poured into things like wing shape, as well as the anatomy of the tail and mane! The environment creates an atmosphere here that is simply stunning which I know is reminicent of your awesome style! I love the way that you used the flawless lighting and shading to highlight the tree as well to be a prominent figure that shines throughout the rest of the dreamlike world. The sublety of the reflextions as well as the slight transparency of the water are breathtaking and fit very well with the lighting as well! The color work also adds another gorgeous layer of depth to this that I can truly appreciate and I also love the way that you wove the gradient shades into the foreground and background areas! Finally, what truly puts the icing on the cake is the soft texture that sets the mind at ease and draws the eyes further and further into this worls that you have crafted! This is a truly fantastic piece and I can honestly say that I have nothing negative to say about it in the least! I am also very proud to call you one of my favorite pony artists! I would love to see much more of your exquisite art in the near future! Amazing work as always! Kind regards, Princess Luna
The Artist thought this was FAIR
79 out of 81 deviants thought this was fair.
Extraordinary! Landscapes are a personal favorite of mine when it comes to art and you've created a magical masterpiece. Everything looks full of life... fresh, I guess would be a word to describe it. In a sense, you've given an equilibrium to this entire painting. Twilight doesn't necessarily steal the main focus, yet neither does the tree. I admit it does a draw first attention to it, but a few moments later, the forest, the cottage, the cliffs, the flower, will all seem to jump out at the viewer and show them there is so much more to this painting. So much detail has been elegantly wrought into everything, it's amazing. Even tiny aspects such as the pink petal falling in the foreground gives this art a wonderful sense of depth, though the lake's surface is what really 'blew me away.' How it appears to be translucent with a faint sheen, yet reflective at the same time is beyond stunning. I've rarely seen such a display before and still don't understand how it can be done, but you sure pulled it off in an exemplary fashion. From texture to lighting and everything in between, this painting is glorious in practically every detail. If time were to allow, I could gaze into this world for hours, leaving my imagination to be ensconced in such beauty. I am in awe.

However. As every artistic masterpiece has its minor flaws, this is no exception. Twilight's presence in no way diminishes the magnificence of this painting, yet I can't help but notice she looks a tad bit off, almost as if she had been drawn in a slightly different style than the landscape. Her posture is good, her action is good, and so is her lighting. It's just something about her mane and wings that adds a sort of stiffness to her overall character. To alter the construct of meaning; she doesn't have that ethereal feel of 'softness' to her as the rest of the painting does. Now don't get me wrong, I love some great pony art, but, viewing this painting in all it's splendor, Twilight doesn't seem to fit, yet she doesn't seem to not fit. Either way, this painting can be extraordinary with her or without, is all I'm trying to convey. From an artist's standpoint - I'm not really an artist, but saying this as I think a true artist would say it - Twilight doesn't add nor abate to the painting's glory. It could be just as beautiful without that little, purple equine as it is with her. Personally, I already like it better as is than imagining it without Twilight integrated within. And I'm sure hundreds of others do, too. I'm just sayin' Twilight's nice, but - if it weren't pony - not entirely needed.

So, once more! Outstanding. An excellent painting with such an otherworldly atmosphere and an almost impossibly intricate amount of detail, expertly woven into this most magnificent masterpiece. And with that, I am finished. Hope it was all right for a first critique.

Oh yeah! One more thing before I go... +Fave.
The Artist thought this was FAIR
45 out of 47 deviants thought this was fair.