Last year I worked on vol 2 of a Kiseki zine and we have a few volumes left for sale. The theme was costume/job swapping and i'd love if you checked it out!
gofight.bigcartel.com/
Commissions are On hold
They are still open I just have a lot of projects going on right now so I plan to finish the commissions I have left and then maybe fully reopen them in about a month.
however if you are still interested you can let me know and i'll put you on the list and contact you when i am available.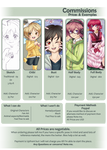 Slots:
1. JediSupersonic -
2. dragonofbrainstorms -
3. Monogally -
4.
Boundbyribbon
-
Come check out my redbubble where you can purchase many different items with my art on it.
(my fav are the
stickers
,
mugs
and
Sprial Notebooks
)
And i have a Twitch account where i stream work on art and the occasional game~
you can also find me over at
Tumblr:
raichana-artblog.tumblr.com/
Twitter:
twitter.com/Raichana
Kofi:
ko-fi.com/raichana