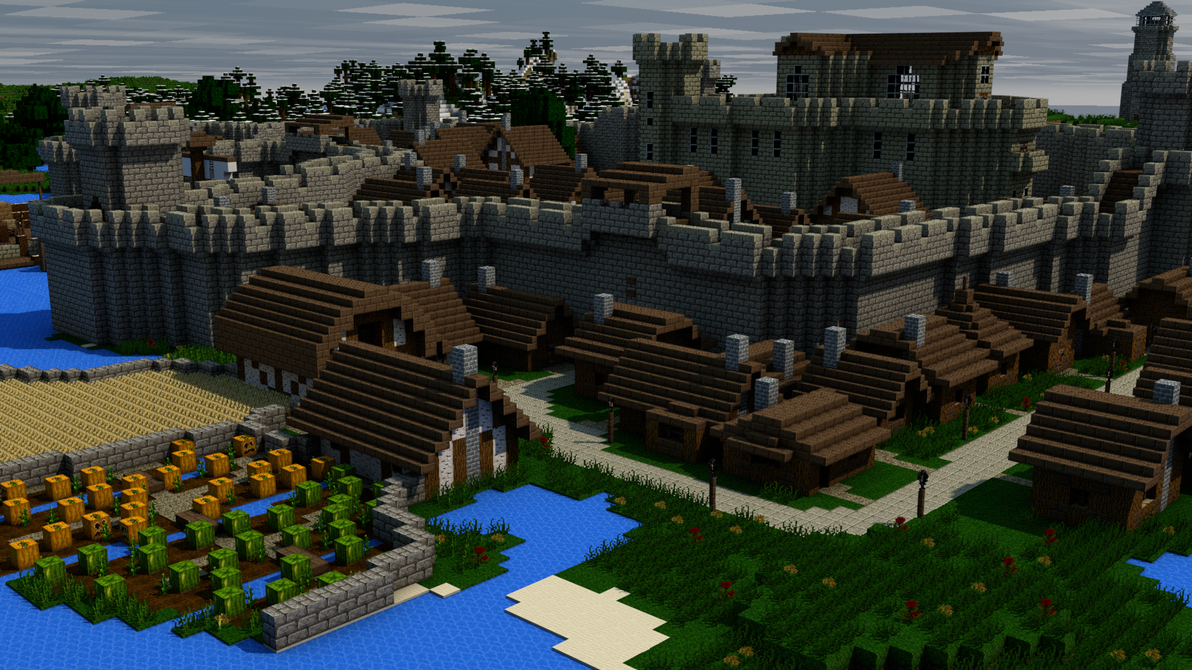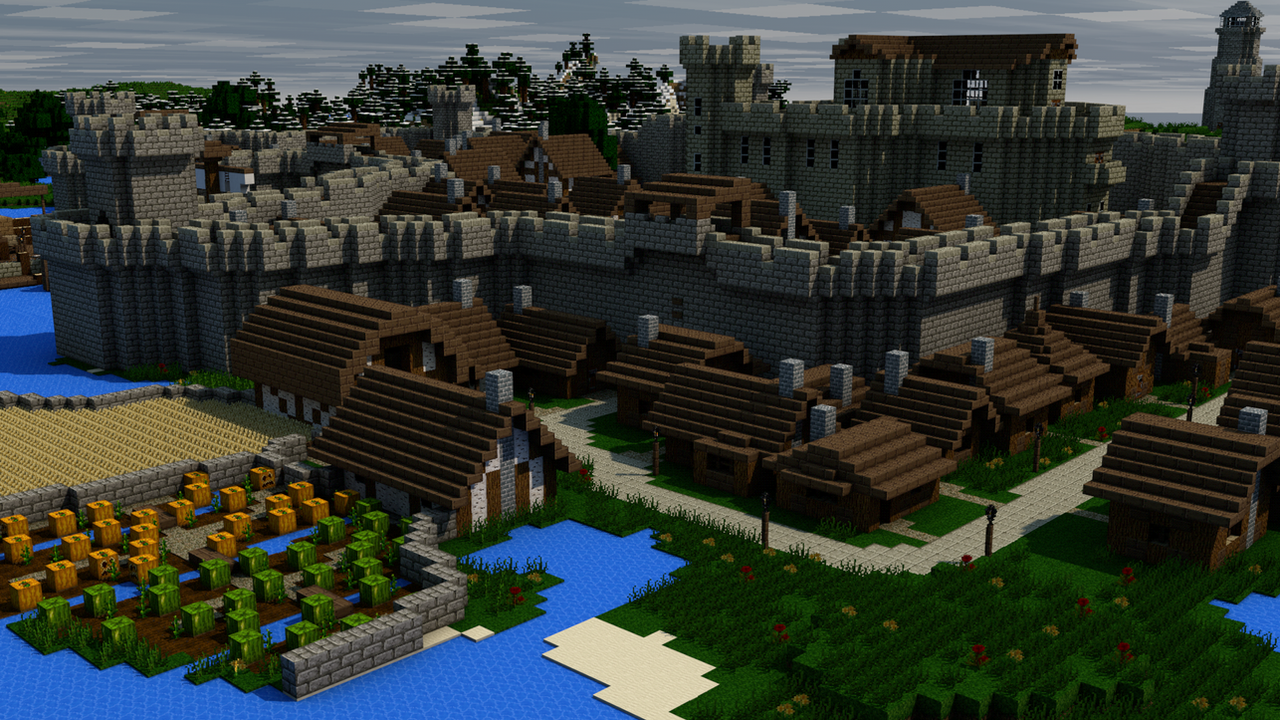 Watch
Edit: Had a small fit and learned something new in cinema 4D that made my renders slightly better, so I decided to update with the improved version. What's different is that wheat, tall grass and flowers no longer have ambient occlusion on them and as result are much brighter
I decided to give rendering my minecraft worlds in cinema 4D a try as the size of my current project
"City of Arget"
is too large to be fully rendered all at once. Thus this image, rendered as stated before using cinema 4D and my own texture pack. I've tried to keep the feel of minecraft as much as possible and thus no aftereffects have been added in Photoshop.
Info about the project:
Unlike my previous project which was mainly built in MCedit, this was actually mostly built in creative with the exception of most of the houses which where imported using MCedit and some landscaping before the first screen was taken.
Overall I'd say I've spent a good 5-6 days spread over the span of 5 weeks, technically six week but I had a one week hiatus about halfway through, in conclusion my longest project yet.
The world is built entirely in singleplayer, however if you want to use it on a server feel free to do so, just make sure to give me proper credit for the world.
I didn't use any mods while building this apart from TMI and Rei's minimap.
And now for the thing many of you have been waiting for, the download links!
World:
Realm of Konig world
Texture pack:
Tex Pack
, texpack resolution is 16x16.
Progress Screenshots:
Screenshots
Credits:
Credit for the building designs goes to ~
ConcreteCastleMagic
and the others working on the Kytheria project.
For the texture pack credit goes to the website
PainterlyPack
Lastly massive kudos to the guys over at Mojang for making this awesome game

That's a really good looking town there

One of the most beautiful I've ever seen, to be honest.
Reply

nice work

i like seeing what you've done with my plain, simple designs
Reply

Thanks

and thanks again for letting me use the designs, don't think
I would have finished it without them

Reply

Great

Reply

nice render

Reply

Well time to go gef...uh buliding
Reply

Wow this is amazing. Unlike most castles by keeping it smaller makes it look really good in this example. The way you organized the buildings and the farm look like a real castle scene and to top it off you used the shader and texture pack to make it astonishing. Nice work

Reply

Thanks

keeping it small was a bit of a challenge though.
It was difficult to find houses small enough but still have detail and
that fits in with the castle in general.
Reply

Holy cow that looks incredible!!!! That took 5-6 days...only??????.
What the hell!! Haha, I wish so bad to create something similair but my castles/forts skills are little to non-existant.
Did you use Survival or creative mode? and what specifications do you need to run the texture pack?
Reply

Thanks

More or less, took my time on this one

Keep trying, my first two castles are hovels compared to this one

I used a mix between creative and MC-edit but mostly creative, as
for the texture pack it's standard 16x16 so no mods are needed.
Reply

Sweet and thank you so much, I will keep practising ^^
I really like how with the new update we have anvils now, not only for their purpose I really do like their visual appeal especially when building castles and such with blacksmiths ^^
Reply