Here's the comic folder
www.deviantart.com/harmonichaz…

Bad Route info


InvaderZim FalseTranquility: Bad Route info so farThis is the info for the Normal Route of my InvaderZim comic series

The only characters in the bad route of False Tranquility that will have personality changes/design changes are Zim, Gir, Dib, and Keef
False Tranquility Bad Route cover - (Will be added once made)
False Tranquility Bad route comic folder link - (Will be added once made)
Zim - Is one of Tallest Red's best soldiers (he was raised/trained by Tallest Red to be a great invader), and Gir was not tampered with in the bad route so he's like a regular SIR unit to properly assist with Zim's mission to conquer Earth.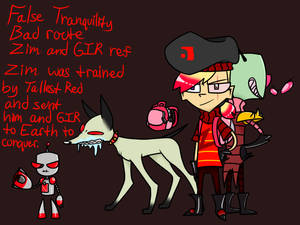 Keef - This half demon boy acts the same as he does in the normal route of False Tranquility, but due to some of the events not happening (like Dib "befriending" Zim first) Keef won't have to resort to certain measures just to get to Zim. Just like it's mentione

(clicking the pictures in this journal will enlarge them owo)

First Arc
Arc one's cover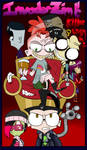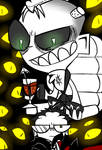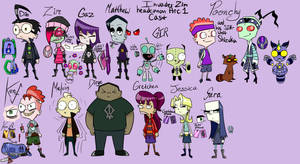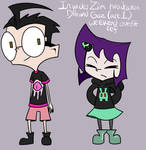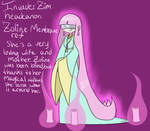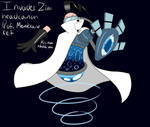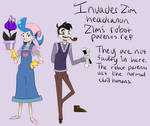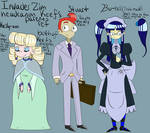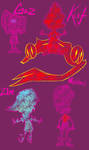 (Zoline's eyesight/spiritual eyesight ref [info about that is in the description of the picture])
(
Arc 1 refs [more refs below])
13 year old Zim a his companion Gir was sent to earth by Tallest Purple to see if all types of life would be able to live on planet Earth (Purple wanted this because he saw planet earth as a beautiful planet), and also take note that Tallest Purple and Tallest Red's beliefs are very different Purple prefers
peace
and Red prefers
war
(This will lead to problems between the two tallest in the future too). Here's some extra info about Purple and Red - Red prefers
spicy
foods while Purple prefers
sweet
foods, and The tallest are
19 feet
tall
(The other irkens are around the same height as the average human)
. On the topic of the Tallest Tallest Miyuki and Tallest Spork are in this headcanon too. Info about them can be found on their ref sheet which I will link below (in the ref section of this post). Lastly Tallest Purple raised Zim behind Red's back.
So once Zim and Gir reach planet Earth the same as in the show happens when he sets up his house and disguise, and after that has been settled the next day happens and he goes to the skool
(The word Skool is how School was spelled in the show)
and meets the class but instead of being hounded down by Dib
(as seen in the show)
Dib is more of a alien/paranormal
coffee-loving
fanboy that wants to befriend Zim but with the help of Gaz they do become friends. Speaking of Gaz she's more understanding in this headcanon than she was in the show. Her patience is a bit higher in here, but she still loves playing games as much as she did in the show. Another thing about Gaz is that she practices
grey
magic which is a mixture between light and dark magic
(Her mother Zoline has a similar ability except Zoline's magic is pure light and not grey)
. She even has a huge spell book too. Another thing about Gaz is that she's dating Matthew before then she wasn't as patient as she is now.
Professor Membrane's personalty is pretty much the same as in the show,
and he
hates coffee and has banned it from his house because it's the drink that ended up causing him to lose most of his body. In short the horrible drink was dropped by one of his ex employees and it landed on a fuse causing a large explosion blowing him up and the employee in the process. His other employees that survived repaired him.
Keef and his friends act different than in the show. Keef is severely obsessed with Zim, and Keef despises Dib not only because of Dib being close to Zim but also because of both of their families being rivals. Both families are rich Membrane's family focuses on providing power and other inventions to the world, while Keef's family runs the Poop company
(Poop-Cola ect)
. Gretchen acts very different from the show instead of sweet she's mean and is a bully towards Zim
(she bullies Zim because she still has a crush on Dib [Keef does not know about the bullying "yet"]).
Not only is Gretchen friends with Keef and the others, but she's also friends with Jessica and Sara
(they're the popular girls of the skool).
Gretchen and Jessica bully Zim, but Sara refuses to do it as she is the only one of the three with morals and with that fact she tries to get them to stop bullying him
.
Melvin is crazier than he is in the show
(he's the only one of Keef's friends that addresses Keef as boss)
. Dirge is the handy man/boy of the group and he somewhat acts the same like in the show. Matthew on the other hand acts very different from the show. Instead of being scared of a lot of things he's not afraid of things and he will stand his ground if needed. He's a rock music-loving half vampire with a laid back attitude
(until someone pushes him too far and makes him mad).
As said above Matthew is dating Gaz
.
He even taught Gaz how to play the electric guitar
.
Arc 1 Nicholas info
(Matthew's other friend [a ref picture of both his arc 1 and arc 2 design are below in the arc 2 section since it has both in there])
He is quite most of the time avoiding humans not out of fear of harming them
just because he doesn't know how to start a conversation its different with vampires he will start conversations and try to make friends with them quickly. If one should ask him about his shirt or say his hair is cool he will open up quickly and start to talk. He has a hard time talking to girls he likes when a pretty girl speaks to him he freezes up and stares at her which in turn freaks her out and she will walk away or call him weird then walk away. Only one girl continued trying to talk to him and he finally snapped out of his awkward stare and start to talk to her in return she moved away soon after that but they still write to each other.
Here are the character refs
(for the first arc)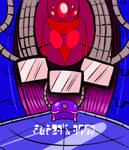 (Eldyr's room) Tallest ref
(Eldyr is in the Tallest ref too)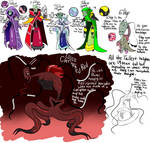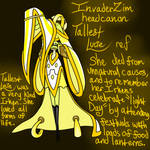 (Tallest Lucie's death might not be explained due to her not having a huge impact on the plot of the comic)
(tallest workers)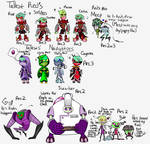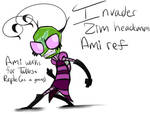 (Ami also works for Tallest Purple as a guard)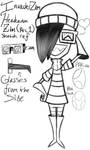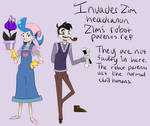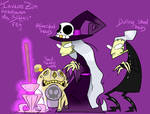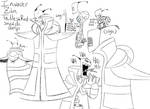 Gaz and Matthew's ref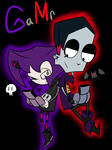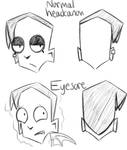 Matthew's parents ref (and Matthew's sisters)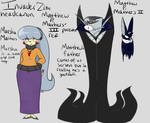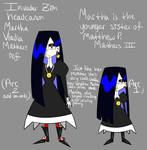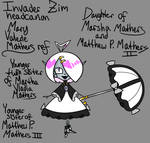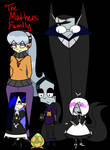 (Info about his parents are in the description of the picture)
Younger Keef's ref Meef's ref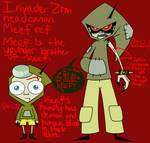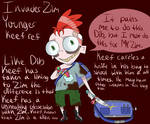 I've decided that in this headcanon Keef is part demon (his mother's side is demonic [Their demonic species is called the Spiked Oni], but the demonic traits skipped both Keef and his mother [Keef's little brother Meef does have the demonic traits but they're slight due to their father being human])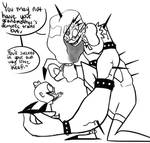 (baby Keef and his grandmother from his mother's side of the family)
.Keef's parents and their maid Gaz's/Dib's mother and father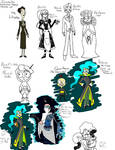 Nu-Clear works with Professor membrane and her personality eccentric but she's a loving mother of her son Geno
(who is quite unstable)
.
Maid of the Membrane family and the Skool lunch lady ref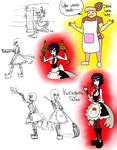 Kurayami Taint is the maid for the Membrane family
(Kurayami Taint isn't human, but none of the members of the Membrane family know except for Gaz and her mother Zoline since both of them can sense that she's not human)
.
The lunch lady has some creepy vibes about her like she's waaaaaay tooooo happy for a normal person
(My intention when creating her was for the children of the Skool to make creepy rumors about her as to why she is the way she is [like maybe she's a alien, or even some sort of soul stealing demon])
.
Iggins and his parents ref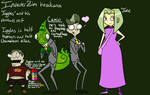 Iggins is still a rival of Gaz.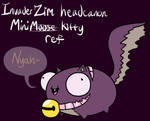 MiniKitty is my version of MiniMoose. instead of floating he waddles on the floor.~ MiniKitty won't be in the comic until the end of arc 1 leading into arc 2.~
Arc two's cover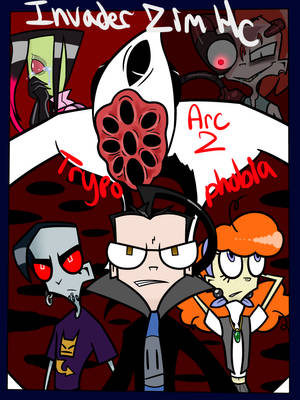 Arc 2
(refs)
and info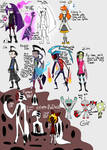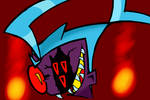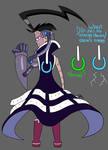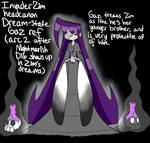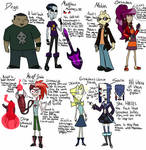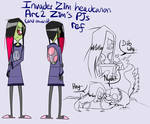 (info in the pictures themselves)

Gaz buys Zim these PJs while Dib was deceased/dead. That's why Zim looks depressed in this re
f

Nicholas Is a vampire that's also friends with Matthew. Arc 2 Personality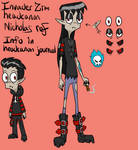 Arc 2 Nicholas info- He is no longer shy and fare more talkative. Girls don't make him freeze up and awkwardly stare at them. He has gained the
ability to read minds and see dreams. He has also became a painter often painting the dreams and thoughts of his friends.
often asks those that know of this power if he can paint their thoughts. Once he is focused on his paintings he often
stays awake for to long leaving him very tired and slow to respond when asked a question. If he misses out on too many
meals he becomes very angry. He will swear and yell at people he doesn't know causing him a lot of problems but once he
has gotten enough to eat he is back to his happy friendly self.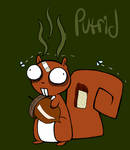 Putrid is basically a "Where's Waldo" type of character that will randomly be placed in locations in the comic.~
Arc 3's cover

Arc 3 refs (and info)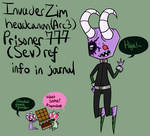 Prisoner 777
(aka Sev in this headcanon)
is a Vortian that was experimented on by Red because he was curious to see what the demonic black matter serum would work on a Vortian. Sev is very close friends with Zim
(they've known eachother since they were babies)
. Sev doesn't have kids due to him being afraid of having them
(he doesn't want his corruption to spread to them)
.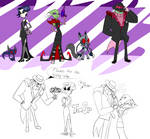 Tak and Skoodge are a couple that works for Tallest Purple to get info on Red as to why he's acting evil
(In this headcanon Purple doesn't take kindly to violence)
. Mimi was assigned to both Skoodge and Tak.
(Skoodge's casual clothing)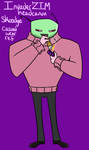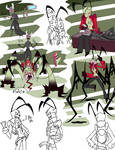 Gill and Vic both work for Tallest Red. Gill is a willing test subject of Vic, and Vic is a scientist for Red. Milly also works for Red and she tries to take Gill's place to go to Earth. Let's see if she'll get what she wants.~
Arc 4's cover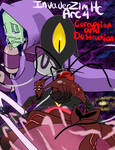 Arc 4 refs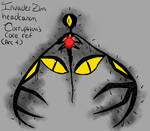 Corruption's Core- A demonic being made out of dark matter that was once scattered across space.
IZ headcanon timeline
Arc 1
all of arc 1 happens within the same year

Beginning of arc 1 - Protagonist #1 is sent to Earth on a mission by higher up #1
Middle of arc 1 - Protagonist #1 meets protagonist #2 for the first time while in middleskool
Enemy #1 soon follows, and ends up stalking both protags
Ending of arc 1 - Someone's parents dies and Enemy #1's brother runs away
Arc 2
Time-skip happens
(Characters are now in highskool)
Beginning of arc 2 - Enemy #1 spreads rumor that gets protagonist #2's attention
Middle of arc 2 - Protagonist #2 heads to rumored location and gets killed by enemy #2
Protagonist #3 takes the deceased protagonist #2 to to protagonist #4's lab
Protagonist #3 fights enemy #2
Protagonist #1 becomes depressed after losing protagonist #2
Ending of arc 2- Enemy #1 and his brother battle
Enemy #1 gets locked away for his crimes
Arc 3Time-skip happens (3 months later)
Beginning of arc 3 - Protagonist #2 lives!
Protagonist #1 confronts Protagonist #2 about his stupid decision
Protagonist #2 severely makes up for his mistake
Middle of arc 3 - Higher up #2 finds out horrible news about a loved one and becomes very angry
Two enemies were sent to Earth by higher up #2
The two enemies show up on the news and gets the attention of Protagonists #1 and #2
The two enemies begin causing destruction to the city
Higher up #1 finds out that higher up #2 has been doing shady things
Higher up #1 gets advice from a elder which causes Higher up #1 to leave Higher up #2
Elder is blamed and killed by higher up #2 due to loosing his sanity because of his loss
While Higher up #1 is away he sends protagonists #5 and #6 to go undercover and see what higher up #2 is planning
Middle to ending of arc 3 - Protagonists #1 and #2 find the location of the two enemies
Protagonist #2 battles enemy #4
Enemy #3 triggers Enemy #4 to transform into 1.5 phase
Protagonist #2 continues to battle enemy #4
Enemy #3 triggers Enemy #4 to transform into phase 2
Protagonist #2 defeats both enemies
Protagonist #1 makes sure that Protagonist #2 is alright
All types of alien life begin to show up in peace~
Arc 4
No time-skip yet
Beginning of arc 4 - Higher up #3 has been housing higher up #1 and comforting him
Life on Earth has somewhat turned back to normal
Middle of arc 4 - Higher up #2 finds out that his henchmen failed their mission and becomes desperate for power
With the same source of power that Enemy #4 had Higher up #2 decides to get as much as he can
Higher up #2 injects himself with this "power" and becomes severely corrupted
Higher up #2 is now rooted to his home planet draining it's energy
Higher ups #1 and #3 help evacuate the doomed planet onto a large ship (higher up #4 was instructed to help by
higher up #3 after a stern talking to)
Higher up #1 tells Protagonist #1 the current situation and needs help
Protagonist #1 tells Protagonist #2 about it and heads to the doomed planet with the other protagonists to find the corrupted -higher up rooted on the planet
Corrupted higher up is "defeated"
Time-skip (3 years and 2 weeks)
Life is good at this point in time
A character reforms
Protagonist #3 finds out that she's pregnant and is happy
Time-skip (9 weeks later)

Protagonist #3 gives birth
Time-skip (6 weeks later)

Double wedding!
Corrupted particles (from the corrupted higher up fight) have since been forming into a very powerful being!
Protagonist #2 Receives a call about this power being being a threat to Earth
Protagonist #2 Faces up against this mass of corruption only he can save the Earth from total DOOM!!!
Artwork that I commissioned for this headcanon