Happy Holidays and enjoy the winter festivities! (if you're on the northern hemisphere)
This is Tetora Nagumo from Ensemble Stars. I don't really play the game but I just found they kinda got a bunch of snow gears,
and oh boi did he get the BEST one
. I've never seen one so complex and
colorful
like his so I just
got
to draw it XD
Here's also a wallpaper version!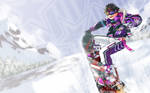 I don't own the characters, I just drow fanart to support more representation of cool, cuddly snow gears in the anime/game world.
Image size
2000x2000px 797.12 KB
IMAGE DETAILS
Software
Adobe Photoshop CS5 Macintosh