RadenWA's Slime Tutorial, Pt.1
Description
›› Here's also a simpler, quicker step-by-step process GIF ‹‹
Part 2
Wetlook Tutorial
An expanded explanation on how I build the transparent, reflective slime effect like in this GIF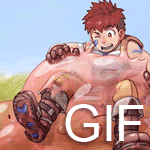 This is a compositing breakdown tutorial, which means I won't be touching on how to actually draw the things, but rather how to manage the layers and effects. But even if you are a one-layer speedpaint type of person, hopefully the effects shown here can give some pointers on how to make sense of this material.
I mainly use Photoshop here with some mentions of After Effects. Some effects here may not be available in your software but you can prolly manage by painting it instead or using other methods.
It's prolly easier to paint a slime effect all in a single layer, but this workflow put the slime effect separately so that you can maybe apply it to an already finished picture without having to redraw any parts, or if you do need it to be separate for purposes such as CG sequence or animation.
Thanks to my good pals over at Patreon for making these projects and tutorial possible!
Image size
2000x11500px 2.78 MB

In the last few panels, it looks like he's being attacked by a Dragon Quest Metal Slime!