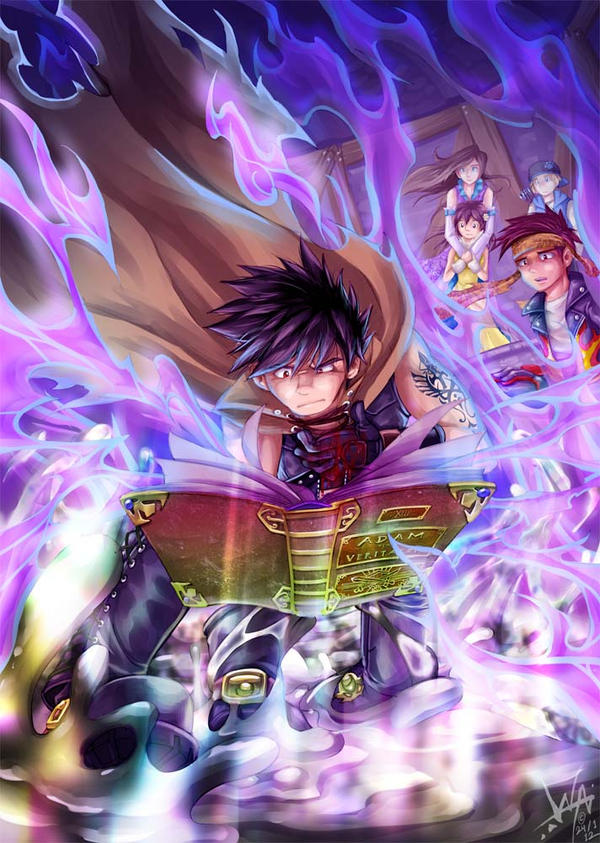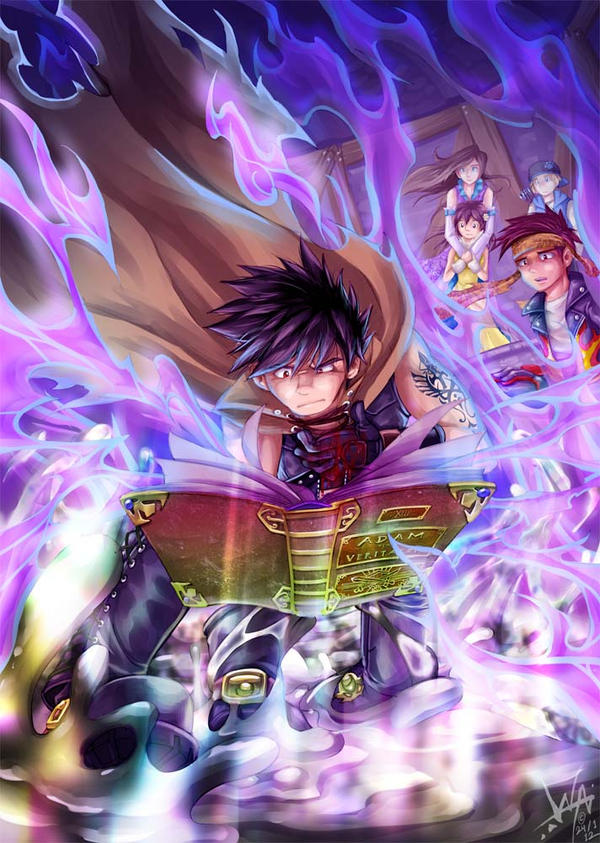 Another -long overdue- commission for

, an illustration of a scene from his novel. Wing is opening a shiny gooey portal using his blood and flame power activated by the power from the book he received earlier in
[link]
. Complex scene.
Okay, now about his
pose
, it's actually quite normal until I drew in the book, which obscured all the most important hints of his pose. Anyways, on the left is one leg, which appears bigger due to perspective, on the middle is his gloved hand digging into the portal goo, and on the right is his other leg, which is already halfway inside the goo.
-
I know I have greatly offended a couple of people by taking an unforetold 1 year hiatus from doing his illustrations, but between college, the intensity of learning animations, swaying between different styles, music, social life and taking breaks, it was hard for me to stay committed to an illustration project as intense and complex as this. It was my weakness and it's probably still very long until I can call myself a professional.
Feel free to give critiques, since someone thinks I'm getting too much compliments. Afterall, I applied some techniques I learnt from doing my previous deviation, and since my previous deviation was shit, then this one probably is, too.
-
Anyways, sorry for that rant.
Characters and story © *WingMcCallister
Illustration © *RadenWA
Well now what a piece if work I must say Ray, you're getting better all the time and first I must say....it's about time!

I see the talent and effort put into this, and i still rely on your style for my bro characters. And the way that I need to draw them, it's you who I use for this structure and idea!

And I also would like to say! This is so badass! Great timing too! I can't wait to see you're hard work again soon...maybe you might even choose me as your next (victim) artist for this! But anyways, great job!

Sincerely
J Ver (c) 11
The Artist thought this was FAIR
3 out of 3 deviants thought this was fair.
Again this is a wonderful piece. Your talent is amazing and I always love seeing your work. I really love the colors used here and the mixture of fantasy outfits with more modern ones is a really nice touch. I also really love the facial expressions as you can really see the tension of the scene on everyones faces. My only really issue with this is that it seems a bit to cluttered for me. I think it would look perfect if it was bigger that way everything wasn't cramped in such a small amount of space. But other then that this is an amazing piece and I can't wait to see more from you.
The Artist thought this was FAIR
2 out of 2 deviants thought this was fair.