More pics of Tetora in his snowboard gears!
Oh whoops, seems he wasn't watching where he jumps off to. Welp there goes all the colors. Poor guy!
"It's fine, I just need to go swim in that river to wash off...let's just hope these are waterproof enough..."
Man it sure's been a while since I made a muddy pic. My last snow/mud pic was like from 8 years ago...gulp.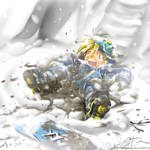 There's also a
process GIF
I made if you're
for some reason
also interested in drawing really messy muddy look.
Tetora Nagumo is from Ensemble Stars.
I just
messed him up real bad
drow fanart.