This drawing is based on a latex baseball suit....that I actually own! XD I mean I like baseball uniform and bodysuit so...why not put the two together?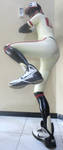 Anyways, why don't we test it in an actual game to see if it actually enhances the performance. Although all I know is that it's gonna be sweaty as heck...

Hey, at least the spectators kinda like it!
Feel free to note me if you wanna see more pics of that suit. Also ofc there's
my Patreon
if you're into
these kinda things
and
more
...