Ladies and gentlemen, may I present to you my very own, properly published with an actual coloring book publisher,
Dragon Adventure Coloring Book
! It's available on
Amazon
and
Create Space
.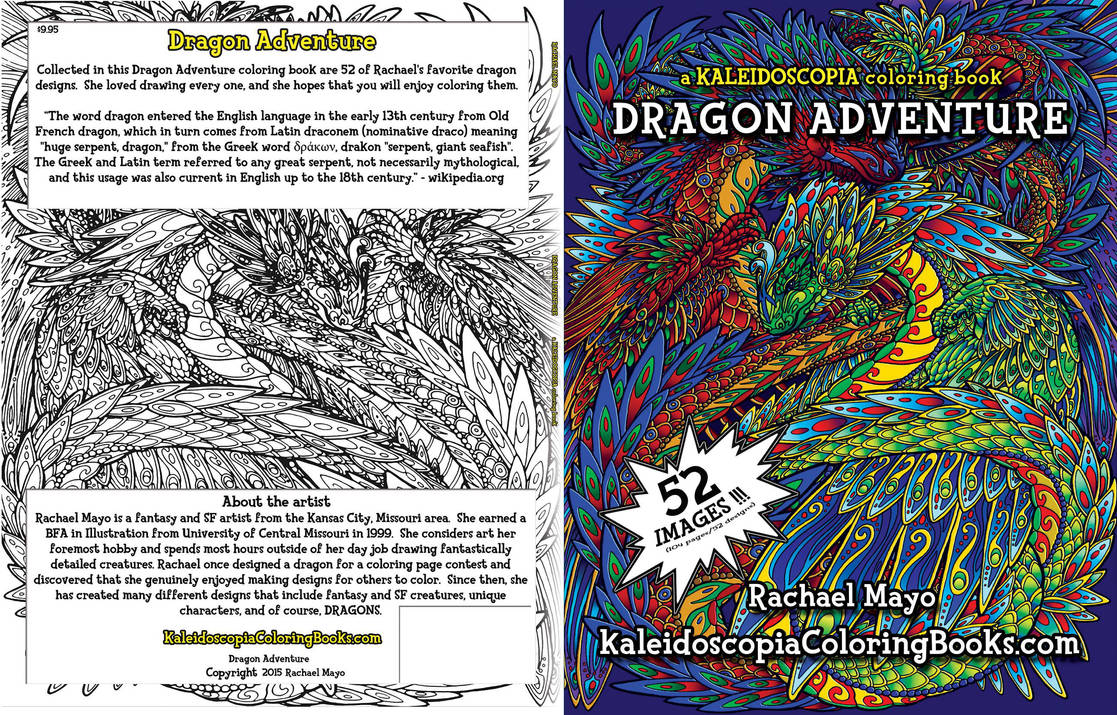 The coloring folios I had available previously are now collectors' items. While I do have a few left, I won't be making any more of them outside of special requests or special occasions. The new coloring book is quite a bit more efficient in terms of production costs, and in terms of the sheer quantity of dragon drawings we managed to squish into it.
The paper is a lighter weight than what I was using for my old coloring folios, but it still has a thickness and tooth that is good for markers, colored pencils, and crayons. The book is "permabound", which means you can't take the individual pages out. I'm pleased with the way the proof copy turned out, though, so I'm ready to unleash it to the world.

The front and back cover illustrations are my own work. The lettering, layout, and graphic design were done by the editor/publisher duo at Kaleidoscopia.
On a side note: At the publisher's request, I have replaced quite a few of the coloring pages I had posted on DA with "display only" copies. There are still several of my favorite dragons available as coloring pages, and I will *certainly* be adding more in the future. I have 19 waiting for digital cleanup even as I type, and I'll post them as I finish the digital tidying phase.






"Planning"
means that I'm thinking about your project, but don't have anything on paper yet.
"In Progress"
means that I am actively working on your project. I am drawing it, or inking it, or coloring it.






Commissions:
Closed for 2016.
Trades:
Closed for 2016.
Requests:
I do not do requests or freebies at all; I simply do not have time.
Charity:
I rarely do charity art; please DO NOT ASK. I'll choose my own causes to support.
Kiribans:
Next one at 300,000 pageviews.
The Dastardly Project List

Kiribans/Contest Prizes
[None at this time.]

Commissions and Trades

Note: These items were already underway before 2016 rolled around. They will all be completed, but no new ones will be accepted.

Commission: A Stone Dragon "rainbow" diptych, with dragons based on the Chinese zodiac, for Mom. BIG.
Part 1 done; Part 2 in progress.

Trade: Four-seasons dragons.
Spring, Winter, and Summer complete. Autumn in progress.

Three projects for Dave, an old friend from college days.
In progress.


Trade: Two of her characters in dramatic poses, wielding fire.
In progress.

Long-Term Waiting List (Updated 20 October 2015):

When I am available for art trades, these folks get first dibs on open slots.