Description
It took me about a year to get back into the swing of things; most of the last year has been creatively stifling on so many levels. But the clouds finally cleared up, and I have been able to sit down and play with my rocks, shiny bits, and assorted odds and ends to finish this dragon project.
The dragon/moon/star layer is an ink drawing, colored with watercolor, Prismacolor pencil, and silver paint pen.
The background consists of scrapbook paper, rhinestones, a couple of paua shell beads, and black/blue goldstone. The large white/blue stone in the lower right is called a common opal. The dragon is holding a small white opal (the kind with sparkly fire).
Original art: Sold.

Matted prints: Please see the Print Prices and Information journal for information.
Here's the dragon image before I placed it in its background: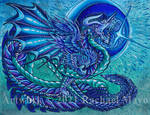 Image size
900x726px 157.15 KB

Blue fire.
No, I don't like the watermark, either, but I understand why it's there. At least you do your own and put it on the border instead of across the center like the default dA watermark.