Here's another piece that's been waiting for the doldrums to clear. I finished it up late last night and could hardly wait for the glue to dry so that I could scan it!
This guy has been an ink drawing hiding in my to-do pile since about 2012. I colored him late last year with watercolor, Prismacolor pencils, and gold paint pen.
I constructed the background with scrapbook paper, rhinestones, desert jasper (the sand-colored round stones), black agate (treated stones), malachite (the striped oval stone in the upper right), and sunrise chrysocholla (the large mottled green stone in the lower left).
Original artwork: Available for USD$400, plus shipping. Will be matted to standard 16x20 inches.

Matted Prints: Please see the Print Prices and Information journal for information about prints.
Here's the dragon without the background: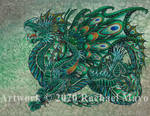 Image details
Image size
900x730px 196.6 KB