Hello, once again! I know it's been ages since I last posted anything. I have been in a dry spell since August or so, but now the gears are unstuck and I'm working my tail off. Happily, I might add. Here's another work-in-progress that I recently finished up:
This is the dragon design for "Malachite Sentinel". While malachite might have started the thought process on the color scheme, I instead found a lovely sunrise chrysocholla that I thought fit him even better - hence the addition of those contrasting red-browns and the blues that you see here. "Trust me, it'll work."
The dragon will be partly cut out, while preserving some of the nice colors and textures in the background, and mounted on a slightly larger board. Additional small stones, shiny bits, scrapbook paper, and other fun elements will be included as the mood strikes me.
Mediums so far: watercolor (with salt), ink, Prismacolor pencil, metallic paint pen.


Colored version of my own lineart: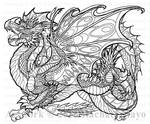 Final version with background: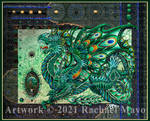 Image details
Image size
898x700px 270.3 KB