Description
Here is
Fire of Ages 02
with the framing element included.
When I first designed the dragon, I was worried about the fact that it took up so much of the compositional space. I resolved the problem by placing it in a larger setting, kind of like a shiny rock as the centerpiece in a piece of jewelry.

The background is watercolor, acrylic, and India ink. The dragon picture, which is entirely Prismacolor pencil, is mounted on top of scrapbook glitter paper. There are small, round Swarovski crystals, tiny seashells, and a border of square-cut cabochon tiger eye stones.
Original art: Sold.

See the Pricing List 2019 for print information.
Progress shots: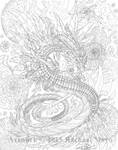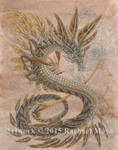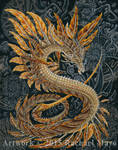 Image details
Image size
802x1000px 323.77 KB

This is really wonderful! How much did the original cost? (sorry to pry, I just read Swarovski crystals and now I'm in full blown nosy-parker mode)