Back around 2011, I had this grand idea for this multi-winged kind of seraphic dragon. Nine years later, I've looked over my notes, said "meh, I can do better", and upended a bag of Skittles. Though the "oceanus" bit still comes through because both the dragon and the background lean heavily toward the blues, I wanted to liven it up with touches of other colors. But *which* other colors? Here's me, being indecisive by including all of them. Rainbow shiny bits make me happy!
Pieces and parts, and boy are there a lot this time:
Deep background: acrylic
Dragon: Ink, watercolor, Prismacolor pencils, metallic gel pens.
Silver and blue swirly arc things: Repousse metal that I embossed with a ballpoint pen, painted with acrylic, then gently sanded down to let the silver embossing show through.
Stones: Top center "turquoise" one is dyed magnesite. The one below the dragon's tongue is dyed serpentine, and the tiny ones near it are turquoise-colored glass. Under each of the arches are three rose quartz stones.
And of course, lots and lots of shiny bits.
Image size: 12x15 inches, so I'll be matting it up to the standard 16x20 inches.
Original art: Available for USD$400, plus shipping.
Prints: Please see the Print Prices and Information journal.
Lineart: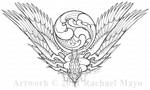 Isolated Background: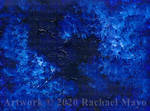 Image details
Image size
1040x784px 413.25 KB