Here's the final version of Autumn Interlude. The dragon itself is a "failed" design for my older "Dragons of the Seasons" series. I like the design in and of itself, but it didn't quite fit the earlier design theme. I don't toss out much of anything, though (and I'm glad that I didn't this time!), so it found a new life as a stand-alone piece. I also wanted to use a color palette that I hardly ever use - deep reds, browns, blacks, and gold - the last, fading colors of late autumn.
The dragon design is an ink drawing colored with watercolor and Prismacolor pencils, and it has gel pen accents.
The background is scrapbook paper of various types, as well as a bunch of different stones and shiny bits. On the left, the black, oval stones are dyed agate. On the bottom, the rectangular stone is what's popularly called "dragonstone" (it's calcite and septarian); the small round stones are desert jasper, and the large round stones are red jasper. In the curl of the dragon's tail is plain septarian. On the upper left is a red, round tiger's eye. On the upper right is an oval dragonstone.
Here's the dragon by itself: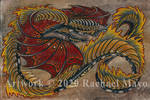 Original art: Available for USD$400, plus shipping. This will be matted to a standard 16x20 inches.

Matted prints: Please see the Print Prices and Information journal for information about prints.
</span>
Image details
Image size
700x563px 102.99 KB