RB'sB: GOLF CART THEFT. BINGO FRAUD. TELLING JOKES THAT JUST GO ON AND ON, I MEAN, I HAVE THINGS TO DO TODAY, REALLY. And there you go!

Wow. That list was so long I actually had time to write this next part.

Number 4/Dungeons, Dungeons, and More Dungeons
That's right, I use the Oxford comma! We've had a lot of fun here folks when it comes to GF goodness. This show is known for its scares, its mysteries, its heart tuggers, and shocking discoveries. But at the end of the day, it's still a cartoon. And like any cartoon, it knows how to have a sense of humor. These senses aren't always good per say, but in Gravity Falls' case it is great.
Case in point D, D, and More D. God that sounds weird typing out. We start with what appears to be an average day for the Pines family, but then Ford comes out with an alien. Oh yeah, if you thought GF was gonna pull a Steven Universe and completely forget about some crazy event the next episode after then you'd be wrong. For you see, GF has this neat little thing called pacing. It tends to come with cartoons that have much clearer goals in mind as well as a LOT less episodes.
P.S. I'm only harsh towards SU because I love it. The recent arc was astounding, so let's not get our knickers in a twist.
Stan is noticeably getting peeved by his brother's antics, but not yet to the point of running for mayor. Hell, we even see the mayor make an appearance in this episode. The moment was funny, but I kind of felt like I was time travelling.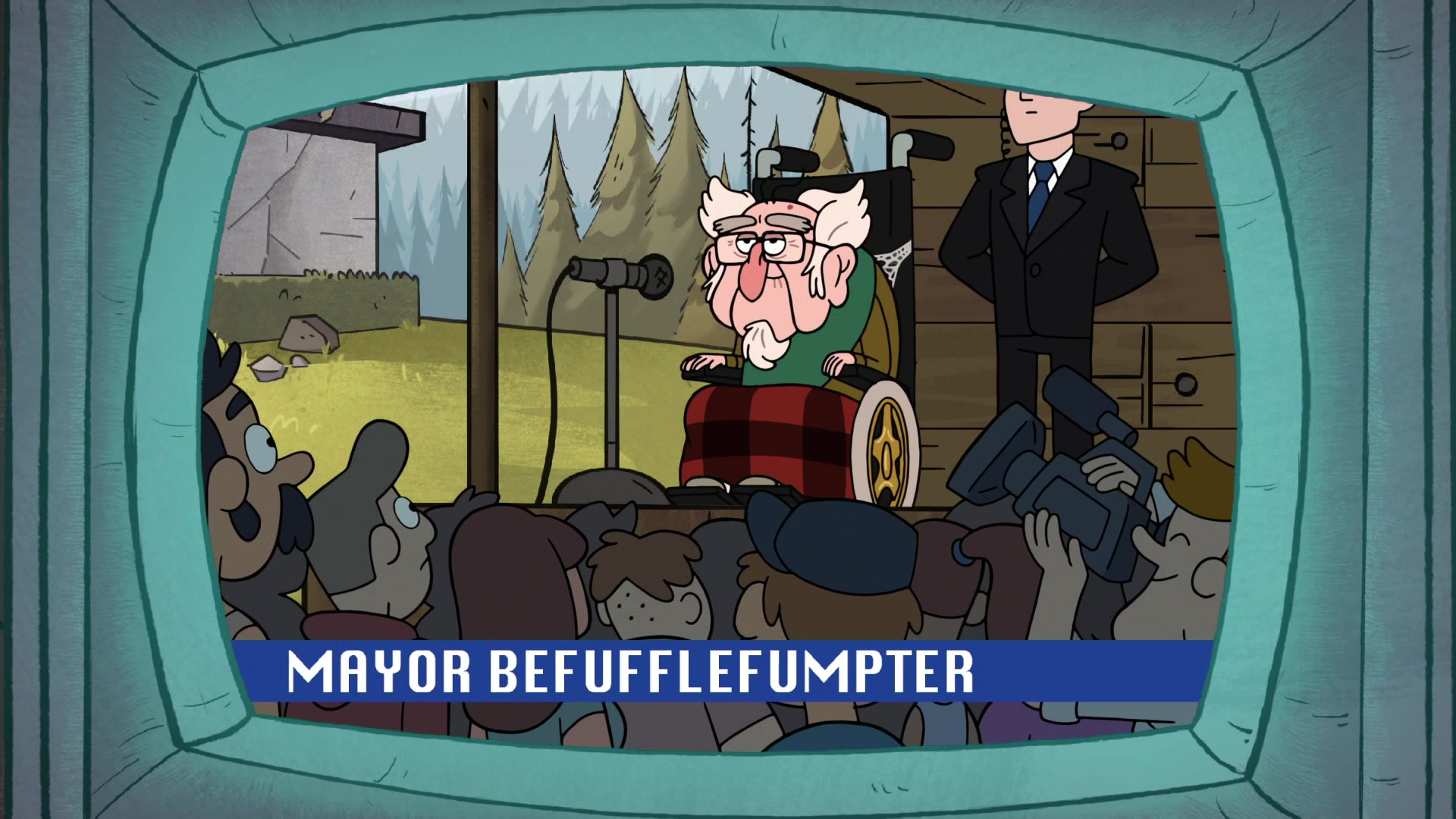 Ooohhh, so that's how you spell it.
Dipper obviously wants to hang out with Ford considering he spent nearly the entire summer trying to figure out if he even existed, but Ford doesn't want to risk anyone else falling down his path. Dipper also has trouble trying to find someone to play a DnD style game, and oh yeah, GF totally went there! DnD, even though I've never played it, is one of my favorite parody topics when it comes to fiction. Other shows like Community and Regular Show handle it with such respect and humor, and Gravity Falls is no exception to this principle.
However, no one wishes to play with Dipper and deems the game too nerdy, even Soos who essentially LARPs most days. Oh wait, my bad. FCLORP (Foam and Cardboard Legitimate Outdoor Role Play). But after stumbling into Ford's lab, he finds out that Ford is just as into the game as himself.
Let it be known that I adore this show's handling of Grunkle Ford. He's the character this show has been building up to for years, so he most surely be this all knowing and devoid of imperfection type of guy right? Nope! This guy may have brought a level of seriousness and stakes to the show, much like Washington from Red vs Blue, but he can get just as geeky and passionate about little things as Dipper. Their common interest in a simple game is what ultimately leads to their compelling mentor-student relationship.
They even have conversations about the history of the game itself, including any IP's greatest weakness, the 90's!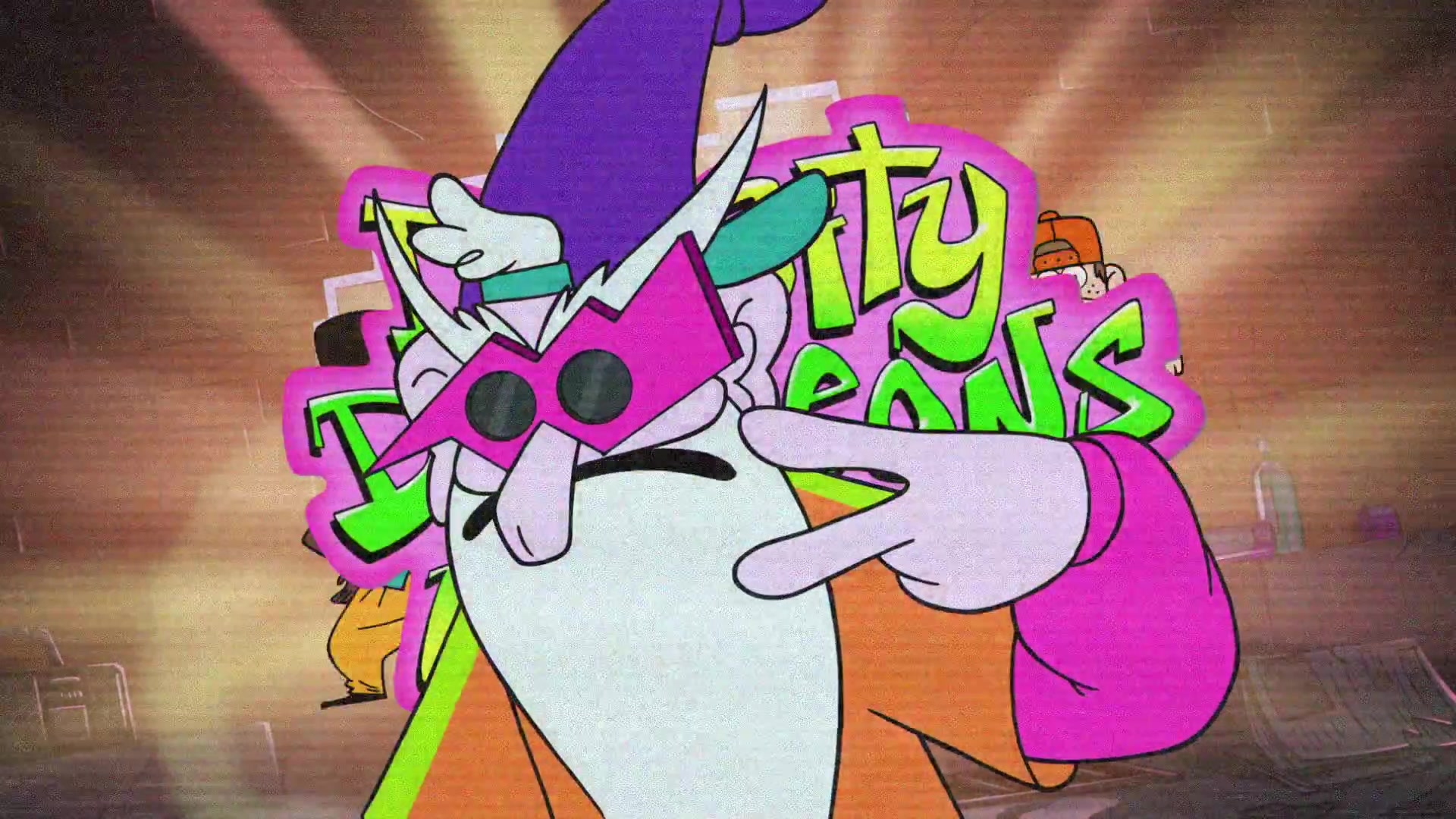 Remember Yo Yogi?
Honestly, the only mascot I can think of that manged to not talk down to kids in this way is Smokey.
Take some f***ing notes all you Hollywood hacks out there who keep thinking that this is a good idea!!!!
One of my personal favorite scenes from this episode is when Dipper is planning out his next session with Ford, and Mabel realizes that she may have gone a little far with making fun of him.
Mabel: You're uh, spending a lot of time with old Fordsy lately, huh?
Dipper: You have no idea. I knew the author must be cool, but he's better than I imagined. And, he doesn't make fun of me all the time, like you and Grunkle Stan do.
Mabel: Give 'im time, haha! Heyooo!
(Pause)
Nah, you got me.
(Lays down; to herself

You got me.
The dialogue and Schaal's delivery prove that Mabel clearly isn't as selfish as we make her out to be. Heck, she even shows a little empathy here. The next day Stan, Mabel, and Grenda (though for some reason not Candy, odd), get ready to watch a not-so-subtle take on their own show called Duck-Tective. And you guys thought Crying Breakfast Friends was cringey. Though to be fair, it is still a very funny take on how outsiders look at shows compared to fans.
Ford: Hey, at least I'm not all keyed up to watch a kid's show.
Stan: I'll have you know that Duck-tective has a big mystery element! And a lot of humor that goes over kids' heads!
Grenda: I don't get a lot of it, but I like animals in human situations.
But then an inciting incident occurs. You see, earlier in the episode Ford revealed to Dipper that he possessed an item called the infinity-sided die. It's a die that, when rolled, can lead to infinite possibilities. This can range from having your face melted off, the planet turning into an egg, season 8 of MLP improving, or even season 6 of Teen Titans coming back.
RB'sB: You had me for a minute but you kind of lost me towards the end there.
What's important is that it's too dangerous to roll, and when the family gets into a scuffle, the die falls out (though I'm not sure why Ford brought it with him) and lands on a side that brings the characters from the game to life. The usual affair.
Probabilitor: Mortals of dimension 46'\, kneel before me and
(rolls dice)
snivel! I am Probabilitor! The greatest wizard in all of mathology! Give or take an error of 0.4.
Look, I'm a simple man. I hear Weird AL Yankovik's voice, I tend to say instant classic. Unless you're Adventure Time, Star vs the Forces of Evil, Teen Titans Go, Mr. Pickles, Pig Goat Banana Cricket, The High Fructose Adventures of-
RB'sB: All right we get it! Dude's as careful with choosing his roles as Tom Kenny! Let's move on!
Sorry. Anyway, he kidnaps Dipper and Ford in order to eat their brains and become smarter. Sure. This leads to Stan begrudgingly agreeing to save his brother. Hey now, that may be a little messed up, but I see where he's coming from. Dude's spent years trying to save his brother only to be greeted with a punch to the face. Despite that, they gear up and head out, meeting plenty of great references along the way.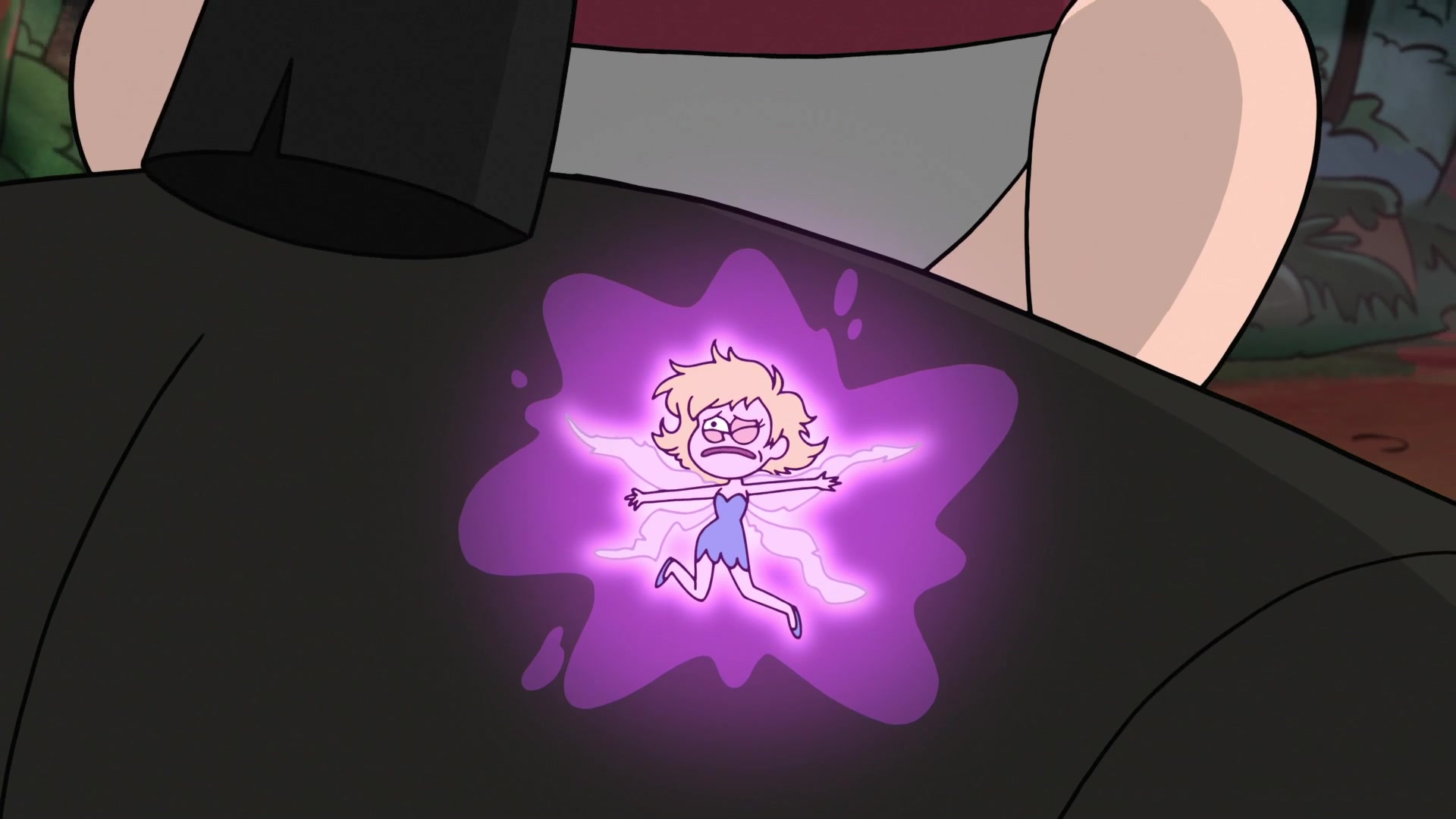 "Hey! Look! Listen!"
Now if only we could get Stan to kill Fi. Anyway, once they arrive, the only way to win back their family is by playing, you guessed it, Dungeon, Dungeons, and More Dungeons. You know what, I think I'll stick with writing the initials. The battle is funny, the visuals are creative, Weird Al kills as Probabilitor, and we get some of that sweet Chekhov's Gun goodness this show rocks at.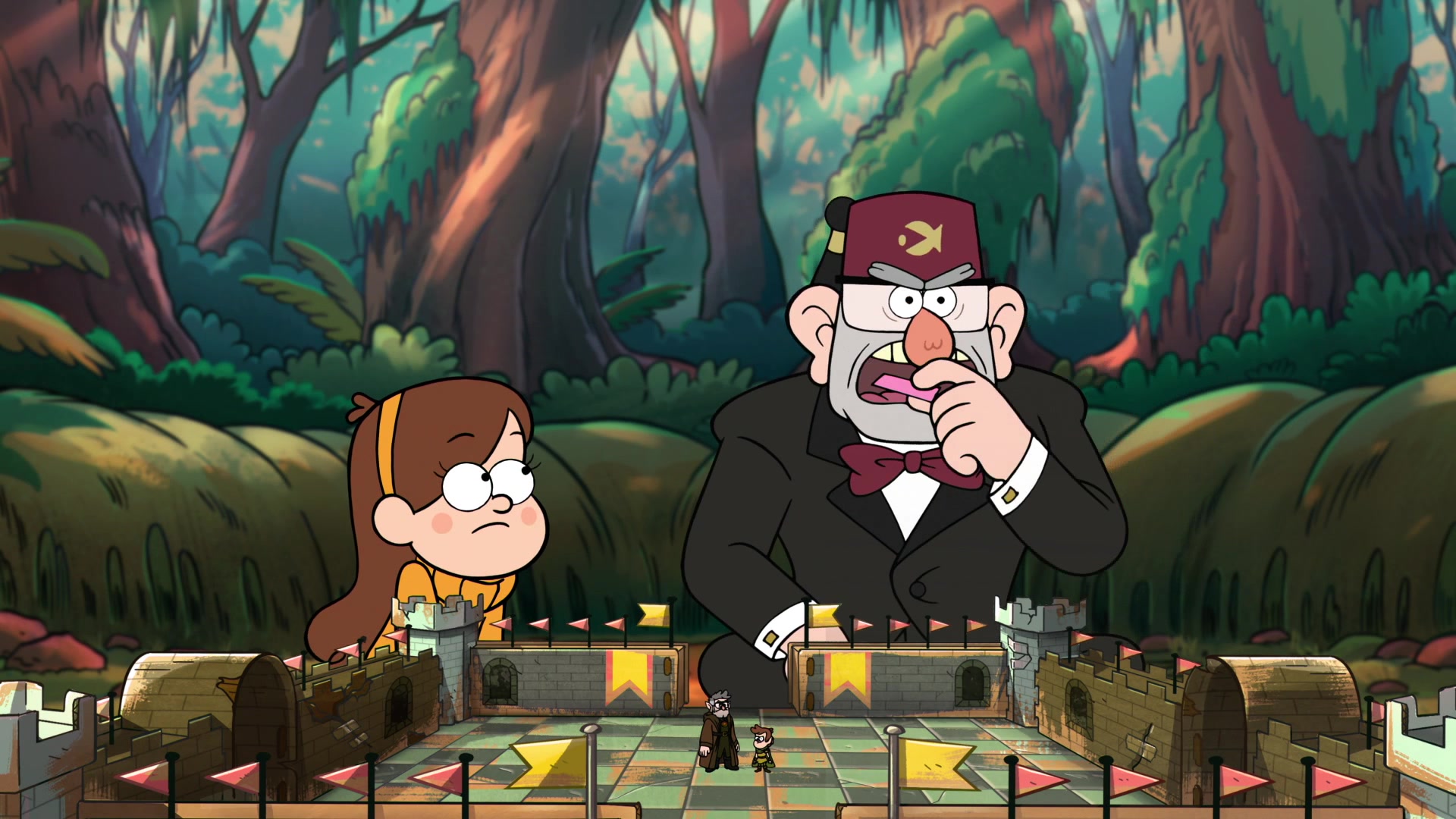 Something told me that this gum would come into play later.
The episode even ends with the family getting disappointed by Duck-tective's big twin brother twist. Funny how Gravity Falls did this stupid trope flawlessly while other media like Despicable Me 3 just look like fan fics. Hey, that'd make a good comparison! Also, anyone else confused why the characters all got sent back to the game except for the Gryphon?
Number 3/Into the Bunker
Even though it may not seem like, Into the Bunker is, in my opinion, one of the most important episodes of the show, and probably the most important episode in terms of Dipper's development. And when this episode started with Dipper and Wendy watching a hilariously bad zombie movie together, I was wondering to myself if this show was actually going to go there. Of course that doesn't stop them from going here first.
Wendy: Dude, you're laying on my bra.
This is a kid's show right? Anyway, while Stan is going about usual con man ways, Dipper gathers up the mystery group to start exploring those new secrets from the journal. Once Wendy arrives and Dipper acts weird, Mabel takes notice and even applies her skepticals. When I first watched this episode, I found Mabel to be ridiculously annoying. The way she's butting into Dipper's personal issues and refusing to let go of it was starting to get borderline obnoxious. But looking back, I now realize how important Mabel's role is here. Not only is she being a considerate sibling with trying to help Dipper, albeit in her own strange way, but she knows perfectly well how unhealthy it is to bottle up your emotions until the day you die. It's better to get those feelings out than being forced to imagine what if.
Wendy shows off some of her bad a**-itude and leads them into one of the coolest looking shots from this season.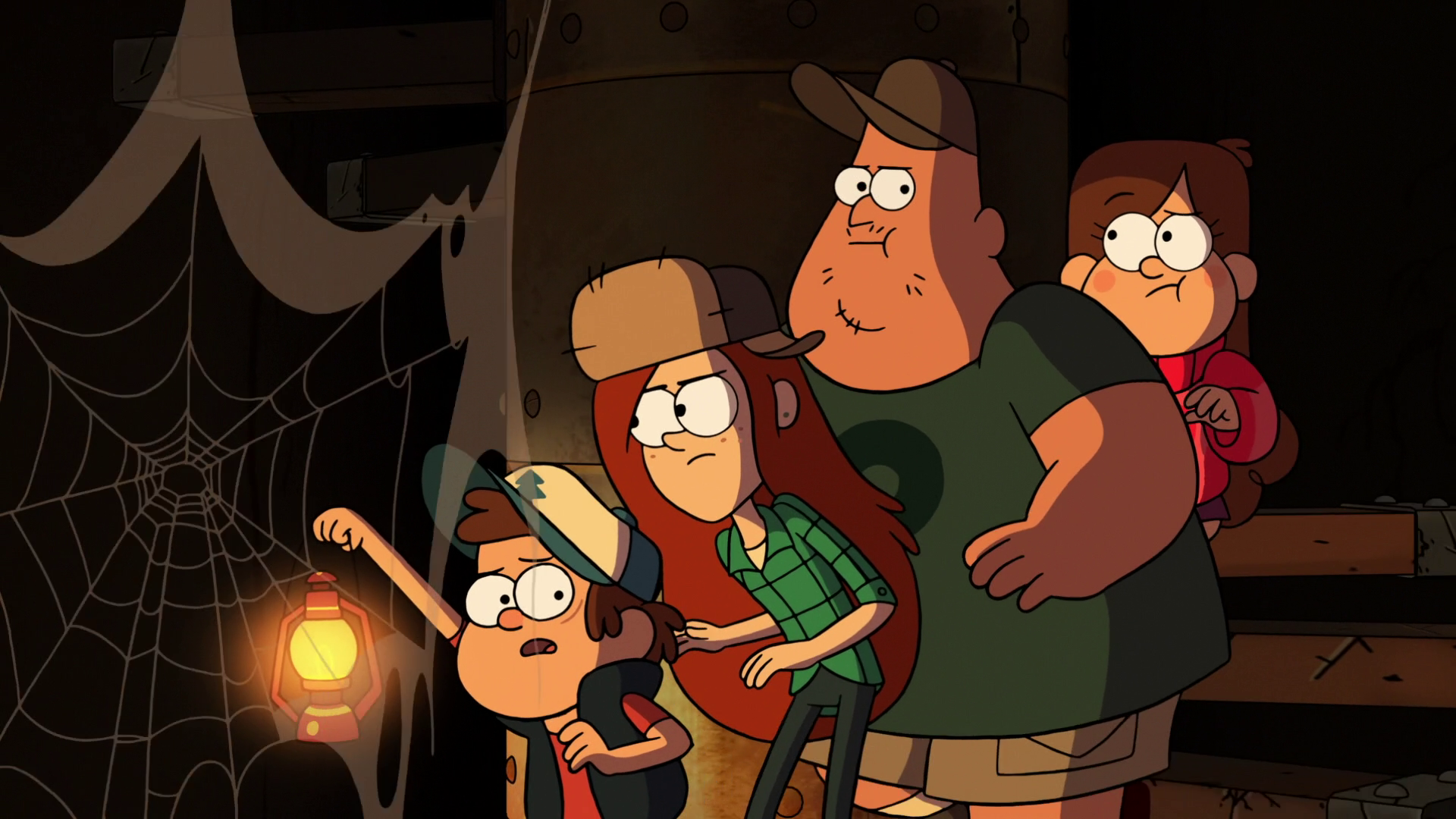 I mean just look at those expressions of intrigue and the way the stairs move with the camera.
And if that's not enough, we also get an intense action scene right after where the walls start closing in on the cast. The feeling of claustrophobia and fear of getting crushed makes this scene so strong and at times hard to watch. It even feels like you're right there with them. Now I know how the Terminator must've felt.
Thankfully, Dipper was able to use the journal and his quick wits in order to help them escape. But even though they escaped that room, Dipper is still trapped by a force much greater than moving walls. The weight of insecurity towards his feelings for Wendy! The kind of weight that can you drag you down and prevent you from holding normal conversations with a person because you're so scared something might slip out. So Mabel sees her opportunity to free her brother by... trapping him in a locker.
RB'sB: We are supposed to like Mabel right?
It's going somewhere. Because it's more than just a locker, but also an entrance to an underground shelter and research facility. Besides, all Dipper had to do was tell Wendy his feelings, but keeping his feelings a secret was literally more important to him than getting away from terrifying monster. And people call Mabel the crazy one.
Luckily, the monster gets scared away by... the author of the journals? This early into the season? Who is voiced by Mark Hamill, a man well known for voicing super creepy villains? Allow me to apply my skepticals. Mabel and Soos even begin to realize that something is up when they read up about a shapeshifter that escaped one of the pods. And then we get a dialogue exchange that I find rather underrated.
Mabel:
(Gasps)
I thought he was just joking!
Soos: YOU KNOW DIPPER'S JOKES ARE TERRIBLE!
While "the author" is looking through the journal, Wendy finds a bean can with a picture that looks exactly like "the author," and I love how the music in this scene adds to the creep factor in play. In fact, a lot of this show's music feels huge,varied, and matches the scene's tone perfectly. That's what you call brownie points! The four meet back up and discuss a plan to "destroy" the monster.
RB'sB: Can cartoons seriously not say death still?
I guess it just depends on how intense a show is. And this show in particular already pushes the censor bar quite a bit.
So I can understand why they'd need to pull back in some places.
But wait a minute, this is an episode with a shapeshifter. Surely we're gonna have a "Which one do I shoot?" scene right? Yes indeed! And would you look at that? Chekhov's Gun is looking mighty strong today.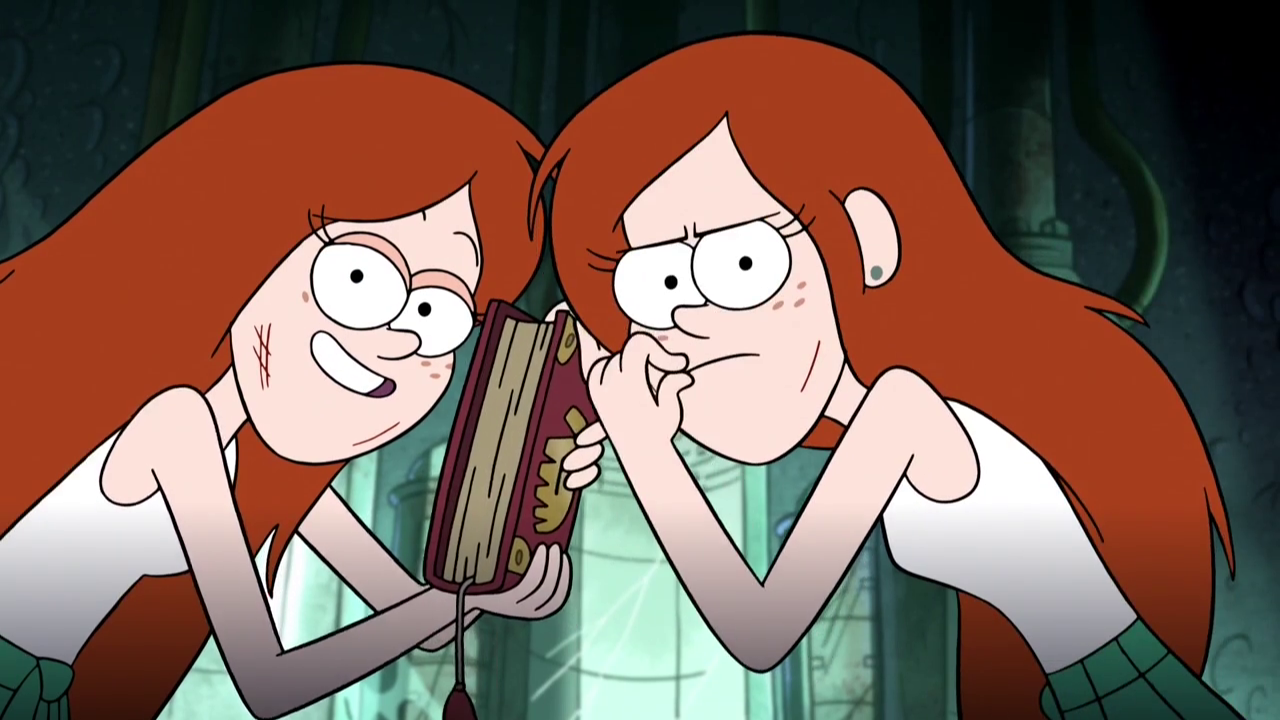 She does this a lot actually.
The monster is detained, and it actually stays true to its word when it says, "This is the last form you'll ever take." In Northwest Mansion Mystery, he looks exactly like that when he gets turned to wood.
RB'sB: That episode isn't on your list is it?
Nope.
RB'sB: And yet Stanchurian Candidate is?
Uh huh.
RB'sB: Why do you make life so much harder for yourself?
But none of what happened earlier matters, because this is the scene that really matters. Dipper finally discussing his feelings with Wendy. Not only does it feel so freaking good to see him finally being honest with her and himself, but the way Wendy herself handles it is a great combination of maturity, tact, and sympathy. Sometimes relationships just can't work out, and it is incredibly important for both parties to be able to acknowledge. Even more admirable is the ability for both parties to remain friends in the end, accepting their differences and staying true to each other by not dancing around the issue and pretending its simply cute. Other cartoon characters need to take note of this!
RB'sB: Gee, I wonder who you could be talking about.
That's right. April O'Neil from TMNT 2012.
RB'sB: Oh, I thought that.... never mind. You're doing great buddy.
After a scene that couldn't have gone off better, Soos reveals an old computer that he found. Oh wow! I wonder what secrets it's going to hold!
*We never find out. It just gets destroyed by Bill Cipher.*
Well, I'm sure we'll at least get plenty more episodes with Wendy being awesome now that everything is resolved between her and Dipper right?
*No. In fact, she gets no more development afterwards.*
Number 2/Not What He Seems
And what would a Gravity Falls list be without one of the most talked about and celebrated achievements of the entire show? Probably a season 1 only list. *cough* plug-in *cough*
This episode begins with another round of Stan hard at work on his secret project, and he's apparently closer than ever. So close in fact, we actually get something that this show has been sorely lacking, something to actually do with gravity and falling! Throughout this episode, we get what is deemed as gravity anomalies throughout. I absolutely adore this plot point because of how well crafted and inspired it looks. It even eventually leads to some of this show's most exciting set pieces.
Also, I have a little fan theory that in this opening scene, the very first anomaly has actually been shown to us in every episode. Remember how Dipper and Mabel would float in the air near the end of the theme? I believe, with good reason, that this actually does happen to them at this moment, just off screen. It would certainly make sense, and it wouldn't even be the strangest thing to have happened to them.
After finding a stash of illegal fireworks, the Pines do a little bonding together, and much like the nighttime prairie scene from The Lion King, it's pretty easy to guess that this is simply the calm before the storm when it comes to positive times. Except in this case, we get a reality check almost immediately when the government swoops in to arrest Stan for the theft of some illegal toxins. I love how he reacts here.
Stan: Aah! I don't understand! What did I do that warrants
this
much arresting?
I've certainly been arrested before, but never to this degree! This is a very important part of the drama in fact. It's no secret that Stan has had a less than spotless past. So the idea of his past finally coming back to bite him in the butt isn't out of the question. Because of this, I was right there with Dipper and Mabel. Like, Dipper,my faith in Stan was put to the test, and it was very easy to assume the worst. And like Mabel, I wanted to deny it and pretend like everything was normal. I mean, this is Grunkle Stan we're talking about, one of the most well written and fun curmudgeons in animation. He couldn't be a bad guy... could he?
Even as an audience member who has a better idea of the big picture than most of the characters I was unsure of what to think. True, we actually know what Stan has been up to, but what exactly is his end game? Every time he talks to himself, he mentions how this is it, and everything is coming together and will never be the same. And to this show's credit, it makes sense that he wouldn't just outright say his plans out loud. 1, they're already kind of pushing it with the amount of things he says alone to himself, though that can be chalked up to solitude, and 2, what human being talks like that?
One of the biggest problems with visual media today is that it forgets that it's, well, visual! The best stories know how to take their time and let you actually experience the story as opposed to just dumping it all on top of you at once. Gravity Falls has been performing an impressive juggling act for about 2 years now when it comes to doling out the necessary details while at the same time painting a beautiful story for us that unfolds right in front of our eyes. Seeing the way Dipper and Mabel react throughout this episode, the aura of urgency that constantly surrounds Stan, the dark and chilling atmosphere, the somber and mysterious colors coming off the sunset that let us know that the end of an era is coming all come together perfectly to treat us with one of the most visually poignant and mature as Hell episodes for the entire show.
When Dipper and Mabel escape the government car and find out about Stan's multiple fake identities, it feels like a punch to the heart and gut. Stan Pines.... might not even be Stan Pines. It's insane. It's ludicrous. But what else could it possibly be? The correct answer, may not be as obvious as you think.
Remember when I said the gravity leads to some incredible set pieces? Well, you know I have to talk about the interrogation room scene for at least a little bit! Thanks to Robobuddies-
RB'sB: Aren't you forgetting something about her?
Welcome to RaccoonBroVA's channel, where we leave any and all drama at the front door! Make sure to wipe your feet of any controversial tweets while you're at it. In her video about Steven Universe, one lesson I will always carry with me is what it takes to make a really good fight scene. Elements like weight, character, and composition are all important, but what shines the most in this particular scene is the environment. The animators, even it's just for a little bit, are no longer limited by freaking gravity. Of course this scene is gonna look awesome!
As killer as that scene was though, the real climax is afoot. Dipper and Mabel, along with Soos, finally find Stan's secret lab. In this scene, we get arguably some of the best voice acting from the entire decade. Words can't describe the emotions that all these characters go through in finding out the truth about their once unimpeachable great uncle. Thanks to a cipher from the 3 journals, they figure out that he's been working on some kind of doomsday device. But right before they can properly shut it down, Stan arrives just in time to make his final pleads. And before I say anything else, I think this image says much more than I ever could about the definition of faith.
Is this iconic? I feel like it should be iconic.
This image is as universal in my opinion as Pen Pineapple Apple Pen. Anyone, from anywhere will understand the meaning and importance of it.
RB'sB: You're really comparing an episode of Gravity Falls to PPAP?
Hey man, don't underestimate that song's power.
Oh yeah, and it turns out Stan has a twin brother who was the author. Pretty neat stuff right? Not exactly a surprise these days, which is why I don't consider it a spoiler, but that certainly doesn't rob this scene of the importance it holds on the series to this day.
But hey, was your favorite episode not mentioned yet? Well then, here are some honorable mentions!
Society of the Blind Eye
- Old Man McGucket has no right to be this sympathetic.
Sock Opera
- Bill possesses Dipper, and Mabel finally makes a sacrifice.
Tale of Two Stans
-
A perfect continuation to one of the biggest cartoon reveals ever.
Little Gift Shop of Horrors
- Yep. This is the episode that kicked off Northwest Mansion Mystery. I have no regrets. This episode is simply funny.
Worst Episode/The Love God
There were a couple of episodes I could've chosen form this season. The Last Mablecorn had a super jerky antagonist, and Roadside Attraction felt more like a detour. But those two episodes don't hold a candle to the confused morals and lessons we're given here on the concept of love.
As I'm sure you all know, I am asexual. But one subject I've been a little confused towards is romance. After all, you don't have to be sexually attracted to someone to be in love with them. But even though I have skewed perception of romance, I feel like with most plot threads I'm pretty adept at detecting bull s*** being shown before me.
To be fair, romance is one of the toughest things to write. It's a juggling act in terms of realism, chemistry, and how much we as an audience want to see the two people be together.
However, I think we can all agree that literally using a love potion to make our wildest ships come true with any regard for the desires of the individuals being affected is a pretty scummy and horrendous practice no matter what. And to really put things into perspective, imagine if Hearts and Hooves Day or The Shippening ended with the same way as this one, where our characters decide it's best to just leave the two victims the way they are simply because they're "happy". I don't care how happy they
look
because none of it is real. It's all a delusion, and it's honestly kind of f***ed up.
If I were to choose what the worst episode of he whole show was between this one and Boyz Crazy, I'd probably go for The Love God. Simply because the latter, while very frustrating, is relatively harmless. this episode on the other hand is quite honestly destructive to show to kids.
The only reason I don't consider this episode an atrocity is because, much like Boyz Crazy, Stan was a blast to watch. Frankly, even more so here. I guess this episode is the show's version of Not All Dogs go to Heaven. Bad and destructive A plot, wonderful enough that it should've been its own episode B plot.
And the number 1 episode of the whole show is...... honestly better off having its own review. See ya then! (and yes, it's exactly what you think it is)