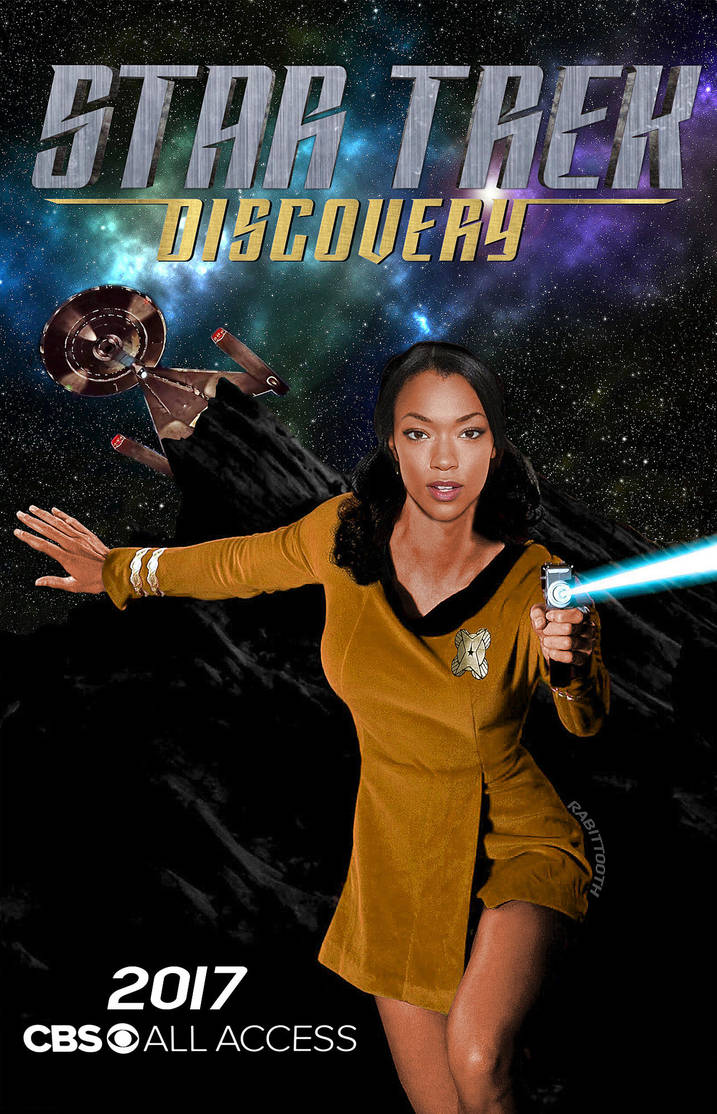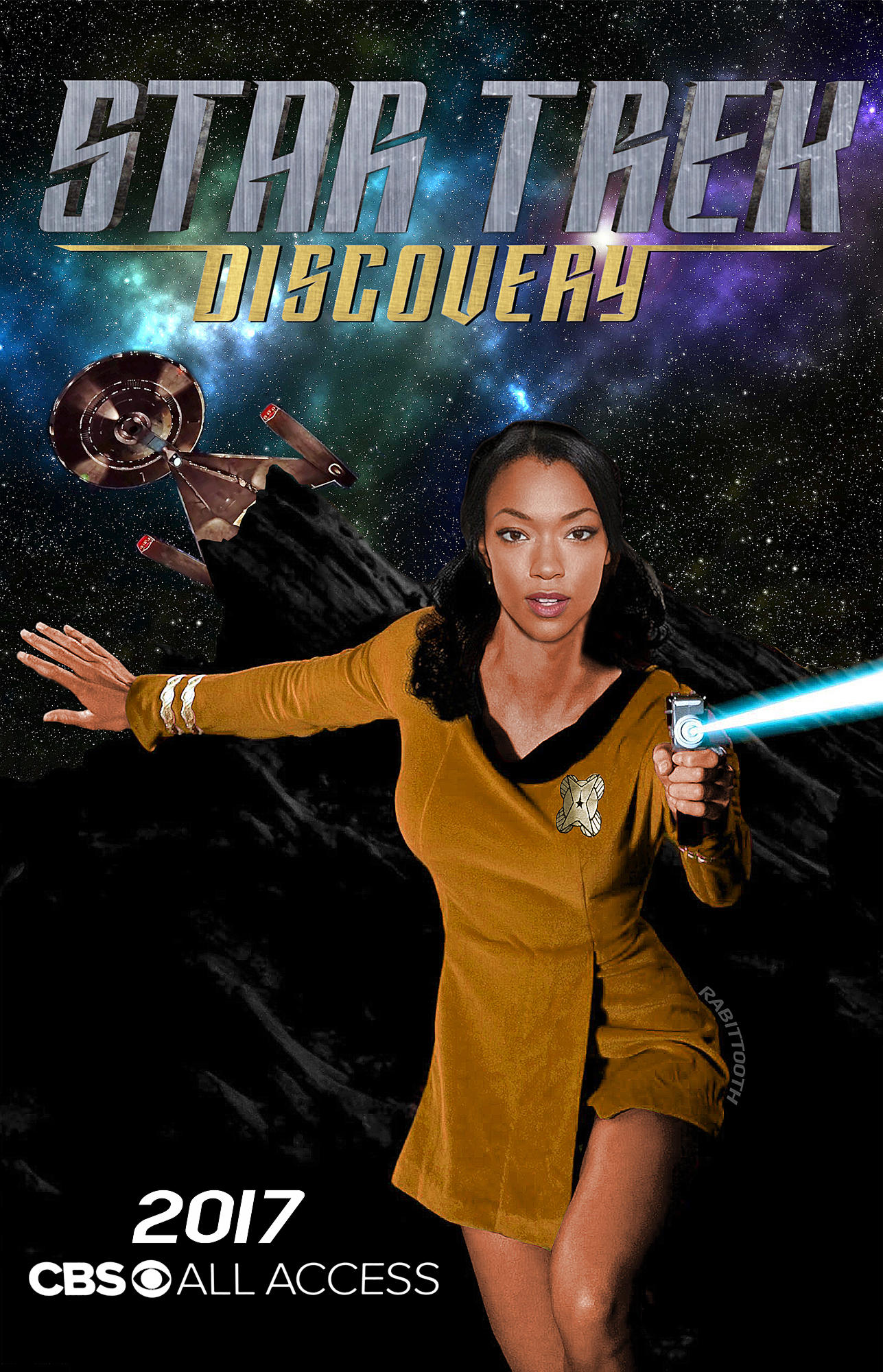 Watch
So, I'm one of those annoying Trekkies who is really looking forward to the new Star Trek series, but would have definitely felt better if they had placed it far into the future (way past Voyager). That way they would have been open to do anything they want and make their own cannon. Unfortunately, they placed the new series a mere 10 years before the events of the Original Series. As a result, they are a whole mess load of things they are going to mess up as far as what we know that time period was like. This is my own personal therapeutic way of fixing what I know they've already got wrong.

Reply

In my first comment I alluded to the "unique ship insignia" you provided Commander Burnham, but it turns out I was wrong. A recent article on StarTrek.com addressed the longtime theory that each Federation starship's personnel sported insignia specific to their posting and it makes for interesting reading. I hope you find it as illuminating as I did.

www.startrek.com/article/starf…
Reply

Thanks very much for putting Cmdr Burnham in an era-appropriate uniform, complete with unique ship insignia.

Personally, I'm glad to see Braga working on
The Orville
instead of canonical Trek. Had enough of him on
Voyager
myself, although I understand that might be some people's personal preference. (But if anyone out there is suffering from excessive appreciation of Braga's writing, I've always found the last ten minutes of "Threshold" an excellent remedy.

)
Reply

I'm REALLY looking forward to Orville. In alotta ways, more than I am for Discovery
Reply

In many ways, The Orville has so many fewer hurdles to leap than Discovery. Other than being funny, it has no expectations to dash, whereas a new ST series is carrying the burden of the franchise and all the fans' hopes. So, yeah, I can completely understand anyone who's looking forward to it more than DSC.
Reply

I am very disappointed with the direction of Discovery, especially since it's meant to be in the Prime Universe as well. There are just so many things wrong with how it looks! I'm hoping it'll be an amazing series that I can start to try and look past it, but I'm not holding out much hope--especially not with those ugly Klingons looking to be so prominent.
Reply

All we can do is hope. I'm certainly gonna give it a chance. It's NEW TREK!
Reply

Reply

LOL! Nice One!
Although I must admit, I'm one of those fans who's looking forward to the new series and doesn't care about uniforms or bridge design. I mean, TOS was the 60ies and the design there is a bit embarrassing for nowaday standards. Since I liked the ENT-design, the new uniforms are okay with me.

Much more important for me is the content. If they manage to make a good, modern Star Trek series out of Discovery I forgive everything else. (But me, as well, would have loved to see a show in the future, preferably with some Bajorans in it)
Reply

I just wished they would have placed it in the distant future rather than a know time frame. It would have offered a lot more freedom for writing and plot twists and surprises.
Reply

So, you're....well...this whole thing. I'm one of those part-time fans who's looking forward to the new Star Trek series, but would've really Really REALLY felt better if they had decided to air it on a streaming service you could actually get access to. *sigh* Me and my folks don't watch enough CBS for paying for an All Access subscription to be worth it, and yet the one thing we'd look forward to, Bang, right up the loading ramp. Huge bummer, eh?
Reply

It sucks they're trying to snooker folks into a streaming service no one would want otherwise, yeah.
Reply

Actually, if they're supposed to be ten years before Kirk, that puts them at least one year into Pike's tour which means both men and women would be wearing the gold tunic and black pants ( Reference "The Cage"). I have no doubt that I'm not the only one wondering why this crew is still wearing blue jumpsuits some 90 years out of date? And also, why that bridge has no design elements even suggesting the tech that would be used on a Constitution class ship? I know. People will say, "well it's a different ship" Does Not Matter. Tech is Tech. The same tech used to build the Enterprise would have been used to build Discovery- as such, we should not be seeing an Abramsverse dark cave.
Sorry, for the rant. This new series is just hitting all the wrong buttons- if it even has buttons..
Reply

I actually considered what you said and thought about doing one with those dull gold tunics and long pants, but this allowed for some more style and was more familiar. And who knows? Maybe In that time frame was when they switched over to the new uniforms. I also had to invent a new Constitution class insignia for Discovery. I also sweated over her braids. I'm not sure if she's a Commander or Lieutenant Commander.
Reply

Well, if you go by "Where No Man Has Gone Before" which is the second Pilot, then the gold dress is right- like phasers, it had to be introduced at some point between Pike and Kirk. This is one of the things that got me about Enterprise. They shoe-horned "phase Pistols" into the series when it's stated in "The Cage" that Starfleet was still using hand lasers. Phasers as we now know them didn't come into use until some point between Pike and Kirk.
They were supposed to have hired "Fact-checkers" for Discovery but I think they hired them too late.

Of course, some folks might argue that since "The Cage" never aired as an episode until the series was well into syndication, that it doesn't really count ("Where No Man..." did air as the second or third episode- out of sequence of course). But since material from it was used in the two-parter "The Menagerie", I'd think it's have to. As for the braid, they didn't go with the wavy broken type until after the second pilot. In both pilots it was just straight trim.
Reply

This is why, in my opinion, Trek should ALWAYS be going forward. Why they would confine themselves to an established era and run the risk of almost certainly pissing off hardcore fans is beyond me. Why would they intentionally do that to themselves? They have all the freedom in the world to do whatever they want. Why re-visit, reboot and lock themselves in? It's dumb.
Reply

Agreed. Like you, I'd rather see them continue to push things forward. Up through Voyager, the Alpha Quadrant's been pretty well mined. They set up the Delta Quadrant in DS9 and Voyager so why not deal with it?
The only answer I can see is Money. They must think if they stray too far from the familiar, people won't recognize it and won't spend money on it.
Reply

I'm sure you're right. But you alienate the true fanbase ... which is HUGE in and of itself. Please them, then work in whatever you have to to expand your audience. But start by making the millions of core fans happy!
Reply

I'm afraid that's one concept they forgot about with Abramsverse- and they seem to be applying that to Discovery. They seem to be aiming at the "under 40 crowd" that prefers flash and boom instead of story. In today's entertainment, if something doesn't blow up every five minutes, there's no movie. I'd like to see today's Hollywood work with a 1960's budget and have to focus on characters.
They couldn't do it.
Reply

Yeah. People who really understand Trek like Braga are working on "The Orville". Some part of me is looking more forward to THAT than to this.
Reply