Very straightforward. A train, a variant of the M8, the M8y owned by TRYA (Terminal RailwaY Association) of Nu'u-Sara, Ai'a'ivea. It's passing through a natural open cutting, between tunnels. It's painted for the Tuna Tunnel Terminal route. This train runs on 900 volt 4 rail, as seen here (600 for the positive rail on the side, 300 for the negative rail in the middle), as well as 25,000 volts via overhead (but not here, hence the pantograph is lowered). And yes, there are Tunnel Telephone wires on the side. Said train has the Tuna Tunnel logo, and also the SaraLink logo. SaraLink isn't a train company. No, it's a common branding for commuter trains that aren't AOS and that use mainline rails in and around Nu'u-Sara.

A bunch of cats, including a Maine Coon (those things get enormous!) They're so cute.

And finally, the girl. No, I haven't given her a name yet, any suggestions are welcome. She's sitting out at night, in a green nightgown, with her cats around her, while a train passes by.
Image size
4368x3368px 17.07 MB

Wow, this is one of your best pictures, mostly because of the train

. I also like the cats in there too!
With that train being as big as it is next to the girl, you'd swear that was just a toy-train, which happened to be owned by her! But it isn't is it? I didn't so! (The "you'd swear that was just a toy..." part came from the lyrics to Salt N Pepa's song "I desire," ("
Scratches so (bad word) hard you'd swear the mixer had fleas"
genius.com/Salt-n-pepa-i-desir…
)
The train looks like an EMU and kind of reminds me of the South Shore single-level trains! Okay it IS an EMU, duh to me!
Good job on the picture, like it, faving it, oh and you put more effort into your train that I would!

Thank you very much. Well, I pretty much combined a few ideas....wanted a train, something with cats, and was thinking of doing a girl in a nightgown. So....this is what happened (and the cat on her lap was a little big....but if it's a Maine Coon, then it isn't)
There's a cutting by her, with a fence at the edge of her yard. The train is further away and in the cutting, just outside a tunnel.
Yes, it's EMU, only EMUs and electric locomotives (or dual-mode MUs and locomotives, for that matter) are allowed on this line, because the tunnels aren't ventilated well enough for normal diesel operation (although, borrowing a rule from the commuter rail tunnel in Philadelphia, some of the tunnels do allow a diesel to charge through on special occasions PROVIDED there are clear signals ALL THE WAY to the other end i.e. no stopping allowed) If you want to know about the real M8, go here
en.wikipedia.org/wiki/M8_(rail…
Unlike the M8, the M8y runs not on 750 volts 3rd rail, but 600 volts positive, 300 volts negative 4th rail (total voltage is 900)
Thank you. But I realize stuff may be missing. Not sure where the horns and bells are mounted on an M8. Yes, in Ai'a'ivea, where this is, most railways are built to North American standards. Also, stock that goes through lengthy tunnel segments, also including AOS (that's the subway of Nu'u-Sara, but MOST of the lines are built to mainline standards) have two sets of horns, one for outdoors, one for tunnels.

You wanting a train and something with cats, JUST LIKE ME AND MY WANTING THINGS WITH RABBITS AND RAILROAD CROSSINGS!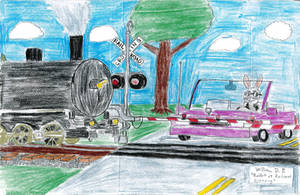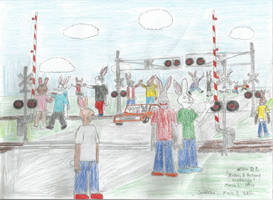 I have a few more, one with a rabbit waiting for the red lights to stop flashing, one with a young rabbit-railfan with a set of flashers, and my still-in-the-works picture of two rabbits repairing a broken crossing gate.
Reminds me of what my grandmother told me about diesel fumes not being allowed in New York City, hence the all electric trains running to, through, and from there. Never rode the NYC subways or been to Grand Central but I've ridden Amtrak to, from, and through NYC Penn Station. I like Chicago Union Station better though, unrelated but thought I'd throw it in. I've also ridden through 30th Street Station in Philly!
Maybe NYC'S tunnels aren't ventilated either, but I do wonder why diesel fumes are not wanted in NYC. Probably because of pollution. And I'm now thinking it could get people sick!
I didn't think about the horns or bells.
One for outdoors and one for tunnels? So they blow one set of horns on the train outdoors (including at grade crossings I presume if there are even any, if not that's cool,) and another set of horns to blow while train is in tunnel. My wager is the outdoor horns are louder than the tunnel horns. And if you blow the horn meant for the tunnel outdoors you won't hear the train well or at all. And if you blow the outdoor horns in the tunnel, you're in for a really really loud noise and will scare the daylights out of people! That's what I think.

Those are nice pictures, can't wait to see the rabbits repairing the gate.

The diesel prohibition in the Big Apple dates back to the days of steam. The ancestor of what became the Park Avenue line to Grand Central was originally street level, and went further south, but beyond a certain point they used low horsepower, with horses! But the city wanted tracks out of the way, and once New York Central acquired the route they put more and more of it in tunnels. But then there was a terrible crash, due to smoke obscuring signals, but it was made worse by said smoke. So the STATE passed a law declaring a huge chunk of Manhattan a steam exclusion zone. Other places have or had similar restrictions, usually a tunnel is involved, but after diesel replaced steam, a couple of places became unplugged, most notably the two tunnels between Ontario and Michigan, one used catenary, the other, New York Central style 3rd rail. Now diesel is used.

You're right, the tunnel horns aren't as loud as outside ones. There are reminders where the switch has to happen.

Very neat, friend!

I like the design you used: very reminescent to vintage Children Books

Happy New YeaR!